Wolfsburg have agreed a deal to sign Vaclav Pilar, according to the Czech Republic international's agent.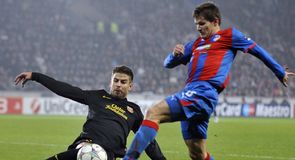 The Viktoria Plzen winger is reportedly set to move to Germany in January for a fee of €960,551 (£825,000) and the 23-year-old is also said to have agreed a long-term contract.
Pilar has scored four goals in 11 matches in the Czech top flight this season and also netted three times in the qualifying stages of the UEFA Champions League.
Wolfsburg have been impressed and Pilar's representative, Jiri Stejskal, expects the move to be completed when the transfer window opens.
The agent told media in the Czech Republic: "Vaclav Pilar will be moving to Wolfsburg in January. The two clubs have found an agreement."