Yuto Nagatomo is expected to make his stay at Inter Milan permanent when his loan deal from Cesena expires at the end of the season.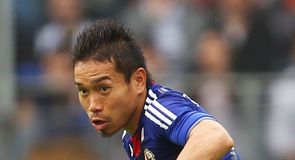 The 24 year-old joined Inter in January and has left a favourable impression with the club's coaching staff and fans alike with a number of strong performances on the pitch.
Cesena's technical director Lorenzo Minotti is delighted with Nagatomo's progress and thinks the defender will seal a permanent switch to the Serie A giants.
"I think that Nagatomo will stay with Inter at the end of the season," he was quoted as saying on Goal.com.
"He's a player who deserves his place at Inter. It's always great to have a versatile player like him in your squad.
"Yuto has made a positive impact at Inter and there are plenty of reasons for the Nerazzurri to make his stay at the club permanent.
"We're talking about a player who is not of the same level as Cesena. He has what it takes to succeed at a big club like Inter. He has a lot of potential."