Sky Bet
Loading Market ...
AC Milan midfielder Clarence Seedorf insists he has no plans to retire at the end of the season.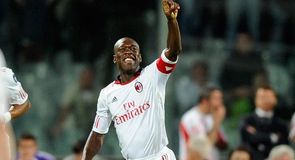 The 35-year-old four-time UEFA Champions League-winner has been a professional football since beginning his career with Ajax in 1992.
It has been suggested that Seedorf, who quit playing for The Netherlands in 2008, will hang up his boots at the end of the current campaign.
But he does not plan to retire until his mind and body can no longer meet the demands of football.
"In my job, motivations and physical condition are important," he told Italian media at the Dutch Embassy in Rome where he was being Knighted in the Order of Oranje Nassau.
"Until they are an issue, I don't set myself limits."