Lionel Messi feels Celtic were 'very lucky' to beat Barcelona in Champions League
Barcelona superstar Lionel Messi feels Celtic were 'very lucky' to claim their historic victory over the Catalan giants.
Last Updated: 09/11/12 9:40am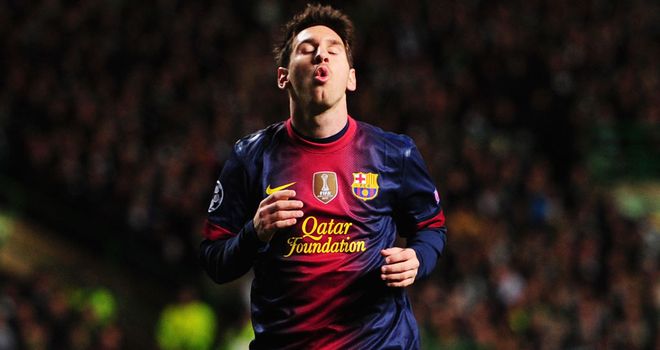 The Hoops triumphed 2-1 in front of a jubilant home crowd in Group G of the UEFA Champions League to mark a win which will live long in the memory of those associated with the Glasgow club.
Messi, who scored what turned out to be Barca's consolation strike in stoppage time, believes Celtic were fortunate to get the result.
And the Argentina ace feels they only scored their opening goal, which came from a corner, because they have bigger players in their team than the Primera Liga side.
He said in the Daily Record: "They were very lucky. It's a shame but we just couldn't do anything about it.
"We did everything in the game but just couldn't get past them.
"Celtic came at us twice and got two goals from it. When they scored they just locked their defence.
"The first goal from the corner arrived because they are a bigger team than us - it was the same as their goal in the Nou Camp.
"The second goal was our own fault.
"We did everything well and made good chances but the ball just didn't go in."
Relaxed
Despite Wednesday's defeat, Barcelona still sit at the top of Group G, two points ahead of Celtic in second place.
Messi, who became a father last week following the birth of his son Thiago, says the club are not concerned over their qualifying chances.
"We are still in first place and we are relaxed," he said.
"My goal didn't mean too much but I'm sure I'll score many goals and significant victories to dedicate to the birth of my son."