Hart - No Green involvement
Businessman insists he remains in 'full support' of Douglas Park
Last Updated: June 14, 2012 7:13pm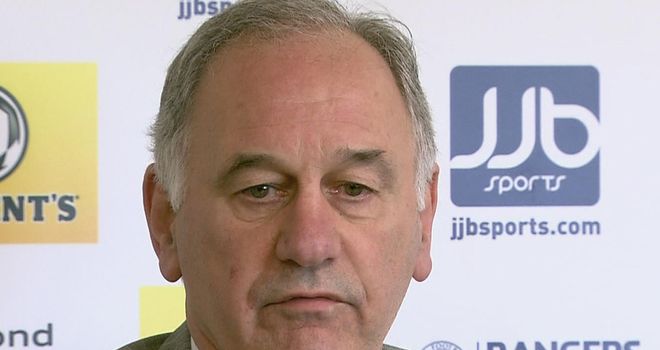 Charles Green: Named Hart amongst the investors involved in his consortium
Football Betting

Football Betting

£10 Free Bet
One of the investors named by Charles Green has emphatically denied being part of the consortium which has completed the purchase of the business and assets of Rangers.
Glasgow businessman Ian Hart was named by Green on Rangers' official website as being one of the investors.
But Hart later stated his support for Douglas Park, who is part of the group led by Walter Smith, who confirmed a new bid for the club on Thursday.
A statement reveals Hart was one of the Blue Knights, who were involved in a previous bid for Rangers, and that "the lifelong Rangers fan also intends to financially support Smith's group".
Hart had agreed that money he invested in the youth development department some years ago be put towards the funds underpinning Green's Company Voluntary Arrangement proposal but he has not put new money into Green's consortium.
Hart said in the statement: "A number of years ago I invested in the youth development department and that money was lying in the youth development department.
"At the time when Charles Green was the preferred bidder and was going for the CVA, I allowed that money to be used in order to get a CVA, but I am not part of his consortium.
Denied
"That was on the basis that he was going for a CVA, for the simple reason of trying to help to save the club.
"But I am not part of his consortium and I've been behind Douglas Park in the previous bid with the Blue Knights.
"I spoke with Douglas yesterday and today, and I was very happy to be involved in putting more investment into the bid by Douglas.
"I am not part of Green's consortium. I remain in full support of Douglas Park."
In a statement released on Thursday afternoon, Green had claimed: "In terms of investors in the company, to date our investors include Chris Morgan, a UK-based businessman representing family trusts; Glenmuir, the renowned Scottish clothing company; Ian Hart a Glasgow-based businessman; Alessandro Celano of Blue Pitch Holdings and Zeus Capital."