Sky Bet
Loading Market ...
Hamilton defender David Buchanan is keeping his options open this summer when his contract expires.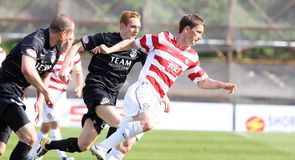 The Accies stopper has made 25 SPL appearances for the club this season and remains focused on helping them stay up.
Hamilton beat nearest rivals St Mirren 1-0 on Monday, although the club are still odds-on to be relegated.
Buchanan is keen to remain in the SPL, however, he is not turning his thoughts towards next season until the current one ends.
The 24-year-old has not spoken with potential interested parties, but is putting his future on hold for now.
Agenda
"I haven't spoken to anyone at the club yet, obviously they will have their own agenda if they do get relegated," he said.
"I have a few clubs in the SPL and in England that are interested which is positive. I am not saying I am better than this club.
"I am part of the team that is looking like being relegated but I want to play in the SPL and I have already proved I can play in the lower leagues in England. But I am not concentrating on that.
"I just want to do my best for Hamilton. I have too much respect for the people here and I will sit down and see where I am with them first and then take it from there."