Now or never
Ahead of two make or break fixtures for Macclesfield, Chris Burton catches up with Matt Hamshaw.
Last Updated: 25/04/12 7:14pm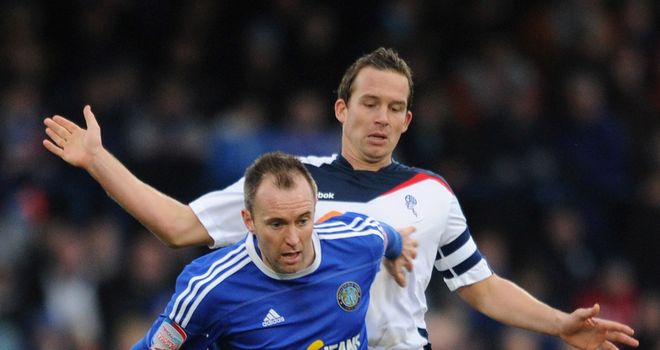 For those that think relegation out of the Premier League is on a par with the end of the world, just consider how those battling to preserve their Football League status are feeling right now.
Over the last few years, a number of those clubs to have toppled out of the top flight have bounced back and earned a second invitation to join English football's most elite party.
The same cannot be said for those who have fallen through the League Two trapdoor.
In the last five seasons, 10 clubs have tumbled into the non-league ranks and only one - Torquay United - has been able to haul their way back onto the League ladder.
Of even greater concern to those teetering on the precipice of disaster will be the monetary troubles which have led to dramatic, even spectacular, falls from grace.
Darlington are the latest club to find themselves sinking ever deeper into a financial hole, with relegation out of the Conference already confirmed, while Boston United now ply their trade in the Blue Square North and the artists formerly known as Chester City cease to exist.
Taking all of the above into account, you can only imagine how those on the books of a club currently locked in a basement battle must be feeling.
Sky Sports' Chris Burton recently caught up with one of those staring down the barrel when he grabbed a few words with Macclesfield Town midfielder Matt Hamshaw, and found that those inside the Moss Rose camp are doing their utmost to stay positive in the face of mounting adversity.
Huge games
The Silkmen sit bottom of the fourth tier, three points from safety with two games of the season remaining and Hamshaw admits they have to treat the next 180 minutes of action as the most important of their careers.
He said: "It's two massive games now. It's not in our hands, we have just got to hope to match what Barnet do and hope for a win on Saturday (against Burton Albion) to take it down to the last day. Hopefully then we will be in a position where we are out of it or looking to get a result the following Saturday. There have probably never been two bigger games in the history of the football club."
With the club currently in the midst of a 21-match winless run, Hamshaw added: "It's been like this for a long time. It's been frustrating and disappointing with the run that we've been on and it's been even harder when we have come in and seen other results go for us and we haven't been able to get the results to get out of there. In our last three or four games we have been unfortunate not to pick up more points, but I'm sure Barnet and Hereford will probably be thinking the same. We are in a position now where we have got to go out and get three points. We have gone a long time without winning a game and we have got to do it on Saturday."
Macclesfield are looking to make the most of any possible advantage they may hold heading towards the finishing post and know that it is imperative that they make the most of home field advantage against Burton and get the Moss Rose faithful right behind them.
Hamshaw said: "They (the fans) haven't had a lot to cheer about recently but I think against Crewe in our last home game we put in a good performance and they got right behind us, which they have done all season. I can understand their frustration, the players are feeling exactly the same. Hopefully we can put a performance on and get those three vital points. I say put in a performance, I don't really care as long as we get the three points. That will be the only aim and hopefully we can get out of it on Saturday night, or if not do it down at Southend."
While there is no getting away from the fact that the 2011/12 campaign has been a hugely disappointing affair for Macclesfield, beating the drop would offer them a timely boost heading into the summer.
Hamshaw said: "It would give us a massive boost. With the way it's gone, I don't think you could have written the script. At Christmas time we were looking to be mid-table and push on into the play-offs. All of a sudden we are talking about relegation. It's been an unbelievable season, really. It's down to us now and we know we were good enough earlier on in the season to be halfway up the table and there is no reason why in the next two games we can't put on displays that got us into that position."
Asked for the possible reasons behind a run that has seen the Silkmen fail to win in 2012, Hamshaw said: "Confidence is a massive issue and we have got a young squad. I keep saying to people that we have got a young squad and we haven't been in a position where we can take those young players out. When I was 17 or 18 and I was at Sheffield Wednesday, there were times when the manager pulled me out and although it frustrated me, looking back now you can see why they did it. With the injuries that we have had, we have relied on a lot of the younger lads. Players that have been out injured have been rushed back and they probably haven't had as long as they should have. It's been a combination of a lot of factors, but it's something that we have got to get out of our system on Saturday."
Macclesfield's cause certainly has not been aided by the loss of key men, either to sales or injuries, at key times.
Hamshaw added: "You have only got to look at last season - Shaun Brisley to Peterborough, we lost Izak Reid, Hamza (Bencherif), Emile (Sinclair), Tyrone Barnett. They were big players for us but the players that have come in have done well, to be fair. It's just frustrating that they have got injured when they were in peak form and getting to know the style of play that we have. If you look over the majority of the season, it's been a mixed team. It's only been in the last few weeks that we have been able to put out a team week in, week out.
Massive ask
"If look at Saturday, we were struggling for defenders and I have had to play in centre midfield, left midfield and fill in here, there and everywhere. That has been the story but you take people like Emile, Tyrone and Hamza, you take their goals away, and it's a massive ask - we are 30-40 goals light. But the likes of Ben Tomlinson and George Donnelly have come in and they were hitting form earlier in the season but then got injured. We have lost people like Ross Draper as well, you can name player after player. Dwayne Mattis is another big player for us and he managed to play 50-60 minutes and then got injured in his first game. You couldn't have written the script. We have lost big players but I feel that we have got players that are as good. But they have just got injured at the wrong time."
The fact of the matter now is - whatever the reasons for their troubles this season - the Macclesfield squad are playing for their futures.
Hamshaw said: "It's the harsh reality of football. I have been in the position where you know what it's like at the end of the season with 700-800 players out there looking for clubs. You want to stay in football and it would be a massive boost if we could stay up because nobody wants to drop into the Conference. It's hard when you get down there to come back up. I have never experienced playing Conference football and hopefully I'll never have to. But you can never say never and it's one thing that is definitely at the back of our minds. Not just for the football club, but for the players' futures. People have got mortgages and kids and also the staff who work at the club have got jobs that could depend on the club staying in the Football League. We are playing for ourselves but we are playing for a lot of other people as well."
As already mentioned, slipping out of the Football League does not bear thinking about, with history leaning heavily against those who succumb to the drop.
Hamshaw said: "It's difficult, it really is. You have only got to look at your Fleetwoods, people like that, who are throwing serious money at it - Wrexham, Grimsby, it's a difficult league to get out of. Mansfield, Grimsby, Stockport, they have come down and they have found it tough. Any team that comes out, you find that those who come out of the Conference into the Football League tend to do well. It's not only when you go down that it's difficult, the teams that come up do well as well. It's a tough league and hopefully it's one that this club won't have to experience. You have to keep it in the back of your mind but whatever drives you on on a Saturday - whether it's for yourself, your friends, your family, the livelihood of other people - it's got to come down to the crunch on Saturday."
Hamshaw, whose career has taken him from Sheffield Wednesday to Macclesfield via Stockport County, Mansfield Town and Notts County, was part of a Mansfield side that suffered relegation to the Conference in 2008 and he is determined to avoid suffering similar heartache four years on.
He said: "Confidence is a big thing and that's something that us experienced players have to get out and get lads to lift their heads up. You have to try and use your own experience. I did experience it at Mansfield and it's not nice. We have got a young squad and younger players don't really know how it is. We have been trying to talk to them and tell them how good they are and get their confidence back. I believe we have got a good enough squad but the league doesn't lie and over the season we haven't been good enough. If we can get everybody firing for those cup finals, which we're now calling them, you just never know."