Fight to the finish
Barnet skipper Mark Hughes tells Chris Burton that the League Two basement battle will go to the wire.
Last Updated: 28/03/12 5:04pm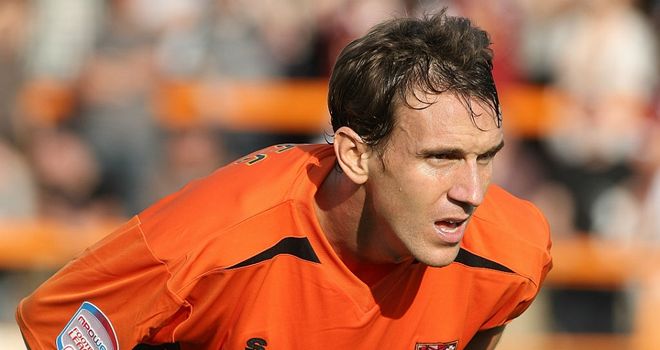 In 2009/10, Barnet ended the season on 48 points, four clear of the drop zone.
In 2010/11, the Bees once again left it late , with another 48-point haul seeing them avoid slipping through the fourth tier trapdoor by just a solitary point.
Fast forward another 12 months and the capital outfit are embroiled in another tense battle to preserve their Football League status.
They have collected 39 points from their 38 fixtures so far, leaving them nine short of the tally that has seen them safe in each of the last two campaigns.
One factor working in Barnet's favour is that there are still six or seven clubs, possibly more, still scrapping desperately to beat the drop.
Two will go down, but it is impossible to tell which two clubs will fall, with it looking as though the League Two basement battle will go down to the wire.
That is an opinion shared by Barnet skipper Mark Hughes, with the Bees midfielder telling Sky Sports' Chris Burton that anything could happen from this point on.
He said: "It is very tight this year. It's a bit different from other seasons because there seems to be a lot of clubs involved, there are six or seven of us. The point on Friday (against fellow strugglers Macclesfield) was probably two lost because we felt like we played really well. We had a lot of shots and with our front two you would expect to score. It's tight but we are just above it and if we can stay there, that would be great."
Improvement
Asked if he expects it to go to the final day before the relegation issue is resolved, Hughes added: "It looks like it because there are so many teams involved. I think we have got Hereford to play as well, so it's kind of in our hands, with a game in hand as well. We don't want it to go down to the final day, as we have done in the last two seasons, we are hoping it will be sorted by the last two games, but preferably before then."
Any side that can string a couple of positive results together at this late stage will likely see themselves safe, but the basement dwellers have struggled for consistency all season.
Hughes said: "That's right. Teams have had good months and then really poor months, from one extreme to another. Our performances this month have been a lot better, although we have only drawn our last two games, it's been an improvement. It's teams that are consistent that get in the play-offs or get promoted, the gaffer keeps drumming that into us. The gaffer was pleased with the performance on Friday and said why haven't we played like that in other games? It just goes to show what we are capable of."
Part of the problem for Barnet this season has been their leaky defence, with 67 goals conceded in 38 games.
Hughes said: "Definitely, it has been defensively. We have had a lot of changes and whoever has come in have done great, but then we have a slight dip. But I think that (against Macclesfield) was our first clean sheet in nine. Because of our strikers we are likely to score and that hasn't been a problem this year, it's just keeping clean sheets."
Barnet need to start getting things right as a testing run-in will see them face promotion-chasing Southend, Crawley, Cheltenham and Swindon.
On the task ahead, Hughes said: "This week we have probably been looking at three games we should be getting points from. In the first one we didn't get beat. Against the Crawleys, the Swindons, the Cheltenhams, we have performed well against the big sides this year. The other games are a few Friday night games, which tend to help us as well, the night games. Hopefully that will make a difference before the end of the season."
The Bees are also hoping that having Lawrie Sanchez, a man with Premier League and international coaching experience, on their side will help to see them over the line.
Calming
Hughes said: "The gaffer has been there, done it and seen it all. He is drilling into us not to be fooled by the position we are in because one loss and we could be in the bottom two. It's a case of trying to be consistent. Macclesfield have just changed their manager and haven't won a game yet, but for us it is a positive because our performances have been better. Anything could happen in the final few games of the season so we need to get points on the board before then."
He added on Sanchez: "He has been a calming factor because he doesn't get too high with the highs or too low with the lows, he is pretty much the same whether we win or lose. He was pleased with the performance the other night and the lads know he has been there and managed at the highest level, so that helps."
Hughes is aware that he too needs to step up to the plate over the coming weeks, with the Northern Ireland international hoping a productive campaign on a personal level will reach a positive conclusion.
He said: "I have played a lot of games, I think I have played 43 games, so I think I am on course for the most games I have played in a season. As a team we have had good months and bad months and it's just disappointing that we have been inconsistent over the season.
"It's now time to step up in the last seven or so games, stay fit and try to help the lads through it. It would be nice to get a few more goals. Any goals at this stage will be a positive. I have had a few chances recently so I need to start taking them. Hopefully that will help us to get a win somewhere."
Helping to steer Barnet clear of trouble could also land Hughes a new contract, with the 28-year-old hoping to be offered fresh terms and the opportunity to help the Bees build for a brighter future.
He said: "I am happy here. The situation has been made clear that the club can't do anything until we gets ourselves safe, and it's been that way since I have been here. It's just a case of getting my head down, making sure we get a couple of wins under our belt, then I would be happy to stay.
"I am settled here, I'm club captain, so it would have to be a good club come in for me to move. I think I am the longest serving player at the club, so it's good to try and help out the younger ones. I have been here three years and I think the club needs to keep a bit of core, get some younger players coming through and build on things next year. Fingers crossed we will still be in the League. I'm sure we will."