Mr Magpie
Alan Judge dissects Notts County's dramatic surge into promotion contention with Chris Burton.
Last Updated: 19/04/12 11:12am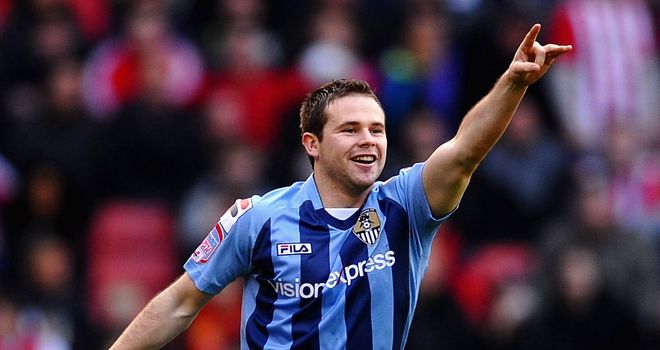 Munto Finance, Sven Goran Eriksson and Sol Campbell may be long forgotten on the banks of the River Trent, but the promise which accompanied their short stay at Notts County may be about to be fulfilled.
The Magpies have done well to bounce back from financial disaster and questionable decisions off the field to put themselves firmly in contention for a play-off spot in League One.
In just their second season back at that level, it appears as though the grand designs offered up by Munto et al could actually, against all the odds, become a reality.
Talk of rapid progress through the divisions was offered up at Meadow Lane as they chased the dream back in 2009, and there is now every chance that the club could bounce their way from the fourth tier to the second tier in the space of three years.
It appeared implausible that such an outcome would come to pass after seeing County end last season in 19th place and take the rather bewildering decision to part with Martin Allen midway through the current campaign.
It would, however, appear that those in charge know best, with Irish midfielder Alan Judge telling Sky Sports' Chris Burton that the Magpies intend to soar their way into the Championship - or at least into the end of season promotion shake-up.
He said: "Everybody is finding form at the minute, but we have just keep doing what we have been doing. We have got to win every game that we can and hopefully we will get another good result on Saturday and keep the pressure on.
Slipped
"You would think that with all the games that we've won that we would be further up the table, that's just the way the league is at the minute. But even Huddersfield have slipped back in and, you never know, we could even catch them. We have just got to keep doing what we've been doing.
"I would like to think that we might know a bit more come this Saturday. If it does go to the last day of the season, that's how we will have to do it. We just have to win as many games as we can."
County are fully deserving of their standing inside the top six, having won 10 of their last 16 games, and would have had a play-off place already sewn up were in not for a slight wobble in the New Year.
Asked if being in contention at this stage represents some achievement, given where they were at the end of January, Judge said: "It is, considering where this club has been. Last year they were fighting relegation and the year before that they only came up from League Two. This season, in every way, has been perfect for us. I don't think we were expecting to be near the play-offs, especially after a dip in form in January, but the new gaffer has come in and given us a new lease of life and it's just gone on from there."
The 'new gaffer' is Keith Curle, a man who has helped to breathe new life into the Magpies just as it appeared as though their wings had been clipped.
Judge said: "It's crazy. The manager has a great record at the minute, I think we have only lost against the two Sheffield clubs. We have drawn one or two, but we are doing alright. It's simple, we have to keep on doing it and not let the pressure get to you.
"The manager has come in and told everyone to play the game the way you see it and the way it should be played. He hasn't changed that since he's been here and it's been great."
Surprise
It is, however, important to point out that Curle has built on the foundations put in place by his predecessor Allen - a man who helped to steer the club to third tier safety last term and put them in contention for a play-off spot this time around.
Judge said: "I don't think anyone can argue with the job that Martin Allen did at the club. He came in at the right time last season, kept us up, and he built a great team. It was a bit of a surprise (when he left), but that's what happens in football - you think you're okay and the next minute you're gone. But we are working under a new manager now and we have just got to give him everything."
For Judge, that means staying fit and healthy and ensuring that the most productive campaign of his career - in terms of games played - ends on the highest of highs.
The Republic of Ireland international said on his endeavours in 2011/12: "I think it's the best season I have had for quite a while. I'm enjoying every minute of it. It's great to be playing and under the new manager I have been given a different role in the team, I'm a bit more central, which I like because I'm more involved in the game. I'm loving every minute of it.
"I broke my foot last year and have been a bit hit and miss with injuries. I had a hamstring tear at the start of the season but, touch wood, I've been alright since then. I think I must be up there with the top appearances at the club, with (Alan) Sheehan and (Neal) Bishop, so I never would have thought that after only playing 17 games last year. It's been unbelievable for me this year."
Judge's year could be about to get even better, with the former Blackburn Rovers trainee adamant that County will be doing their utmost to ensure that their season ends with a wild celebration at Wembley.
He signed off by saying: "Fingers crossed. First we have to get through Bury on Saturday. We can't take anything for granted, we've just got to do what we can do."