Big finish
Matt Bloomfield tells Chris Burton that Wycombe are hoping to end a testing campaign on a high.
Last Updated: 19/04/12 6:06pm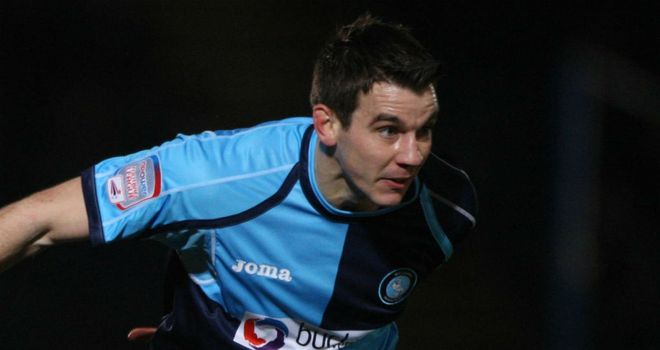 For most promoted teams, surviving the first year in a new division is the ultimate target.
Should things go better than expected and you hit the ground running, great.
It is, however, all about hitting a certain points target and ensuring that you remain in similar company for the following season.
For Wycombe Wanderers, the 2011/12 campaign was all about steering clear of trouble and preserving their League One status.
They are not there yet and a challenging run-in suggests they are going to have to dig deep in order to avoid a hasty return to the fourth tier.
The Chairboys are, however, still very much in the survival hunt, with just three points separating them from safety with three fixtures to come.
Can they drag themselves out of the drop zone before the end of the month? Time will tell.
That is certainly the intention of those inside the Adams Park camp, with Matt Bloomfield admitting to Sky Sports' Chris Burton that some testing times will be quickly forgotten if Wycombe can haul themselves out of the bottom four.
Challenge
He said: "It has been a tough season, it's been up and down, but we want to finish the season on a high. We know what we have got to do, we've been down there fighting all season, battling away to keep ourselves in touching distance, and now this is our opportunity to try and climb out of it. We are looking forward to it, looking forward to the challenge, and there is a group of players in our changing room that is determined to do its very best for the club. We hope we can pick up the points between now and the end of the season to make sure we stay in the league."
Asked about the importance of surviving that vital first year in a new division, he added: "I think any team that gets promoted from the league below, survival is the first aim and then anything you achieve away and above that is a bonus. We always knew that it was going to be a good season, it was going to be a tough season, and we've had confidence from day one. We have had a few ups and downs and we find ourselves in a position now where we are three points adrift with three games to go, but we are looking forward to the games.
"I think it is about surviving that first year and then you can look to build. History dictates that the first year is quite tough. We have lost games this year that maybe we shouldn't have done, we have been a bit unlucky at times and we haven't played well at times. But now we have got three games to preserve our League One status and for everyone in the changing room that's our sole focus. Our sole focus is on attacking the game against Charlton on Saturday and doing enough to win the game."
Wycombe can take heart from the fact that they are in better form than many of those around them and have given themselves a shot at survival after sitting bottom of the division as recently as 3rd March.
Bloomfield said: "We are still within touching distance. We would have liked to have picked up a few more points to get ourselves right back in the pack, but we are within touching distance. We have got three tough games to come and no-one is expecting us to go to Charlton on Saturday and win, but within the dressing room we believe that we can and that's the most important thing. We respect Charlton - we respect what they have achieved this season, they have done fantastic to get themselves promoted already - but we can't fear them and we have to make sure that we go there and approach the game believing that we can win."
Already-promoted Charlton represent the first hurdle Wycombe need to negotiate, but Bloomfield does not buy into the belief that the Addicks may take their eye off the ball after booking their ticket back to the Championship.
He said: "Who knows? They are still motivated to win the league, so I don't expect them to take their eye off the ball at all. They have been motivated to get to this stage of the season, so I am sure motivation won't be a problem for them. They will be going all out to win the league. We will go there looking forward to the game. No-one is expecting us to win, so why can't we go there and try to upset it?"
After taking in a daunting trip to The Valley, Wycombe then face play-off hopefuls Notts County and top-two challengers Sheffield Wednesday - hardly an ideal run-in.
Bloomfield said: "They are three tough games we've got coming up. Charlton I've mentioned, Notts County have had a fantastic season and Sheffield Wednesday are a big club that don't expect to be playing in League One and have got a budget to match. It's three tough games, there's no denying that fact, but we have done alright in some big games this season and we have got the belief in our squad. It's now or never for us, we have a chance to achieve safety and we have to do it any which way we can. Playing three big teams at the end of the season isn't ideal, but it's down to us to get the points we need to stay in the league."
Positives
The Chairboys can, however, take plenty of heart from the fact that they have taken points off the likes of MK Dons, Stevenage and Carlisle in the last few weeks.
Bloomfield said: "We have taken points off some good teams this year and we will take the positives out of that. We have dropped points at times when we shouldn't have done, but that's by the by now. We have got three big games coming up against three good teams and it's up to us, if we want to stay in the league, to produce performances that can win the games."
While the season may not have gone entirely to plan for Wycombe as a collective, Bloomfield is happy enough with the part he has played in their third tier endeavours.
He said: "I've been happy with how the season has gone for me personally. I've enjoyed the season being back in League One, I feel like I have done myself justice and I have done well enough for myself and the team. But that's a by-product of the season, my sole focus is on keeping the team up. But, at the same time, I have been fairly pleased with my own form and I just hope that between now and the end of the season myself and everyone else in the changing room can do enough to keep us in the league."
Bloomfield is hoping his ninth season at Adams Park ends on a high but, whatever happens, the 28-year-old midfielder insists he is enjoying his football as much now as he did what he arrived at Wycombe back in 2003.
He said: "This is my ninth season and I'm thoroughly enjoying myself at Wycombe. The longer you are at a club the more attached to it you become and I've made a lot of friends behind the scenes and among the supporters. I'm loving my time here and hopefully this year can be another positive. There have been a few negatives over the years, but I'm hoping that this year we can stay in the league and it can be another positive for myself. Nine years is a long time to be at a club and you get attached to it, to the people and you get to know the supporters, the people behind the scenes and it's nice to have that affinity towards the club you play for."
Having firmly attached himself to the Chairboys, Bloomfield has also taken on the added responsibility of being the club's PFA representative - another role the hard-working former Ipswich Town trainee has embraced.
He said: "I have taken that on as well in the last couple of years and it adds a little bit extra responsibility away from the pitch. I enjoy responsibility, I enjoy what comes with doing that. In my performances out on the pitch I like to take responsibility and I hope that comes out in my performances."