Finish on the Bull
Nikki Bull tells Chris Burton that Wycombe are determined to secure a top-three finish in League Two.
Last Updated: 29/04/11 1:18pm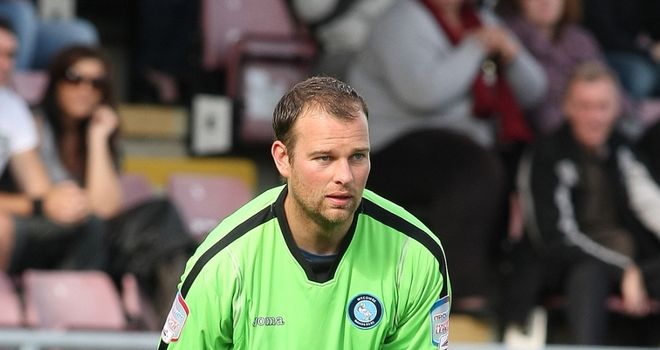 It is never easy to regroup after suffering the heartache of relegation, with the disappointment which accompanies such a slump often difficult to shake off.
Slipping into a lower tier can also lead to all kinds of changes on and off the field, with players and coaches often moved on or opting to up sticks in favour of taking on a new challenge elsewhere.
There are, however, a few hardy souls who are capable of shaking off the relegation hangover and getting on with their lives, rather than wallowing in self pity.
Wycombe Wanderers appear to have suffered no long-term damage following their tumble out of League One last season and are closing in on a return to the third tier at the first time of asking.
The Chairboys are already guaranteed to grace the League Two play-offs this season, but their sights are currently set much higher than that.
A top-three finish is very much on the cards, and that would allow Gary Waddock's side to avoid the lottery which is the end of season shake-up.
Just a solitary point separates them from the promotion-chasing pack at present, with the battle towards the top of the fourth tier having been keenly contested all season.
Wycombe, though, know that their fate is in their own hands, as maximum points from their last two games would make them untouchable and allow them to join Chesterfield and Bury in League One next season.
Waddock's men face the already-promoted Shakers this weekend in a crucial top-of-the-table clash and know they cannot afford any untimely slip-ups.
They are, however, fully prepared for the scrap to secure third place to go down to the wire, with goalkeeper Nikki Bull telling skysports.com's Chris Burton that the Chairboys are not expecting to be able to put their feet up come Saturday teatime.
Twists and turns
He said: "We all expect it to go to the last day and whichever team performs best on the day is going to go up and deserve it. We are just going to try and make sure that's us.
"The manager wants us to play a certain way and when you are trying to attack the opposition, you are going to leave gaps at the back. But over the course of the season, the back four have defended superbly and we have one of the best defensive records in the league. That has provided a good solid foundation and we are going to go to Bury on Saturday looking to pick up three points, nothing else. Fingers crossed we can pull it off.
"If you look over the season as a whole, we do seem to have performed better on the big occasions, for what reason I don't know. I think it will bring the best out of us and will add even more spice to the occasion. They are still going for the title, so they want the points, so it's going to be one hell of a game. I expect goals, I expect drama and I expect plenty more twists and turns in the next two weeks."
Wycombe know what it takes to secure promotion in dramatic fashion and hope that experience will stand them in good stead during the final sprint towards the finishing post.
Bull said: "Two years ago I think it went down to the last day and they went up on goals scored, so they have experience of it going to the wire. In the last few days there have been a lot of twists, when we drew at Torquay and Shrewsbury won, we dropped out of the top three. We looked at the draw at Torquay and thought it wasn't a great point, but looking at it now it might be the point that gets us up. We have got a good goal difference as well, but there is pressure on both sides. The best team will go up."
Wycombe remain in the hunt after going through their last eight fixtures unbeaten.
Unfortunately for them, the rest of the top seven have also found form at just the right time - ensuring that the promotion battle remains intriguingly poised.
Bull said: "Bury are prime examples, I think they have won seven on the bounce. They have found form, and Shrewsbury, before they played us, had won four or five on the bounce. Although we are unbeaten in eight, we have probably had too many draws this season. We have drawn four of our last five, so although we aren't getting beaten we aren't really beating anyone. This is the last push for us and we know two more wins will take us up."
The Chairboys cannot take anything for granted, though, and have to ensure that they are prepared for a play-off tilt should they suffer a late wobble.
On the prospect of slipping out of the top three, Bull said: "It would be a massive blow. We set out at the start of the season with the aim of going up, be that automatic or through the play-offs. The goal was to go up and to have been around the top three all season and not go up would be a blow. But if it happens we will have to go again and show strength of character to go through the lottery of the play-offs. But all we are focusing on at the moment is Bury at the weekend. I just hope we can come out on top.
Mental change
"Over the years it is the teams that come with a late run that do well and the teams that drop in seem to mentally change. We will cross that bridge if we come to it. Shrewsbury have got to go to Cheltenham on Saturday and they still need points so they will be trying. They have got a lot of players out of contract and have had some poor results in the last couple of months, so there will be players there looking for contracts that won't just throw it away. Having been in the league all season, there are no easy games in this league and you have to fight for every point. We just have to fight for six more."
Whatever happens to Wycombe this season, Bull feels the club have every right to feel proud of their achievement, given how disappointing the 2009/10 campaign ultimately proved to be.
He said: "I think out of all the teams that were relegated last season, we are the only ones that are in an automatic promotion spot. Stockport have gone again, Gillingham and Southend, they came down with us last season. They would all swap places with us, so it's been really good. I only joined the club last summer, but the boys that suffered relegation last season have shown great character to turn it around."
Bouncing straight back is all well and good, but Bull admits that it is about time Wycombe addressed their yo-yo issue and cemented themselves in the third tier.He added: "If we do manage to get up, then it would be a great achievement. The club then needs to try and break that yo-yo run they have been on, it's been like that for the last decade or so. They go up, come down, spend a couple of years in League Two, then go up again. We have to try and establish ourselves as a League One club.
"But League One gets harder every year and next year will be no exception. A few years ago if you said you would have Sheffield United and Sheffield Wednesday in League One, along with the likes of Charlton and Southampton, it's ridiculous. But for players like me, who have spent most of their career in the non-league, to have games home and away against Sheffield United and Wednesday would be a dream come true."
It certainly would be for Bull, with the former QPR, Hayes and Aldershot shot-stopper having flourished at Adams Park this season following a difficult one-year stint at Brentford.
He said: "After being at Brentford last season and struggling with a shoulder injury, to play every minute in every game - I have played 50 games this season - has been great. I am excited to be playing again, I am enjoying it, I love playing for the manager and hopefully it will all end with promotion."
On his future, the 29-year-old added: "I signed a new contract in January and I will be here for another two years. Potentially a couple of things could have happened in January, but I always wanted to sign. When the contract was offered, it was a no-brainer. I'm happy at home and I'm happy at work, so it's a good all around situation for me.
"There was an option to stay at Brentford but, with my injury being how it was, I wanted to get away from there. When this opportunity came up there was only one decision I was going to make and I'm delighted with how it's gone so far. Hopefully it will get even better in a couple of weeks' time."