Learning curve
Jason Kennedy tells Chris Burton that Rochdale will be stronger for their experiences this season.
Last Updated: 05/04/12 6:20pm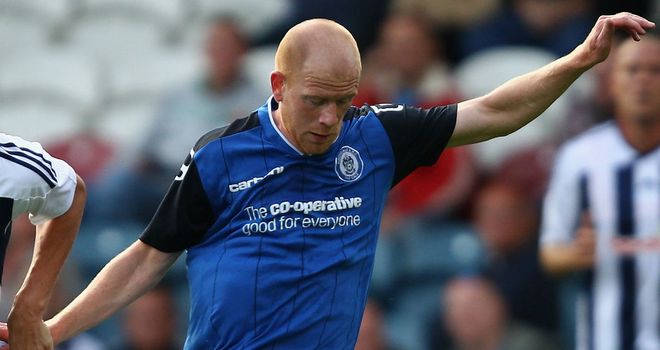 With six games of the season to go, Rochdale find themselves eight points adrift of safety in League One.
It is looking increasingly likely that the club's dalliance with the third tier will last just two seasons, with the trapdoor creaking open beneath their feet.
Whatever happens, though, Dale consider themselves to be stronger for the experience.
They will not be looking forward to reacquainting themselves with League Two, having taken 41 years to clamber out of the basement, but will consider relegation to be a trip rather than a tumble.
Competing alongside the likes of Charlton Athletic, Sheffield Wednesday, Southampton and Sheffield United has given them an indication of what is required to progress from this point.
A tight budget means they will forever find it difficult to compete with the Football League elite, but they have always made the best of what is available to them.
That philosophy will remain at Spotland regardless of the division they find themselves in in 2012/13, with Dale midfielder Jason Kennedy telling Sky Sports' Chris Burton that the club will look to use their struggles this season to their advantage.
"I imagine we will still work on quite a low budget, but we have proved that we can do that in previous seasons," he said.
Improve
"We have got players in that work hard for the team and that can bounce back up into League One if needs be. We can learn as a club from the mistakes. To improve you have to look at your mistakes and correct them. I think Rochdale can do that."
Kennedy is, however, refusing to throw in the towel on Dale's current survival bid.
He said: "It is a big ask. We are looking at having to win five out of six. The lads have just got to treat every game as a cup final, give it our all and see what happens. Strange things happen in football, so as long as we keep going we will see the outcome at the end of the season.
"There are still some massive games. We have got Sheffield United next Tuesday, but there are also games against teams that are in and around us that we think we can pick up points against. You never know, if we can pick up points against them, other teams could slip up. You just don't know in football and anything is still possible."
Rochdale have shown in glimpses this season that they are capable of holding their own against the so-called bigger boys, with impressive points taken off Charlton, Sheffield Wednesday and Huddersfield.
"Against some of the top clubs we have picked up some great points and put in some great performances," said Kennedy.
"But we have let ourselves down against teams that you expect to maybe pick up three points. It has been a bit of inconsistency.
"Seven wins out of 40 games isn't a good ratio. We have picked up a few wins here and there, but we have got to get a string of results together - back-to-back wins, three wins on the bounce, and we haven't done that this season."
Emotions
Dale's inconsistencies were highlighted perfectly in their last league outing, with a 3-3 draw against fellow strugglers Walsall seeing both sides net in stoppage time.
On that contest, Kennedy said: "We scored to make it 3-2 and it was the highest point of the season, we were thinking we have given ourselves a great chance picking up three points against Walsall. But then, straight from the kick-off, they go down the other end and score. We went from one massive high to a massive low in the space of a minute. We picked ourselves up, we have trained well this week and we have just got to go into Saturday and be positive."
Last season's ninth-place finish feels like a distant memory for those at Spotland, but Kennedy concedes that the club's recent successes were always going to make it difficult for them to pass under the radar and build for the future.
He said: "We obviously lost a few of our better players in the summer, the likes of Chris O'Grady, Matty Done, Scott Wiseman, then we had Craig Dawson, who was excellent for us, he was on loan. We lost a good four or five of our stronger players at the start of the season and we didn't get off to a good start.
"Bigger clubs come asking for our top players and a club like Rochdale have got to sell on and make the money from profits on players. It's always going to be a difficult task to keep the better players. But, as a player, you want success and if your colleagues and friends go on to bigger and better things, you have just got to carry on yourself and hope for better for everyone."
Kennedy, who joined Dale from Darlington in 2009, is hoping his own future will turn out bright, with it his intention to put this season's troubles to one side and focus on the challenges that lie ahead.
He said: "I have been here three years and we have always been quite successful getting results. Hopefully next year we will be stronger. You want to be a winner, but you have to take something out of these bad times to make you a stronger and better player.
"I have got another season left with Dale, so I will be here next season. Hopefully, if we do get relegated, it will be pushing for promotion again."