Job done
Gabriel Zakuani tells Chris Burton that he is to undergo surgery after helping Peterborough to safety.
Last Updated: 20/04/12 4:55pm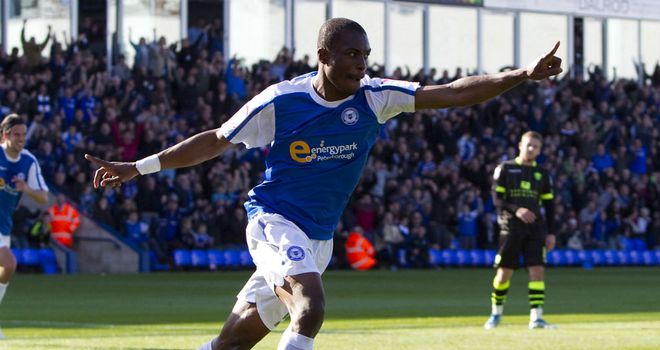 Gabriel Zakuani's season has been brought to a premature conclusion, but he is fully deserving of the relaxation time he openly admits to be planning.
The Peterborough United defender has played through the pain barrier this season to help the Posh to Championship survival, with a broken toe failing to see him to sidelines.
He is, however, preparing to put his battle-weary feet up after ensuring that he will be competing in the second tier once again in 2012/13.
Surgery will be required, with it possible that he may also require an operation to fix a shoulder complaint, but sitting on a treatment table is as strenuous as things will get for him for the foreseeable future.
Having put his body on the line for the good of the cause, few would deny him the opportunity to take things easy heading into the summer.
He has helped Peterborough to hit their targets this season and the 25-year-old defender considers the 2011/12 campaign, both for him and the club, to have been a success.
Zakuani told Sky Sports' Chris Burton: "I will have to have surgery on my toe. I will find out more tomorrow (Saturday). With the shoulder, hopefully I can just strengthen it but it looks like that might need pinning as well. I just have to make sure that I have a good pre-season and I hit the season fully fit. At the moment it's just about putting my feet up and enjoying what we've achieved.
"The season's over for me. My objective was to play on and have injections to make sure that I complete the season, but now we have achieved what we need to it's season over and I can enjoy it."
Achievement
Asked how he will look back on the 2011/12 campaign, Zakuani added: "I'm delighted with it. I was one of the players that was here in that disappointing season a couple of years back, but this year we have managed to get over the line. It's a very small squad and we have probably got the smallest budget in the league, so to get over the line is a really good achievement. We're ahead of some clubs that are working on bigger budgets and with bigger squads than ourselves.
"When you get to the end of the season you just want to make sure you get over the line. Luckily we have done it with two games to spare and now we can relax a little bit."
Peterborough's form since the turn of the year has offered cause for concern, but Zakuani insists they were never fearful of being dragged into a relegation scrap.
He said: "Not really, as such. You always do look over your shoulder and think maybe someone may come and take over you, as a few of the teams have put together good runs behind us, but I think we did enough during the first half of the season to create a big enough gap. We have won when we have needed to win, the important games, and we have managed to see it through."
Four wins in 2012 does, however, suggest that there is much work to be done at London Road over the summer.
Zakuani said: "There is definitely work to be done and that is where the manager comes into it, looking to improve next season and the people we bring in. Hopefully it will be a lot more comfortable next season and we can look up rather than down.
"There is a lot to build on. We can look at this as a good year for us, after what happened last time, because it was all about staying at this level. We have shown now that we are established in the Championship, which is nice for the people who are here from the relegation before. At this stage of the season you would have taken this with both hands. We have shocked a lot of people, the bookmakers and other pundits that put us down, and we have stuck together and have managed to get over the line pretty comfortably."
Fresh faces would appear to be the order of the day, with Peterborough boss Darren Ferguson having preserved the club's Championship status while working with one of the smallest squads in the division.
Additions
"They would be very welcome," said Zakuani.
"We have managed with what we have got and if we can get a few new faces in, I think we can definitely look further up the table and maybe be a surprise package next season. At the moment, consolidating ourselves in the Championship is a massive achievement for everyone connected with the club."
Tightening up at the back is one area that will need to be addressed, with rock-bottom Doncaster the only second tier club to have conceded more goals than the Posh this season.
Zakuani said: "That's what we have got to learn as a team. The objective was to make sure that we were a Championship club come the end of the season, we have achieved that, so next season we can look to tweak a few things and the manager will know where he needs to work on. At the moment, we will just enjoy the moment and then focus on next season towards the end of the summer."
Peterborough look to be okay at the opposite end of the field, with the signings of Emile Sinclair and Tyrone Barnett from Macclesfield and Crawley respectively looking like good business.
Zakuani added: "They have been very useful. They have come in from lower league clubs in League Two and settled in right away. There have been a few other good signings that the gaffer has brought in and they have all done enough to help us become an established Championship side. Everyone has contributed."
While it is definitely a case of job done at London Road this season, there are still two more fixtures to take in - against Derby and Watford - and Zakuani admits it is important that Peterborough look to end the campaign on a high.
He said: "We don't want to tail off the season. We lost the last game, but consolidating in the Championship was major and we're happy we've done that. Now it's just about ending the season right and maybe blooding a few youngsters. I'm sure the gaffer will demand the best out of everyone that's going to be involved in the next few games."