Fox turned Pirate
Bristol Rovers loanee Tom Parkes discusses his future and learning in League Two with Chris Burton.
Last Updated: 13/05/12 7:26pm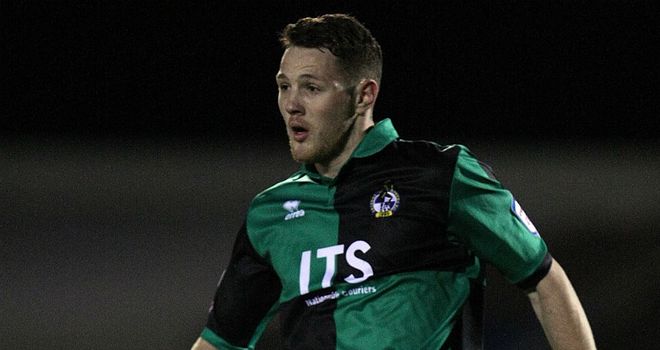 Loans are intended to be beneficial to two parties, with both sides in need of something that the other can provide.
In footballing terms, this means clubs short on players look elsewhere for new recruits.
Often these come in the form of untested youngsters from higher up the football food chain.
The promising young player in question gets the opportunity to cut his teeth in the senior ranks, while the club snapping him up benefits from his potential and presence in their squad.
Everyone's a winner.
One player who is no stranger to such agreements is Tom Parkes, with the 20-year-old defender currently taking in the fifth loan spell of his blossoming career.
Time spent with Yeovil Town and three stints at Burton Albion have given the Leicester youngster a taste of what Football League life is all about.
In 2012, his footballing path led him to Bristol Rovers and it was while on the books of the League Two outfit that Sky Sports' Chris Burton caught up with Parkes to discuss his past, present and future.
"I have really enjoyed my time being here," he said when asked to sum up his stint at the Memorial Stadium.
Setback
"I had a little setback at the start of the season, I broke my ankle, but coming to Bristol Rovers has helped me to get back to fitness and got me enjoying my football again."
Parkes' cause has been aided by the fact that fellow Fox Cian Bolger is also taking in a loan spell with the Pirates.
He added: "Being down here has been really good. Playing with Cian as well from Leicester, I think we have both gained a lot of experience. I think it has been really good for both us and really beneficial."
While enjoying his time in the fourth tier, Parkes admits he is hoping to make the grade at Leicester when he returns to the King Power Stadium at the end of the season.
He said: "When I go back hopefully I can stay fit and do well. Hopefully I can get a chance there. If not, we will just see what happens from there. If nothing happens, hopefully it does, then I will try to get a loan move again."
Leicester have been keeping a close eye on Parkes and he has welcomed the feedback he has received from the Foxes' coaching staff.
He said: "They have been to watch a few games. I have been in touch with the reserve manager and the manager and they have said that they are happy with how I have been doing."
There is a chance that Parkes could be heading back to a Premier League outfit this summer, with Leicester still clinging to their play-off dream in the Championship.
He said: "Leicester have done really well. They have had their ups and downs as well, but they are pushing on now and hopefully they can get into the play-offs."
Tough
Stepping up from the fourth tier to the top flight would be a big ask for Parkes, but he believes he has benefited greatly from the time he has spent in League Two over the past few seasons.
"I think League Two is one of the toughest leagues to play in," he said.
"You don't know what to expect from teams. The Premiership is a really high standard and they pass the ball well, but in League Two it's different. You get players that are skilful and play the ball well and you get players who are physically strong as well.
"In League Two there are a lot of players who are really experienced and they have come down through the leagues because they still want to play. They have got all the experience and it's harder for the youngsters to come through. The experienced players have more of an idea about what they are doing."
Bristol Rovers have found themselves back in League Two this season after slipping out of the third tier last term, and they have not had things all their own way.
Parkes said: "At the start of the season I think it was a bit up and down. I wasn't at the club at the time, but after Christmas the lads have done really well. We have won games, we have lost a few as well, but we have worked hard to get where we are at the moment.
"We will be looking to win all of the last three games we have got this season and take that into next season. I think it would nice to get into the top half. We have just got to look to try and win all three games and try to end it on a high note."
Wherever the Pirates end up this season, Parkes is confident that Mark McGhee's side will be pushing for a return to League One in 2012/13.
He said: "I think next season the gaffer will be looking to make changes and they will be strong. I think they have got a really good chance next season."