Flaming Shrews
Jon Taylor reflects on an eventful period in Shrewsbury's promotion push with Chris Burton.
Last Updated: 04/04/12 6:55pm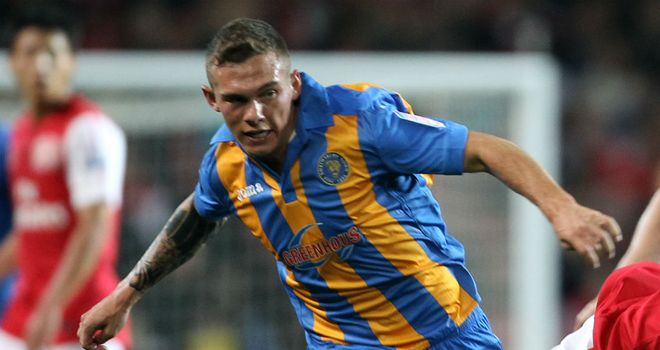 It has been an eventful week for Shrewsbury Town Football Club, with two fixtures having been taken in but only one finished.
On Tuesday 27th March, the Shrews took to the field against financially-crippled Port Vale, hoping to give their League Two promotion push another nudge in the right direction.
They were denied the opportunity to do just that, though, as sparks in the control room, rather than those on the field, meant an early night for all concerned.
Floodlight failure at the Greenhous Meadow Stadium offered the first indication that something was amiss, and smoke billowing out of the East End was never going to be a good sign.
In the end, 65 minutes into the contest, the game had to be abandoned, with a 'serious fire' leading to the game being brought to an abrupt halt and the mass evacuation of those in the stands.
The efforts of the stewards and the fire services must be commended, with potentially disastrous consequences successfully averted.
A rearranged fixture is the last thing Shrewsbury needed, though, while their teenage winger, Jon Taylor, has been left cursing his luck after seeing a three-match ban start a game later than anticipated.
Sky Sports' Chris Burton recently caught up with the youngster to get his take on fires, suspensions, promotion battles and the future, and started by asking him about the Shrews' memorable encounter against Port Vale.
Frustrating
He said: "I have been banned after getting sent off at Morecambe, and Port Vale would have been the first game banned for me but it got cancelled in the 65th minute, so that was disappointing for the team and myself.
"We were winning and we were cruising, to be fair. We could have got three points there and it's another game added to my ban as well. It was devastating for the team and myself. I couldn't see Port Vale getting anything from the game, so it was frustrating all round."
Taylor was watching on as chaos erupted around him and admits he, like many of his fellow spectators, was completely unaware as to the severity of the situation that was unfolding.
He said: "I was watching in the stands and the next minute the floodlights went off. We just thought the game would eventually carry on and didn't think anything of it. But apparently there was a fire in one of the boxes inside the stand. The game had to get cancelled. It's the first time I have ever seen anything like that."
Shrewsbury now have seven games to squeeze in before 5th May and while many of their promotion rivals find themselves in a similar boat, Taylor admits they could have done without finding the time for another crack at Vale.
He said: "We are just behind Torquay with a game in hand. I wouldn't say there is pressure now, but we have got to win our game in hand to draw level with Torquay. The games are coming Saturday-Tuesday, Saturday-Tuesday and this week we have got games Friday-Monday.
"We could have done with the game carrying on and getting the three points, as it would have been another game gone. Everyone has got games coming thick and fast, but it was a bit of bad luck for us with the game getting called off."
Shrewsbury do, however, still have a number of winnable games to come and will fancy their chances of sneaking into the automatic promotion places before the season is out.
Taylor said: "We have got four games at home and three away, which is an advantage for us because we have got a good record at home. I think we need to win all our home games and try to get as many points as we can away. Hopefully other teams will do us favours when they are playing Torquay and Crawley. We need a few other teams to slip as well."
Ambition
Avoiding the play-offs is a priority for the Shrews this season, with that particular lottery having been unkind to them in the recent past.
Taylor said: "We missed out last time by a point. It went down to the last game of the season and it was disappointing. We were then terrible in the play-offs, so we don't want to go back to the play-offs again. We want to try and go up automatically.
"I think we have got a great squad. We have got everything to handle being in League One. It's just about trying to see it through now until the end of the season."
Taylor has every intention of helping to guide Shrewsbury to the next level, with speculation which started last summer regarding his future put to the back of his mind the moment he penned a two-year contract.
He said: "I had an agent at the time and I didn't know what was happening. I was being told to go different places. It was the first time for me in the contract talks and I didn't know what was happening. But I made the right decision in staying at Shrewsbury, especially if we get promoted this year. It was definitely the right decision."
While happy with his decision to stick with the Shrews, Taylor sets lofty targets for himself and admits the 2011/12 campaign has been a bit of a rollercoaster ride.
Asked if he was happy with how the season has gone on a personal note, he said: "Yes and no. I think it started off slowly, I was coming off the bench every game. But again I came in during the games at Christmas. I would have liked to have started off a bit better but I'm happy with the way it has worked out in the end.
"I have got two games left of my ban and then I come back with five games left. I have just got to keep myself working hard, keep a good attitude, so when the games come round, the gaffer will look at me and put me back in. I just need to keep it in the gaffer's mind that I'm ready."