In at the deep end
Wes Foderingham talks his dream Swindon debut and his hopes for the future with Chris Burton.
Last Updated: 19/10/11 4:53pm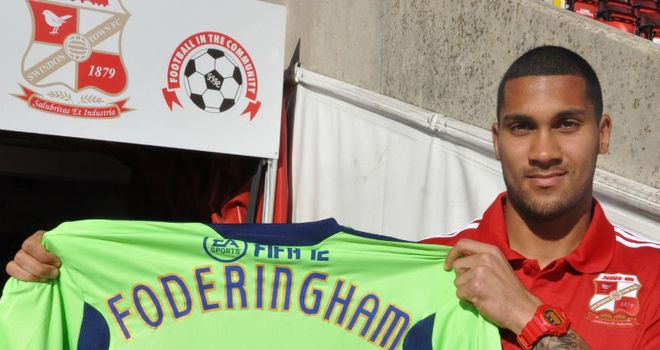 Moving clubs can be difficult for the most experienced of pros, with new surroundings, team-mates and coaches presenting new challenges.
It is important to acclimatise yourself with all of these factors if you plan on being a success at the club in question.
Sometimes, though, the time you are given to find your feet is considerably less than the ideal.
Take Wes Foderingham for example, a young, promising goalkeeper looking to make his mark in the Football League.
The 20-year-old is on the books of Crystal Palace, but is yet to make the breakthrough at Selhurst Park.
Unsurprisingly, he has decided to tread a path well known to aspiring footballers attempting to forge a career at the top of the game.
Foderingham has decided to take in a spell at League Two outfit Swindon, with the Robins having snapped him up on a loan deal that is due to run into the New Year.
Paolo Di Canio made his move for the youngster after seeing first-choice keeper Phil Smith ruled out with a hernia problem.
Swindon may have found themselves short on options in a key position, but few would have expected Foderingham to be the man asked to answer the SOS call.
Di Canio, though, opted to throw the former Fulham trainee in at the deep end against Accrington Stanley on Saturday, 24 hours after his arrival at the County Ground, and was rewarded with a clean sheet in a welcome 2-0 victory.
The last few days have all been a bit of a blur for Foderingham, as he takes his first tentative steps on the Football League ladder, but the youngster told skysports.com's Chris Burton on Tuesday that adrenaline has helped to carry him through.
Buzz
He said: "I didn't have much time to think about it. I didn't expect to play. The manager told me on the day that I was starting. There wasn't really much time to feel nervous or settle in, but I was glad that he had faith in me to put me straight in and I was obviously happy with the result and the clean sheet.
"It was a massive buzz for me. It was my first League appearance. I've had a loan spell at Histon in the Conference but it's a lot different to League football. The boys helped me through the game, they kept talking to me and encouraging me. It all went well for me."
While those around him have helped Foderingham to settle in, he admits that the speed in which he was thrust into first-team action caught him a little by surprise.
He said: "I wasn't sure of everyone's name! It was my first day. I had to go on the website and put pictures and names together and get to know the back four a bit better. During the game I was speaking to them and I know all the names now so that's not a problem.
"The win was the most important thing, but to get the clean sheet as well is always a bonus."
Foderingham can now focus his full attention on life at Swindon safe in the knowledge that he will be with the Robins until the New Year.
"I will be here until January and I think I have counted 14 games until the end of my loan," he said.
"I would be lucky if I get all 14 games under my belt, but if I don't I will just keep working hard in training and give the manager selection problems."
The promising shot-stopper is actually looking to catch the eye of two managers over the next few months, with it his intention to prove his worth to Di Canio and Palace boss Dougie Freedman.
He said: "My contract at Palace runs out at the end of the season, so I am looking to get something there. I want to put in performances to get a new contract there.
"He's (Freedman) going to be looking at games, and his staff are going to be looking at games, and I have to make sure I perform well and do myself justice.
"It's all new to me but I'm enjoying it at the moment and I feel I am ready to step up to this level."
Experience
Foderingham has no complaints about having had to head for the fourth tier to get his break, with it important for young players to learn their trade before being entrusted with the responsibility of providing a last line of defence at the highest level.
He said: "Most young goalkeepers don't go in straight at the top. It's usually more about going out on loan and getting experience. Until you're in your mid-20s you don't tend to get a chance at the higher end of the football pyramid so I just need to take in regular football and take in as many games as possible."
What, though, are the attributes that Foderingham feels he has already fine-tuned?
He said: "My main attribute is my shot-stopping. I'm good in one-on-one situations and I like to dominate my box as much as I can. It's also useful if you are good with your feet now, from back-passes and breaking up counter attacks, and I feel I can do that as well."
Di Canio has given Foderingham an opportunity to start fulfilling his potential and he admits he is looking forward to the time he will be spending under the former West Ham United striker's guidance.
"He's obviously a footballing legend, but on the managerial side he's good to work with day in, day out," he said.
"The main thing that's stood out is his hunger and enthusiasm. He wants to do well and I think a good manager has to be like that."
Swindon, having slipped out of League One last term, are hoping Di Canio can help them to bounce straight back up and Foderingham sees no reason why the Robins, with a little bit of help from him, cannot be celebrating promotion come the end of the 2011/12 campaign.
Asked if the club were capable of taking that step, he said: "Definitely. I would be surprised if they don't at least make the play-offs. They have got a great chance to get promoted this season with the manager and the players they have got. I think they will be there around May time.
"There are some decent clubs in League Two now so the standard is quite high. I felt I handled it well at the weekend and I feel I can do well at this level."