All I want for Xmas...
Jon Macken tells Chris Burton that Walsall are hoping the festive season will be kind to them.
Last Updated: 25/12/11 5:15pm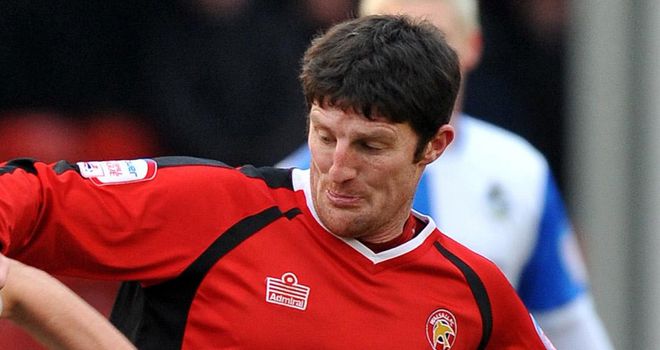 By the time you read this, there is a good chance that you will have unwrapped all of your presents, eaten a week's worth of food in one sitting and already started on the hard stuff.
And why not? This is, after all, the time to eat, drink and be merry.
For some, though, the celebratory mood will not occur naturally.
They will have other things on their mind, more important things - like football.
Those who earn their living endlessly mulling over tactical masterplans, and those who are charged with the task of turning those brainwaves into performances on the field, know that Christmas is a time to knuckle down and pick up precious points, not let your hair down and forget your troubles.
The festive period can make or a break a season - start a promotion push or signal the beginning of the end.
Walsall are one club hoping to avoid the latter of those scenarios, with the first half of the season having been something of a hard slog.
The club sit 21st in League One, with just three wins and 18 points leaving them inside the drop zone.
It will not be a very Merry Christmas for those inside the Saddlers camp, with festive cheer thin on the ground.
With that in mind, it came as no surprise to find that experienced frontman Jon Macken was happy to admit to skysports.com's Chris Burton that all Walsall wanted in their stocking this morning was the guarantee of three points in their next outing.
Unfortunate
"It's not a brilliant situation, but that's football," he said.
"You find yourself in these positions at Christmas time. You find yourself down towards the bottom, in the bottom four, and it's a struggle. But, at the end of the day, we are playing okay, we aren't losing too many games, we seem to be drawing them. We just can't finish the job sometimes.
"It's an issue at the minute because we have been unfortunate in certain games, we have conceded goals late on and some great finishes. It's been a bit disappointing because luck hasn't been totally on our side during this run. But I suppose you make your own luck sometimes."
Walsall are, however, fully aware that they are the only ones that can get themselves out of trouble, with none of their rivals about to do them a favour - even at this time of year.
Macken said: "Exactly, what else can you do? We just have to keep working and try and string a few results together. Hopefully then things will change."
If the Saddlers are searching for inspiration, they need not look far.
Last term the club preserved their third-tier status by the skin of their teeth, with Plymouth's financial troubles working in their favour.
"We have got a lot of young players here, but a lot of them were here last season," said Macken.
"They experienced it as well, so that's a good thing. It's a position we found ourselves in last season, so we know what we can do to get out of it."
The January transfer window is also just around the corner, so it is possible that Walsall boss Dean Smith will attempt to bolster his ranks in the New Year - helping to spread the load.
Macken said: "You never know what will happen. But it's not a club that has got massive amounts of money to spend on players, new players. You never know, sometimes you have just got to go with the players that you have got. Hopefully that will be enough. We have to work hard together as a team, pull together and perform better. We need to get the results that are much needed."
Goals
It would appear that only minor tweaks are required, with Walsall able to boast a better defensive record than 13 of the 20 sides that currently sit above them in the table.
On that record, Macken said: "That's been the thing. We have been winning games 1-0 and in the last few minutes of games they have scored an equaliser to make it a draw and that has probably been our fault in a lot of games this season. But our defensive record has been good. We haven't scored as many goals as we would like, but we have been winning a lot of games 1-0 or 2-1 and then you get kicked in the teeth when the other team scores from a mistake or a lucky deflection or an unbelievable goal."
As mentioned by Macken, producing in the final third has been a bit of a problem this season and for him, as a frontman, frustration has set in at times.
He said: "It has been a bit frustrating because you want to score as many goals as you can. Sometimes it is like that and you just have to keep trying and keep working and get the chances. You need to create chances and then move on from there. It's been frustrating, I've had a few injuries. That's been annoying, but you get back into it and you just want to do as well as you can. Hopefully you then perform in a team that is playing well and getting results."
While chances have been few and far between, Macken has helped himself to a handful of goals and he is hoping to least double his tally by the end of the campaign.
He said: "I obviously want to score more goals. I don't know a striker who wouldn't want to score more goals. At the moment we aren't a team that creates loads of chances and scores loads of goals week in, week out. Am I pleased with how I'm doing? Yeah, I'm fairly pleased. I think I have played quite well so hopefully I can score a few more goals and maybe double my tally. If that happens, happy days."
Should the goals start to flow in 2012, there is every chance that Macken will be offered a new deal at the end of the season, with his current contract set to expire in the summer.
On his future, he said: "I'd like to stay but you just have to wait and see. You are never going to be everybody's cup of tea, everybody's favourite player, but I just hope people see what I put in, how I play and how I go about things and support me because of that."
Macken is hoping someone, if not Walsall, will offer him something next year, with the 34-year-old of the opinion that he has a few years left in him yet.
"I hope so, but you never know in football when things can change," he said.
"I have said previously, sometimes in football now it's not down to the player if he wants to carry on, it's about if they have offers on the table. That's the main thing for me."
For now, though, Macken's focus is locked on helping Walsall clamber away from trouble, with the Saddlers hoping that their Christmas wishes will come true when they host high-flying Sheffield Wednesday on Boxing Day.
Macken said: "It is a big game, it's a massive game. I think they are bringing 4,000 fans so it will be quite a spectacle. We look forward to every game, though. We have put in some great performances this season and have been very unfortunate. We are looking forward to it. But when you are losing week in, week out, it's a lot more difficult because you don't know when your next draw is going to come. We have been unfortunate not to be winning games, but hopefully that will change."