Sky Bet
Loading Market ...
In 2004/05, Fleetwood Town were playing against the likes of Atherton Laburnum Rovers, Ramsbottom United and Stone Dominoes on their way to winning the North West Counties Football League. On Monday night, two-time European champions Nottingham Forest will provide the competitive opposition.
It is a Roy of the Rovers rise up the pyramid. Five promotions in seven years. But as clichéd a footballing fairytale as it is, it is still a fantastic narrative of hard work, determination, skill and, of course, money. The hope is also that it is far from the end of the story.
Chairman Andy Pilley has since 2003 overseen and funded with at least £10million the ascent to the Football League, where Fleetwood will play their first game at that level in their history when Forest - and their illustrious history of conquering the continent in successive Brian Clough years - visit the 5,000-capacity Highbury Stadium in the first round of the Capital One Cup.
But Fleetwood have also made their greatest on-field strides over the past four years under the management of Micky Mellon. The 40-year-old has not been at the club for the entire journey, however, he knows where they have come from.
Mellon became manager in the September of 2008 and has achieved a run to the FA Cup third round, a Blue Square North play-off final victory and last season's Conference title-winning campaign. Forest are next.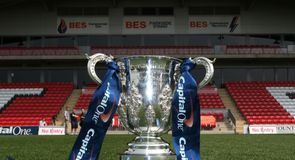 "Seven years ago, we were playing in the North West Counties," Mellon told Sky Sports. "A lot of players have worked very hard in order to make this club successful. Some of them are not at the club anymore, because that is football. But the progress has been made, because we have had footballers who are very hungry and have lifted through the levels. We want to try and continue that."
Streetwise
Mellon was born in the same Scottish town of Paisley as Bolton manager Owen Coyle and Tartan Army legend Archie Gemmill. He went on to have a successful playing career in which West Bromwich Albion were among his 11 clubs before only hanging up his boots in 2005/06 at Lancaster City. But Mellon's management at Fleetwood would appear his greatest achievement, although he does not like to compare.
"I do not really try and marry the two of them up," said Mellon of his playing and managerial careers. "I am still a very young manager. I am very ambitious and hungry to learn all the time to try and get better, as I want my players to get better. I never really sit still. I think looking back at achievements is for when you have got nothing else to do at the end of your career. I hope I am not doing that for a long time."
Mellon is able to call on the managerial schooling of having played under the likes of Sam Allardyce at Blackpool and Joe Jordan at Bristol City. That could be a useful tool and will no doubt be one of the many ingredients behind his success. But he wants to be his own man.
"I think the main thing is that you do not try and copy people," said Mellon, who has also confirmed Fleetwood failed in an attempt to secure Joey Barton on loan after the Queens Park Rangers midfielder spent pre-season training with the club among more than 10 other summer signings. "You have got to be yourself. Footballers are very astute characters and streetwise guys. If they think for one minute you are not being yourself, they will be all over you. So they find out very quickly if you can do the job.
"The biggest thing I have learnt is that both the manager and the players are there to work together. I have found over the years that a lot of the managers work against the players and vice-versa. It is a recipe for disaster. I always try and make sure my players know I am there for them, to help them, for us to get better and win games of football."
Honour
Despite Mellon's determination to look to the long term, there is no doubt Monday's showdown with Forest is the greatest night to date in Fleetwood's 104-year history. And for goalkeeper Scott Davies it is a particularly special era.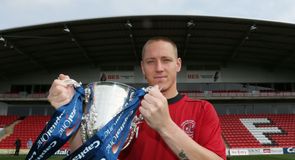 The 25-year-old former Morecambe player became a father during the summer, when he had to rush back from Fleetwood's pre-season training in Austria to be at the birth of his son. Prior to that, he had holidayed in Marbella with his fiancée ahead of their wedding in the same location next year.
"It is the greatest moment of my life that I am feeling at the moment," said Davies. "I got promoted with Morecambe a few years ago when we won at Wembley. But this just seems a lot different this time - winning the league, coming up as champions. Obviously with the birth of my son and getting married next year, it all seems to be happening for me. It is a great time to enjoy and I have got to savour these moments. But the ride is not over yet."
The last sentence sounds like the sentiments of Davies' forward-looking manager, Mellon. But there is no escaping the immediate horizon and Forest. The Championship club's star may have fallen since the successive European Cup final wins in 1979 and 1980 under the immortalised Clough but Forest's illustrious history just adds to the romance of the meeting with Fleetwood. That fact is not lost on Mellon.
"I think everybody remembers the Brian Clough years and the years after that as well," he said. "Nottingham Forest are a great football club with great traditions. To go up against them is obviously an honour. But we are not overawed. We are not going to be standing back and admiring them. We are going to respect them but we are going to try and beat them."
He added: "It is starting to sink in for a lot of the fans that we now play against Nottingham Forest in competitive fixtures, whereas before it was probably just pre-season games. We have earned the right to get in there and mix it with these sorts of clubs. We are going to make sure we make the most of it against Forest and give it the best we can."
Micky Mellon & Scott Davies were talking on behalf of Capital One, the credit card company and new sponsors of The League Cup. Round One of the Capital One Cup takes place from 11th to 14th August