Decent debut
Chris Bush reflects on a productive debut Football League campaign for AFC Wimbledon with Chris Burton.
Last Updated: 08/05/12 7:11pm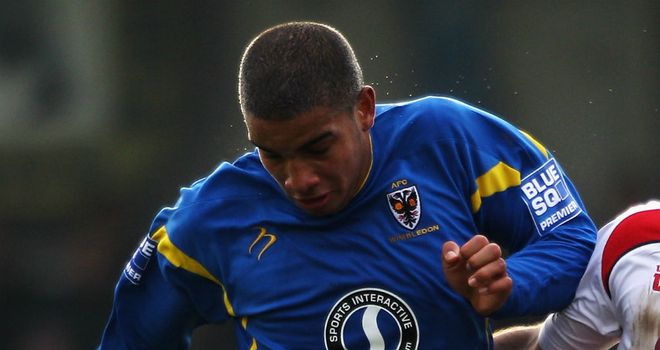 The rise and rise of AFC Wimbledon has seen a club only formed in 2002 make their way from the ninth tier of English football to the fourth in the space of a remarkable decade.
Following the demise of the 'old' Wimbledon - now the MK Dons - a group of supporters refused to let the name, and the dreams of a club that tasted FA Cup glory in 1988, die.
They started with nothing, with a side pieced together from scratch and entered into the Premier Division of the Combined Counties League.
From there, the Football League must have looked a long way off.
It was always the club's ambition to blaze a trail through the divisions, allowing them to return to a stage on which they feel they belong, but history has taught us that some dreams do not come true.
This one has, though, with AFC Wimbledon now a fully-fledged member of the League ranks, and one that intends to stick around for many years to come.
Promotion out of the Conference was secured in 2011, with the club's fairytale adventure taking in another memorable chapter.
In 2011/12 they competed as a League club for the very first time, and they will be back for more next term after comfortably steering clear of trouble.
Wimbledon are most definitely back. The name may have changed slightly, but the new 'Crazy Gang' are here, and they are here to stay.
Targets
"We will look back at it as our first season in the League and it's just been about getting a feel for it," said Dons defender Chris Bush when asked by Sky Sports' Chris Burton to sum up their debut campaign.
"Most of the boys haven't played in the League before and it's nice to have that on your CV. We did set targets out of play-offs and promotion this year but it's been an up and down season, so it's nice in a way that the season has come to an end. We can pick up what we've learnt from this season and go into next year strong and hopefully push for the play-offs and promotion as early as possible."
The Dons made a flying start to their 2011/12 campaign, but Bush concedes that their early-season exploits were fuelled by promotion momentum.
He said: "I think it was a little bit. Some of the boys were excited to be in the League and we did start really well, I think we were third by October. Then we went on a bit of a bad run and we just couldn't find our feet. We've had a few ups and downs, injuries and ins and outs. It was just about finding what was best suited to us and we tried a lot of formations. Hopefully we can go into next season stronger and the good run which lasts a bit longer.
"Towards the end of the season we flirted a little bit with relegation and we knew the points we had to get, the total we set out at the start of the season. We took a while to get to it, but we have hit it. We should really have got there sooner, but it's all been a learning curve for the management and the team."
AFC Wimbledon are learning as they go, with the club and the vast majority of their staff having never worked at this level before.
Bush said: "This has been my first experience of it. I was an apprentice with Brentford in the League, so it's my first season as a pro in the League and it's been hard. It's been okay when results have been going our way, but obviously when you are losing it does get a bit tough. At one point we were looking over our shoulders and hoping we didn't get relegated so that everything we did last season went out the window. We made sure we picked up results and we made sure we didn't have to have a relegation battle this season."
The ambition at Kingsmeadow is to continue taking positive strides forward, with the club determined to become more than just another League statistic.
Bush said: "Definitely. We now know where we stand in the League, we know what it's about and we can all work together - the players and the manager - in helping to push the club where it should be.
Promotion
"We have got the players here and we feel that we have got enough within our team to push for the play-offs and push for promotion. Now we have seen what the League is about and we know what we've got to do. We've been to the majority of the grounds and it's just about finding our form and hoping that it lasts throughout the season."
At just 19 years of age, Bush has slipped admirably into Football League combat and admits that he considers the 2011/12 campaign to have been a success on a personal note.
He said: "I am happy. I have played more games than I expected this year, I have played about 20-odd games. As a 19-year-old, that's all you can ask for, especially in your first season. There have been times when I have had bad games and I have had good games this year and I have got to find what is best for me and how I have got to play to make myself a better player. Hopefully if I'm playing regularly next season, I will be able to find that and I will be able to settle down in a position and find my best form."
Bush linked up with AFC Wimbledon last summer, having opted against penning a new deal at Brentford, and is confident he made the right decision in heading for pastures new.
He said: "Yeah, I am. I thought what Brentford were offering me in a development contract wasn't really what I was looking for at the time. I had already experienced playing in the Conference for a couple of years and I had a lot of experience for such a young age. I felt that I was ready. Although some people may disagree, I felt this was a stepping stone that I have to take at some point. I know what it's like now and hopefully next season I can push on even more and keep progressing."
The team spirit and a young core to the playing staff has helped Bush to settle quickly back at a club where he enjoyed a successful loan spell at in 2010/11.
He said: "Because we are all young, we are all going to stick together and it has been the majority of the team from last season, so we all know each other and know how each other plays. When we are together, that has made it easier for myself. We have got a young squad but we have all stuck together through the tough times and the good times. We now know each other even better and it's not about separate age groups, we are a team."
The future would appear to be bright for AFC Wimbledon and the promising Bush, with both setting their sights at the very top of the game.
Bush signed off by saying: "I want to stay in the League for as long as possible. I'm hoping to get a try in the Premiership. Whatever comes along, if it is right for me at the time, I will consider it. I am more than happy at Wimbledon, it's a nice place to be and it's a good stepping stone. It's a good club to be at to help your progression at this level and hopefully I can be here for a long time."
Access to Chris Bush was provided by Midas Sports Management.