Miller time
Alex Revell tells Chris Burton that promotion remains a reachable target for wobbling Rotherham.
Last Updated: 20/10/11 5:51pm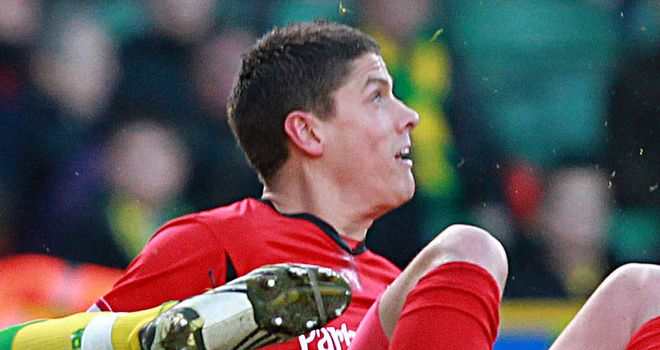 Rotherham have been knocking on the promotion door in League Two for a couple of years now, but they have been unable to force their way inside.
Untimely slip-ups towards the end of campaigns have proved costly and prevented them from clambering back up the Football League ladder.
They hope this season will be different, and it is shaping up that way.
This time around, they are wobbling early on - with six games having passed since they last picked up three points.
Fortunately for the Millers, there are still 33 games to go.
They are also fortunate that they started the season so well, with their recent slump leaving them only four points adrift of the play-off places.
There is still all to play for this term and Rotherham's sights remain firmly locked on the top seven - with the top three and automatic promotion the ultimate target.
Those inside the camp remain confident that goal can be reached, with recent results considered to be nothing more than a minor blip in what it is hoped will be an otherwise successful season.
"We had such a good start and all clubs will have a little wobble but, at the minute, we are getting punished with silly mistakes," Millers forward Alex Revell told skysports.com's Chris Burton.
"The sooner we can cut them out we can start getting wins again. That's been the problem, we've been making mistakes - as a team, we can't blame individuals. We have got a great chance to put things right this weekend against Shrewsbury.
"We got ourselves back in the game against Bristol Rovers (in a 5-2 defeat last Friday), we had chances, and against Burton we played well but lost 1-0. We just couldn't score. We got back into the game against Bristol Rovers at 3-2, but then the second half killed it and we ended up losing the game.
"It's been difficult, but the gaffer has been positive. We have got a really good group of lads and we don't want it to be too long before we win, and when we do, we can kick on from there and get the right results to get us back into the top three."
Positive
Revell insists there have been no heads dropping at the Don Valley Stadium, with manager Andy Scott helping to keep morale high.
He said: "It's really positive. I don't think the gaffer is a negative person and I don't think he would allow it to get negative. We all know what we want - we want promotion, everyone associated with the club wants promotion. The gaffer wants people like that. We know what we have got to do and I think we can achieve that as long as we can pick ourselves up.
"It's been a disappointing run of games, but when we played Sheffield United in the cup (Johnstone's Paint Trophy), we lost that game but it was probably the best we have played all season and we didn't deserve to lose. We wanted to bounce on from there but we didn't, so now it's about how we react to this run."
Part of the problem for Rotherham of late has been finding the back of the net, with only three goals scored in their last five outings.
"As a team we do need to address that, but before the last few weeks we couldn't stop scoring. We went through a great run where we couldn't stop scoring," said Revell.
"We need to get back to creating chances and scoring. We have to go and do that. We are capable of doing it and we just have to go out on a Saturday and try really hard in training and make things better. We are the only ones that can do that and we will give all we can to do that.
"We started really well and we all showed what we can do. That just goes to prove how hard this league is. There are a lot of people who are trying to get out of it, and we are one of them. We have got to step up to the plate now and deliver on the pitch. The gaffer and everyone is working so hard during the week to make it right and we have to do it on the pitch."
Rotherham finished ninth last season and fifth in 2009/10, when they also reached the play-off final, so can this be the year that they finally break their promotion shackles?
Revell said: "I hope so. The manager is so positive and the chairman (Tony Stewart), what he wants to do with the club is massive. We are all eager to get promoted, without a doubt. The club have obviously been disappointed in the past that they haven't gone up in the previous seasons. Speaking to some of the other lads, it has just been a step too far sometimes.
"It's been a bit difficult for the club, but we have got to prove that we are good enough to get promoted because there are a lot of other clubs out there who want to. It's a really hard league but the rewards to get out of it are massive. It's a long season so we just have to settle down and get back to playing the way we know we can play."
The Millers do have ambitious plans, with the club set to move into a new stadium next season, and Revell admits it those hopes for the future that helped to lure him away from third tier Leyton Orient over the summer.
He said: "I looked at what the chairman is trying to achieve and it's massive, he has got real dreams for the club. He knows what he wants to do and it's brilliant to see. It's down to us now because we are the ones that are out there on the pitch and we need to get back to how we were when we were winning games.
"Hopefully, with the way we are training, we have got that feel-good factor back. Football is the best job in the world, but when it's not quite happening for you it can be very frustrating. We have got good players at the club, but when it's not happening it is frustrating. We just want to make the best of the rest of the season and go out and get results - starting on Saturday."
Ambition
Pressed further on the motives behind his move from Orient, Revell added: "I spoke to the manager and he showed me what he wanted to do at the club and I wanted to be a part of it. Everyone wants to be part of a successful team. At the start of the season everyone was flying and the ambition of the chairman is there. It's not been a step down for me because I still want to prove myself. I want to score goals and we haven't been doing that much recently. We need to get back on track.
"For me it's a massive challenge. I'm really enjoying it. No-one enjoys losing, but we need to start fighting now for that top seven. It is a long season and teams can fade away, but we don't want that. We want to be going for that automatic promotion. It's massively important for the club. What could be better than going into League One in a new stadium? That feeling would be awesome."
Revell feels things have gone well for him on a personal note, with a double on his debut back in September helping to endear him to the South Yorkshire natives.
He said: "I have been pleased with the way I have been playing. Recently things haven't been going quite so well for us, but I proved last year and with the way I have been playing that I can score goals. I just need to keep going. It's the same for all of us, we just need to keep believing."
There is a certain amount of pressure on Revell's shoulders to deliver, with the departure of the prolific Adam Le Fondre to Reading having left Rotherham's other frontmen with some considerable shooting boots to fill.
"Obviously they are very difficult shoes to fill," said Revell.
"He was magnificent for the club. Everyone knows how well he did and how much he deserved his move, so those are very hard shoes to fill. But we have got some good players here now that can score goals - we have got Lewis Grabban, Gareth Evans and Danny Schofield, we have got some really good players.
"Alfie (Le Fondre) was the main man, so now we have to work a little bit harder. We need to get back to creating chances and scoring goals and we can do that because we are a very good side - as we showed against Sheffield United, who are a league above. I thought we were magnificent that day, so that's what we can do when we are at our best. Hopefully we can get back to winning ways and show people that we deserve to be in the play-offs."
Revell is determined to play his part in leading the club forward, but admits that his current spell as stand-in skipper has not gone entirely to plan.
"It is a great honour for me, but it's been five games and five losses for me as captain," he said.
"I think I will be quite happy when Ryan (Cresswell) comes back to give it back! But for me it has been a great honour to captain the side. The gaffer has shown trust in me. It's been quite tough because when you come in you are still trying to prove yourself to the lads, not just with being captain but with your performances. It has been a great honour and it would be nice to get a win so I can put that on the CV beside the losses!"