Wembley awaits
Chris Burton talks to Chesterfield's Tommy Lee ahead of the Johnstone's Paint Trophy final.
Last Updated: 23/03/12 5:15pm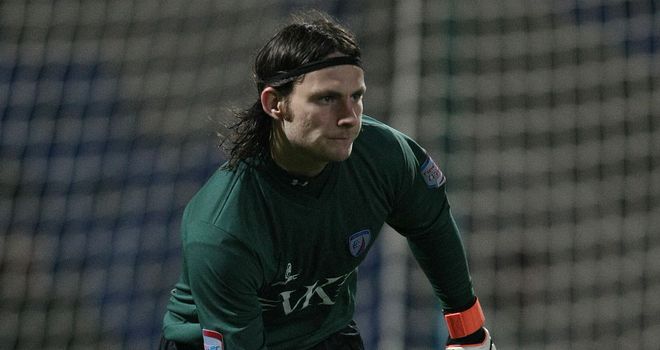 Followers of Chesterfield and Swindon will be heading down Wembley Way on Sunday, with the Football League's finest set to go head-to-head in the Johnstone's Paint Trophy final.
It is occasions such as this which make the competition worthwhile, with it bemusing why so many clubs refuse to take the JPT seriously.
Outside of the national side elite, how many times will the vast majority of professional footballers get the opportunity to turn out at the home of English football?
Not many is the answer, making it all the more important to snatch such opportunities with both hands when they present themselves.
That is precisely what Chesterfield are planning on doing this weekend, with a trip to the capital offering welcome respite in their efforts to secure League One survival.
A standing at the foot of the third tier table may not be what they had hoped for this season, but there is every chance that they could end the campaign clear of the drop zone and with a shiny piece of silverware tucked safely away in their trophy cabinet.
Victory at Wembley would help to raise spirits in the camp at a crucial time and could ignite an end-of-season surge that allows the club to forget all about their previous struggles.
That is the plan as the Spireites prepare to make the journey down to North London, with Tommy Lee telling Sky Sports' Chris Burton that he is looking for the JPT to kick-start Chesterfield's season.
Catalyst
He said: "Definitely. Obviously we aren't in the position we want to be in in the league, but Sunday could be the catalyst for us to start improving our league form and stay in League One. I think the two can go hand in hand."
Chesterfield's chances of tasting Wembley glory have been bolstered by their recent league form, with only one defeat in five indicating that they are in better shape than their lowly standing may suggest.
Lee said: "Since Christmas our form has picked up. It was the lack of wins before Christmas that has put us in the position we are in. But we have now got only one defeat in five and we are definitely in a positive frame of mind. We are prepared and hopefully we can go there and get the right result.
"It's a cup game, it's 90 minutes of football and form goes out of the window. It's all about who performs best on the day and we will be prepared to do our best."
Sunday's game is the first of many must-win encounters for the Spireites, with a cup tussle with Swindon followed by a favourable run-in that sees the club take in fixtures against a number of their fellow third tier strugglers.
Lee said: "They are all big games now. Nine games to go and it is getting down to the wire. We have put ourselves in this position and it is up to us to get ourselves out of it. Our form has been good since Christmas and if we can turn a few of those draws into wins, I'm sure we will head in the right direction."
While Chesterfield have every right to consider themselves favourites this weekend, as a League One club going up against a League Two outfit, Swindon's exploits this season mean there is just one place in football's league pyramid separating them at present.
Dangerous
Lee said: "It's probably going to be a fairly even game. They are doing really well in their league, in a similar position to what we were in at this stage last season in League Two. They are going to be dangerous, we know the facts - they score goals and are decent at the back. It's going to be tough but we have got decent players as well and I'm sure they are going to be thinking about us as well."
Chesterfield have made Johnstone's Paint Trophy success a top priority this season and are delighted to see their efforts paying off.
On their cup exploits, Lee said: "There is a Wembley appearance at the end of it, and that's something as a player and a manager you might not get the chance to do in your career that often. From day one we wanted to get to the final and we have beaten some decent teams on the way here. It's been a long road but we have got our reward now and we want to get the win to put the cherry on top. We have earned a nice day out."
Lee shone for Chesterfield in their Northern Area final against Oldham, picking up man of the match awards home and away, and he is pleased to see a long, hard slog offering a fitting reward.
He said: "It is a lot of games. I think it's five games then the two legs in the finals, in the Northern Area final, so it is a tough competition. I think we have played League One teams all the way through to the final, so we have definitely earned our spot at the final. We are now going to go out and enjoy it."
Chesterfield booked their place at Wembley way back on 30th January, with eight weeks separating the Area finals from the JPT's showpiece occasion.
Lee said: "I suppose it has been quite a long wait. But we have had games in between that time so it's not like the play-offs where you win your semi-final and then you have a two-week wait with no games. It's not as if we are going to be out of practice. It's something we have been looking forward to since the Oldham semi-final and we are just glad it's here.
"We have got a couple of lads back from injury as well and I'm sure they will want to give the manager a bit of a selection dilemma. Everyone is fit and ready and looking forward to it. This is an opportunity for us on a big stage like Wembley and hopefully it will be a good day."