Paving the way
Chris Burton talks beating the drop, future hopes and Caribbean football with Bradford's Nahki Wells.
Last Updated: 30/04/12 5:34pm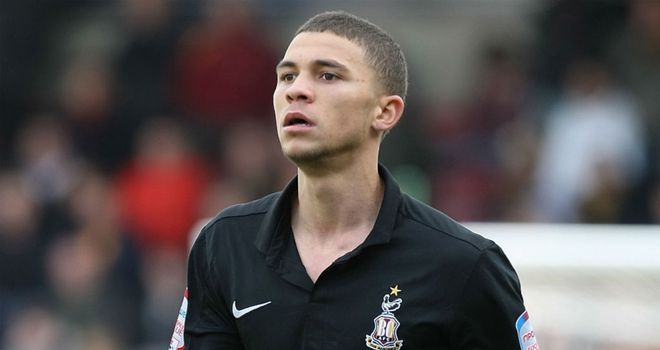 There was a time not all that long ago when Dwight Yorke was THE face of Caribbean football in Europe, with the Trinidadian striker gracing the very highest levels of the game with the likes of Aston Villa, Manchester United and Sunderland.
A region better known for their cricketers has begun to make an ever-increasing impact on the global game, though, with the West Indies producing a steady stream of high-profile talent.
Jamaica's qualification for the 1998 World Cup broke down many barriers, and Trinidad & Tobago proved in 2006 that the Reggae Boyz' success was no flash in the pan.
More and more players are now plying their trade abroad and that can only be beneficial to the on-going success of football in the region.
Among those to have swapped life on the beach for that on a wind-swept, rain-sodden playing surface in deepest, darkest Europe is Nahki Wells - a Bermudan forward making a name for himself at Bradford City.
He was initially brought to English shores by Carlisle United, but it is since linking up with the Bantams last summer that his true potential has been unleashed.
The 21-year-old is hoping his success will pave the way for future generations of Caribbean talent to follow in his footsteps, with the promotion of Bermudan football as important to him as personal plaudits.
"It's very important," he told Sky Sports' Chris Burton.
Talent
"There is a lot of talent throughout the Caribbean but it's very difficult for them to get their chance. I just hope that, not only me, a lot of other players from Caribbean countries pave the way for others to prove themselves.
"There are a lot of talented Bermudans out there just waiting for their chance. Hopefully I can pave the way for a lot of others. It's really in their hands, but the opportunities are scarce. Hopefully what I'm doing will help others to get the chance to come over and show what they are about."
Wells insists football in his homeland is flourishing, and across the Caribbean, with the sport no longer prepared to live in cricket's shadow.
He said: "It is. Football and cricket are the biggest sports. Cricket is more on the map in terms of the Caribbean, but football is really paving the way. Smaller countries like Bermuda do have a lot talent, but it goes unseen."
For a country with a population of just over 64,000, Bermuda have not done too badly in recent times when it comes to the production of professional footballers - with Manchester City legend Shaun Goater and former Walsall and Stoke City striker Kyle Lightbourne having opened the gates for the likes of Wells.
On his fellow countrymen, he said: "Shaun Goater and Kyle Lightbourne are two Bermudan successes in the game in England and I speak to them whenever I get the chance. I will speak to them both again over the summer and see what they think I should do in terms of my future. They have both enjoyed successful careers in England, everyone knows them, and I am looking to do the same."
Things did not go entirely to plan for Wells following his arrival in English football, as he was offered limited opportunities at Carlisle, but he was always confident that he could make the grade in the Football League.
He said: "I never had any doubt that I could perform at this level, it was just that I hadn't played at it. I had never had my chance so it just took some time. Now I have played a full season and have come good. I have played just under half the season in terms of minutes. If you look at my stats, I have done well, so it's just about taking that into next season and doing even better.
"I look back at Carlisle and I played 41 minutes in three appearances, which isn't a great deal of minutes. I had no professional experience before that, so I would say that this has been my year. Bradford have given me my chance and I have been able to show what I can do."
Breakthrough
Wells has netted 12 times for Bradford this season, drawing admiring glances from afar, and he considers the 2011/12 campaign to have been a 'breakthrough' one for him.
He said: "Absolutely. If you had told me at the beginning of the season that I would make 30-odd appearances and score 12 goals, I would have taken that. It's up to me now to take my consistency into next season and hopefully build on what has been a breakthrough year for me."
The youngster's efforts this season have helped Bradford to steer clear of trouble in League Two, with a late flurry of points having seen them preserve their League status with games to spare.
Wells said: "Relegation was a concern for us for quite some time, but we managed to grab some points at crucial times. That has helped to take the pressure off our shoulders for the last four or five games.
"We have done well in our last five fixtures now. Even on Saturday, it could have been a different game. It was a game of two halves and it could have been 4-6 to us, but unfortunately Cheltenham are a top side and they turned it around. We don't have too much to play for but pride and consistency.
"It's not only the players, the management and coaches are now looking forward to next season as well. Hopefully we can have a similar squad, get off to a good start and bounce on from there."
Wells will form part of the Bantams' plans in 2012/13, with any confusion regarding his future having been laid to rest with the agreeing of fresh terms.
He said: "I am looking forward to next season and I will be at Bradford. I have a one-year extension deal so I will be looking forward to next season and hopefully earning a longer deal, but you never know what's around the corner. The main thing is that I am contracted for next season and I will be putting all my effort into that."