Costly wobble
Marc Pugh tells Chris Burton that Bournemouth consider themselves to be moving in the right direction.
Last Updated: 13/04/12 9:44am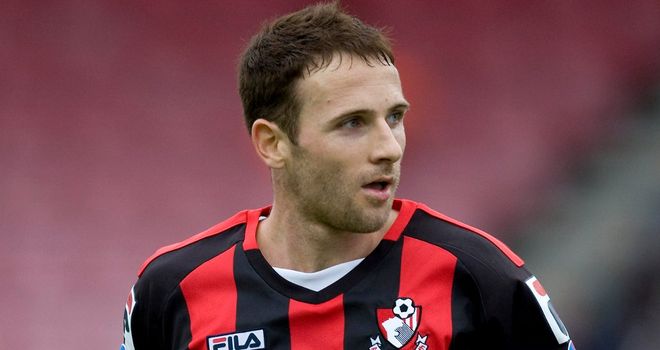 On the face of it, missing out on the play-offs would appear to be a step backwards for Bournemouth.
Having finished sixth in League One last season, the Cherries were surely expected to be among the frontrunners again in 2011/12. Weren't they?
Perhaps not. This is, after all, a club that have endured their fair share of monetary troubles in recent times and only clambered back onto the third rung of the League ladder in 2010.
It would appear that the South Coast outfit punched well above their weight last season and were always going to find it difficult to replicate those achievements.
They are, however, well on course for another top-half finish and can consider themselves to still be heading in the right direction.
Stability, on and off the field, is key to any club and the Cherries are a work in progress.
There is, however, plenty of optimism within the camp and when asked whether the club will look back on the current campaign in a positive light, Marc Pugh told Sky Sports' Chris Burton: "Yeah, I think so. On a personal note, I'm really chuffed with my performances this season. We would have liked to have achieved more by getting in the play-offs, but it wasn't to be. We have been a bit too inconsistent. It's looking really bright though. The last couple of performances have been excellent and we've deserved to pick up more points than we have."
Unfortunate
Looking back, it would appear as though an untimely slump in February and March which brought a seven-match winless run has ended up costing Bournemouth another shot at a top-six finish.
Pugh said: "It's cost us massively. We went through a really bad spell where we didn't win in about seven games. You can't afford to do that in this league, you have got be consistent and unfortunately we went through a bad spell and it's cost us."
A slow start to the season also did the Cherries few favours, with only three points collected by 13th September.
Pugh added: "Everyone was talking about relegation at one point and we got off to a shocking start, then we picked up just before Christmas and went on a really good run and got ourselves in and amongst it. It's been a frustrating one because we know we have got the potential and ability within the squad to get promoted, we proved that against Huddersfield on Monday - we played them off the park and fully deserved the win."
Victories such as that over Huddersfield have showcased what Bournemouth are capable of and Pugh admits that, having burst into the New Year, the club are slightly disappointed to have suffered the odd wobble here and there.
He said: "Top six was our aim and we are disappointed not to have got there, but there are a lot of big clubs in this league and Bournemouth are a club that are progressing and have got a bright future ahead of them. Hopefully in the next couple of years they can be pushing for those top-six spots and maybe top two, you never know.
"You have got some big names - Sheffield Wednesday, Sheffield United, Charlton - they have all been in the Premier League. Those clubs are all looking at top-half football because they have got great foundations. It is always going to be tough for Bournemouth to try and get promoted with teams like that in the league, but we have got the squad to do that. It's just a shame that it didn't all click into place at the right time."
Goals have been an issue throughout the campaign, with 10 of their 17 defeats this season having come by the odd goal.
Pugh said: "Whenever we have won games we have only won by the odd goal, we have never really beaten teams three or four nil and made things comfortable for ourselves. We have either been scoring goals and conceding goals or keeping clean sheets and not scoring goals, it's just been one of those seasons. We just need to be ruthless in both boxes and we haven't done that this season."
Backing
As already mentioned, Bournemouth are a club building towards a brighter future and Pugh is confident steady progress can be made from this point forward, under the guidance of a new manager.
He said: "It's got great backing behind it and the new owners have come in and want the club to be successful. Eddie Mitchell has put everything into the club, he's very passionate, and whoever comes in will have a great job to do and a great squad to do that with.
"It's not going to fall into place overnight, it's going to be a slow process. Whether it's two, three or four years, it's not going to happen overnight. The club has got the backing there, it's got rid of all the debt and it's a club on the up. It's going in the right direction."
Pugh is pleased with the part he has played in helping Bournemouth to remain on the straight and narrow this term, with the 25-year-old proving that he is more than capable of holding his own in third tier company.
He said: "I'm really happy. I have got 12 goals and 12 assists and I'm hoping to add more to that in the last four games of the season. I'm really chuffed to get to double figures again. My aim was to beat last year's tally of 13 and I'm well on the way. Hopefully I can do that.
"I proved myself at League Two level two years ago and the last two years I have done really well in League One, so it's great for me on a personal note. But the most important thing is the team and we need to be picking up results. The last four games are vital for giving us confidence going into next season."
Pugh's focus is locked purely on the end of season run-in at the moment, with the highly-rated midfielder making it clear that a contract put to him some months back will remain unsigned until at least the summer.
On his future, he said: "I have told everyone I'm going to wait until the end of the season. It's a big decision for me and my family. Three-and-a-half years is a long time to sign for, so I'm not going to rush with that one. It's got to be right for me, the football club, my family. The most important thing is the football and I'm going to take all of that into consideration."