Late charge
Scott Cuthbert tells Chris Burton that Leyton Orient are refusing to give up in their play-off quest.
Last Updated: 16/02/12 4:07pm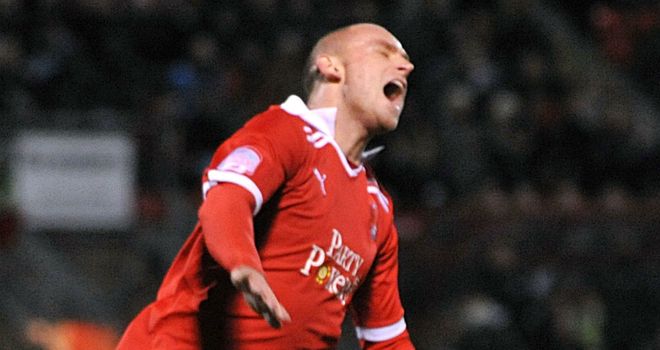 Having been forced to wait until 1st October to pick up their first win, you would expect the height of Leyton Orient's ambition this season to be League One survival.
How could any side that started so badly be expected to dust themselves down and claw their way back into the promotion picture?
Enormous credit has to go to Orient, their coaching team and the playing staff for having done just that.
Since stumbling out of the blocks and landing flat on their face, they have picked themselves up and broken into their stride.
They are by no means back in the promotion hunt, with a long way to go before they can consider themselves to be part of that particular pack, but they are closing fast.
It should not be considered that surprising that a side that only missed out on a play-off place by one point last season should find themselves holding their own in the third tier, but Orient's turnaround in fortune has been little short of remarkable.
A fairytale finish could well be on the cards, with there still plenty of games to come, and Scott Cuthbert told Sky Sports' Chris Burton recently that the club have every intention of forcing their way further through the pack - with there no chance of them settling for mid-table mediocrity.
He said: "We are definitely looking upwards. It was a tough start to the season, after the lads did so well last season to get so close to the play-offs. The aim was to start the season off well and look to challenge for the play-offs. That didn't happen and after 10 games we were sat there with three points and were wondering what had gone wrong. We have done really well to get ourselves out of that trouble. We now know that we are only a few wins away from the top half and that's massive for us.
"I think we are probably the bottom of the pack that are still looking at the play-offs. One win could jump us up to about ninth, it's that tight in the league. We have improved our away form recently, we just need to start following that up with some home wins. That will be our aim on Saturday (against Scunthorpe). After the positive result on Tuesday (against Bournemouth), we are looking for another one to push us up the table."
Belief
Orient's start to the season could have set the tone for what was to follow, but the club have responded admirably to that wobble and looked to put those troubles to the back of their mind.
Cuthbert said: "Everything that could go wrong, was going wrong. There were individual mistakes, team mistakes, everything. But we always had that belief that a win would come, it was just a matter of time and we would kick on. We beat Preston 2-1 at home. Lee Butcher saved a penalty and we went on to win the game. After that, I think we went on to be 12 games unbeaten. That result was massive. We also had a good Christmas period, beating Charlton on TV and going away to the likes of Stevenage and picking up three points. That all helped."
It is often said that one result can alter the course of a season, and that is definitely the case when it comes to Orient.
"It's unbelievable, but that's football," said Cuthbert.
"One win can spark a little run and we managed to do that. When the big clubs come here they know they will get a good game. When Preston came here they brought a big support down and it was a massive result for us. I think it took us off the bottom that day and ever since then we have been picking up points almost every week. That's massive for confidence."
Orient can also take comfort from the fact that their slump arrived very early in the season, offering them every opportunity to turn things around.
Some clubs are not so fortunate, with Cuthbert admitting: "I think every team will have a wobble at some point. If you're going to have one, you would rather have it at the start of the season. It's then about picking your performances up and carrying that through to the end of the season."
The capital outfit are very much a club in form at the moment, with only four defeats suffered since their disastrous start to the campaign.
"I think it's only four in 20 that we've lost, the gaffer was talking about the stats recently," said Cuthbert.
"That's a great record. It's a bit frustrating, though, to think that if we had picked up a few more points in those first 10 games we would be sitting there nicely challenging for the play-offs. But we left ourselves a bit of work to do and we are confident we can do it. Thankfully we are picking up points regularly now and long may that continue."
Faith
Orient also deserve immense credit for sticking by manager Russell Slade, as it would have been easy to make a snap judgement and wield the axe after seeing the club hit rock-bottom.
Cuthbert said: "It could have been. Nothing surprises you in football - especially with Lee Clark leaving, I think that shocked everyone. Any manager that, in the first 10 games of the season, doesn't win a game, any manager's job would be on the line. I think the chairman stuck by his man a bit and it paid off because he's a good manager. Everyone will have slip-ups, but he had a great season last year with the team, just missing out on the play-offs, and he could have another good one this year."
Orient are a sensibly run club and former Celtic trainee Cuthbert admits he is thoroughly enjoying his time at Brisbane Road - having completed a switch from Swindon Town last summer.
He said: "It is nice. I have only been here for seven or eight months but it's a lovely club to be part of. It's a small club, but it's a nice club to go and work at. We have a great bunch of lads as well, we all get on, on and off the park, and that's the main thing."
That squad harmony could carry Orient all the way into the top six, but Cuthbert admits it is imperative that everyone connected with the club continue to keep their feet on the ground.
He said: "It's possible, but I don't think a lot of people would back us to get there. But, if you look at the table, I think there is one play-off spot up for grabs. The top five are starting to move away, but all the way down to us in 15th place have got a chance. We have got a few games in hand as well. I think March will be massive for us, we have got eight games. There will be a lot of Saturday-Tuesday games and after that month we will have a better idea where we might finish in the league."
It is all about taking small steps from here on in, with Cuthbert admitting that the club have to favour the 'one game at a time' approach between now and the beginning of May.
The 24-year-old defender said: "You have got to. It was the same when we were at the bottom, we were just taking each game as it came. That's all you can do, focus on the next game. We had a great result on Tuesday, picked up three points away from home, but as soon as that had finished it was straight into Scunthorpe and how we can beat them. I think there is only 17 or 18 games to go, so we have to make the most of them."