Keeping the faith
Brighton keeper David Gonzalez tells Chris Burton that he is determined to make his mark in England.
Last Updated: 27/02/12 5:17pm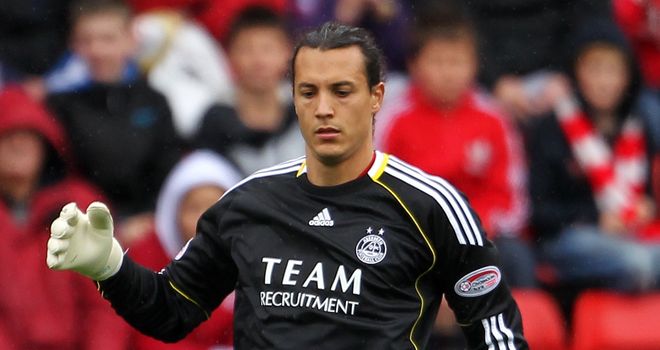 There have been a couple of South Americans who have made headlines for all of the wrong reasons of late, but there is a man currently on the books of Brighton & Hove Albion who is determined to make a more positive mark on English football.
He is a man who has already been on these shores for a little over two years, has taken in spells with Manchester City, Leeds United and Aberdeen and has a 100 per cent record at international level.
He is 29 years old, has won two caps for Colombia and has previously turned out in his homeland, Turkey and Argentina.
Not a bad CV, I think you will agree, but David Gonzalez is not a name that will be instantly recognisable to most football supporters.
He plans to change that, and soon.
Gonzalez is determined to prove that he has what it takes to shine in England, but appreciates that building a reputation requires a combination of patience and good luck.
He is hoping that his big chance will come at Championship side Brighton, with the bubbly shot-stopper having linked up with the Seagulls after agreeing to have his contract at Premier League table-toppers City cut short.
"I am having a great time," he told Chris Burton when Sky Sports caught up with Gonzalez to gain a greater insight into his past, present and future.
"The team has been doing really well since I came here so it has been hard to get in there, to play, but I am working hard and waiting for an opportunity to be able to play. The quality is really good here. Peter (Brezovan) and Casper (Ankergren) are doing really good at the moment and that makes the competition harder. I am just looking forward to doing my best and taking my chance if I get it."
Worthy
Gonzalez arrived on the South Coast in January, penning a five-month contract, and hopes he will be given the opportunity to earn a prolonged stay with the Seagulls.
He said: "I am hoping so. It depends on what is best for the team. We are looking to stay on a run, keep winning games and try to get promoted. I would be happy if that happened. I am just working hard and you never know what will happen in football, so many things can happen. I just need to be ready if the manager needs me.
"In the few months that I have been here already, I have absolutely loved it. The team and the group is like a family and have made me feel welcome. I am happier than I have been in years. My family have settled well in the city as well, with my two kids. I would love to stay but, obviously, it is all down to whether I get the possibility. If I get it, I then have to prove that I am worthy of having a long-term contract here."
Gonzalez is aware that he needs games in order to earn a new deal, but is hoping he will be offered the chance to remain in English football over the summer - be that at Brighton or somewhere else.
He said: "That's the plan at the moment. I really want to put my name in the shop window. I just need that extra little bit of luck or good timing to get the opportunity to shine. I am determined that I can do it. The plan is to stay here, my wife and kids are all British so this is like home for me. I want to play here and enjoy the rest of my career here if possible."
Gonzalez has already proved that he can handle the rigours of British football, with a loan spell at Aberdeen in 2011 having allowed him to take in regular SPL action.
On his time at Pittodrie, he said: "That was a great time. It was just a loan spell and there was never the possibility of staying there for good, but I really enjoyed that. It is obviously not the Premier League or the Championship, but it went well and the big matches against Celtic and Rangers, when there were 50 or 60,000 people there, that was really good. Being at Aberdeen allowed me to play week in, week out and now I'm not doing that as much, but I am really happy here and will work hard and wait for the moment to grab."
The Dons are the only club to have offered him a chance so far, with Manchester City having drafted him in as back-up and Leeds having taken him on loan as cover in 2011.
Gonzlez's story is still an intriguing one, though, with it not often that you find a player plucked from obscurity by one of the world's richest clubs.
Fairytale
Asked how he ended up at Manchester City in late 2009, he said: "A couple of years ago, right after my wedding, I was over here with my friends and, being married to my wife, I could play in England without any problems with work permits and games for the national team and all those laws that are now in football. A friend of a friend of a friend just happened to know somebody who could set up a trial. That allowed me to go for a couple of days training at Manchester City. After that they offered me a trial and after a week they decided that they wanted to sign me. It was like a fairytale because I was able to live just around the corner from my family, so that was really good."
Working with City's star-studded squad opened Gonzalez's eyes to life in England, but ultimately convinced him that it was worth taking a risk and trying his luck elsewhere.
On his time with the Blues, he said: "It was fantastic. It was great to live and work with those amazing players at a club that is in such a great moment and have had great success. It was a bit frustrating not playing after a while, so that is when I started looking for loan spells. When the possibility came to leave, to mutually terminate the contract and come to Brighton, I didn't hesitate."
Any player would welcome the opportunity to spend time working with one of the biggest clubs on the planet, but Gonzalez admits that his time with City has been both a blessing and a curse.
He said: "I feel really confident. I think I have been a bit unlucky in that I went to Manchester City on a trial and I didn't come from anywhere important. But if you check my background out, I have played at a high level in Turkey and Colombia and for the national team a couple of times. It was probably not the best way of landing a contract, after a trial at one of the best teams in the Premier League where I was probably not going to play. That has been a bit hard. It has been hard to make my name known, but it is getting there slowly and I am sure it will happen soon."
There would be no better way for Gonzalez to make his name than to earn a shot at the Premier League, with no Colombian goalkeeper having ever graced the top tier of English football.
He said: "I am here to make history. I would love to go back to the national team as well. Right now with them, there is a new foreign manager which has created a bit of controversy in my country. I would love to be involved. Hopefully I can get back in the squad."
For now, though, Gonzalez's full focus is locked on earning recognition at Brighton and helping them in their efforts to secure back-to-back promotions - with the club currently sat on the fringes of the play-off places in the Championship.
On the chances of him being a Premier League performer with the Seagulls next season, he said: "I think it has been a great year, the first year after being promoted from League One and being just a few points away from the play-off positions. I think it has to be done carefully, not just say we are going to be in the Premier League. Obviously I would love it, it would be fantastic to be alongside the players at that level, but we need to take things step by step and enjoy every moment as it comes."