The untouchables
Huddersfield's Tommy Miller discusses unbeaten runs, promotion and goal machines with Chris Burton.
Last Updated: 04/11/11 5:31pm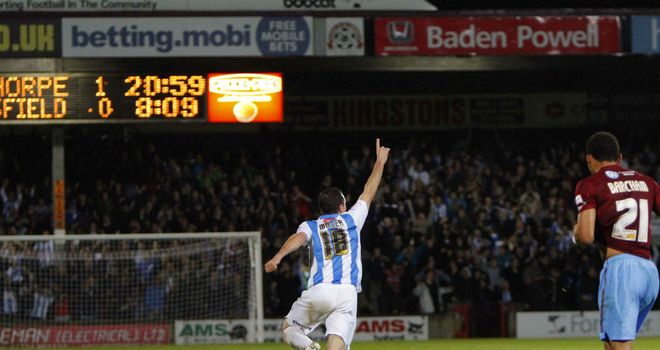 Huddersfield Town have gone 41 games unbeaten in the league, with Lee Clark having moulded together a side that the best the third tier has to offer are incapable of overcoming.
Given that the Terriers have enjoyed such remarkable success over the course of the last year, it is somewhat surprising that they still find themselves in League One and are currently only second in the table.
The reasons for this are that Lady Luck has deserted them when they needed her most, while this season they have been held in seven of their 16 fixtures so far.
Had the rub of the green worked in Huddersfield's favour, there is every chance that they could have been sitting pretty alongside Southampton and Brighton in the upper reaches of the Championship right now.
Unfortunately for Clark and his troops, they found themselves up against the Saints and Seagulls in League One last season.
Having narrowly missed out on a top-two finish, they were forced into the play-off pack.
They ended the campaign in third spot, eight points clear of fourth-placed Peterborough and clearly deserving of a shot at the next level.
The Posh were to have the last laugh, though, as Huddersfield produced their worst performance of 2011 when it mattered most - in the play-off final at Old Trafford.
There has been no moping at the Galpharm Stadium, though, and the club have slipped back into top gear this term with consummate ease.
Admittedly they would prefer to be top of the table with 48 points under their belt, but you can't have everything and life in the Huddersfield garden is rosy enough right now.
Confident
Skysports.com's Chris Burton was recently invited into the Terriers' perfectly manicured allotment and he found summer signing Tommy Miller more than happy to discuss the issues of the day.
He opened with: "It's going really well at the minute. The lads did fantastically well last season and it's carried on this season. We've got a few new lads, including myself, and every time we go out we are confident. We have had a bit of luck along the way but we have managed to keep it intact and it's going really well."
So impressive have Huddersfield been of late that it could be argued that they have half the job done before they even take to the field, with opponents left thinking 'How are we supposed to beat this lot?'.
"It can do that," said Miller.
"But they can also think that they are going to be the team that beats us, so it might fire them up a bit as well. If we take care of ourselves and what we do, then we are quite confident that we can win football matches and try to stay unbeaten."
Looking forward, rather than backwards, is what it is all about at Huddersfield, with Miller claiming that last season's play-off heartache has never been discussed during his time at the club.
He said: "No, it hasn't been mentioned at all. Sometimes it can affect clubs and there can be a bit of a hangover from it, especially the way it happened - they went 20 or so games unbeaten and then Peterborough beat them in the final, which was a blow to them. But they have come back and it hasn't been mentioned. It has been put to bed and we have started the season fine. Long may it continue."
While the play-offs may be a forbidden subject of discussion at the Galpharm, it is clear that the club would rather not be reacquainted with that particular promotion lottery in 2012.
Miller said: "I've had a few bad experiences of the play-offs as well, so automatic would be the best choice at the moment."
Remarkable
Huddersfield occupy a top-two standing at present, but looking over their shoulder they will see two former Premier League outfits in the former of Sheffield rivals Wednesday and United, and they know they cannot afford to take their foot off the gas for a second.
Miller said: "We have had a couple of draws and a couple of those games we should have won, which is disappointing. But, then again, we have had a couple of draws where we could have got beaten - the likes of Scunthorpe the other week when our goalkeeper saved two penalties, which is remarkable. We had a little bit of luck there, but if we keep on going I'm sure we will be there or thereabouts for automatic promotion and hopefully get this club into the Championship."
Pushing onwards and upwards is a theme that runs through Huddersfield, with Miller insisting that more emphasis is placed on the challenges posed by forthcoming opponents than the preservation of unbeaten runs.
He said: "We just keep on going and keep doing what we're doing. All of the lads are full of confidence and the staff just say things to keep us focused. Long may it continue, because it's obviously working and hopefully it will keep on working."
It could be argued that Huddersfield have to get promoted this season, with there only so long they can keep the wolves from their door before those gates swing open and their top talent is pilfered by those higher up football's food chain.
Miller said: "That's right. It's an ambitious club with an ambitious chairman and he wants to take this club further and further, so do the staff and so do the players, we want to get to the next level. We have got a big squad with a lot of good players. We have got a good mixture with some experienced lads and some great young players. This season is a big season and promotion is the main objective."
One of those currently catching the eye at the Galpharm and drawing plenty of attention from afar is Jordan Rhodes, a man who has just earned himself a call-up to the Scotland squad on the back of 11 goals in 12 League One appearances this term.
"We are delighted for him," said Miller.
"I was with him at Ipswich when he was there. He was a young lad coming through then and he had great potential. He has come to Huddersfield and his game has improved and he's scoring goals left, right and centre. He's turned into a goal machine and that's benefiting us at the minute. I'm sure he will go on to do well for Scotland as well and he deserves his opportunity."
It is not just the playing staff that are drawing admiring glances from afar, though, with Clark having also been linked with various Championship posts in recent times.
Interest
Apparent interest from Leicester has been rebuffed, but the Terriers are aware that they need to continue moving forward if they are to convince their coach that he can match his ambitions in West Yorkshire.
Miller said: "He's a fantastic young manager. He's got the right staff and he's got the right players in and I'm sure he wants to see this job through and get the club promoted. That's the main objective. There will be clubs watching that are aware of the job he's done, but I'm sure that with the chairman we have got here, he'll want to hold onto him and I'm sure he can. Promotion is the main objective this season and that will only help."
Promotion in his first season with the club would represent some achievement for Miller, but he knew what he was getting himself into when he penned a one-year contract over the summer.
"Yeah, I'm happy," he said when asked to give his take on the season so far from a personal point of view.
"It's a great club, great football, we play the right stuff and I'm enjoying it. I'm injury free and hopefully I will stay that way until the end of the season and keep winning games. That will be great."
Miller has settled quickly at the Galpharm and has already formed a productive partnership with Damien Johnson at the heart of Clark's starting XI.
"There are a lot of clubs that are trying to get the mix right and I think we have managed it," he said on a Terriers side that combines young and old.
"It's a great squad and you know that if you have one bad game you could be out of the team. There are some great players here and there is competition for places all over the park. It's me and Damien Johnson at the minute and we have formed a good partnership, but we know that there are other players breathing down our necks. It's going well so far and hopefully that will continue."
There will be no letting up then from Miller as the season unfolds, with the former Sunderland, Ipswich Town and Sheffield Wednesday midfielder not only playing for his place every Saturday, but also for his future.
Asked if it was his intention to get his head down, keep plugging away and earn a new deal, the 32-year-old said: "Hopefully, that's the idea. I want to stay fit and enjoy my football. I'm playing games and we will look at that (the contract situation) towards the end of the season. We will see where we are and see what's what."