Priorities right
Michael Jacobs tells Chris Burton that he continues to put Northampton's future before his own.
Last Updated: 27/03/12 5:49pm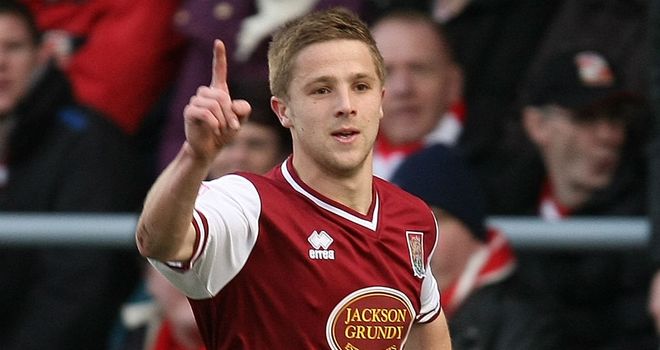 It is refreshing to hear a 20-year-old footballer tipped for the very top admit that his future plays second fiddle to the well-being of his current employers.
Too many players put pound signs before points and are only too happy to jump ship when a bigger, flashier boat comes sailing by.
Not Michael Jacobs, a young man with a mature head on his shoulders and a player who appreciates everything Northampton Town have done for him.
The Cobblers may not be the most glamorous outfit in English football, but they are the ones who provided Jacobs with a platform on which to shine.
The fact that he has done just that, drawing admiring glances from afar, means it is likely to be only a matter of time before he is gracing a much grander stage.
For now, though, those ambitions can wait, with a League Two basement battle currently dominating the youngster's thoughts.
Helping Northampton to preserve their Football League status remains the priority for Jacobs, with any talk of a summer switch put to one side until the season comes to a close.
He told Sky Sports' Chris Burton: "That's my aim, first of all I want to help keep the club in the division, see if I can get to 100 appearances and then see what happens in the summer. My first priority is this club staying in this division and next year hopefully it can push on.
Ambitious
"I owe a lot to the club, I came through the youth team here and they gave me a professional contract. Luckily for me, Ian Sampson gave me my chance in pre-season last year and I took it with both hands. The managers that have been here since have given me the chance to play week in, week out but it would be nice to go higher and see if I could handle that. I am an ambitious boy so it would be nice to play at a higher level, whether that is this summer or next year, or even a couple of years, that's every footballer's aim.
"I am a down to earth person but it is nice to hear people talking about you when you are doing well. Sometimes it can go to your head and you can think you are too good, but you just have to keep a level head and enjoy your football. The best thing is playing football matches and sometimes you have to just enjoy doing that and not think about what other people say."
It would seem to take a lot to ruffle Jacobs' feathers, with his relaxed attitude perfectly complementing a playing style that leans heavily on confidence and the ability to carve defences open.
It is easy to forget that he only turned 20 in November 2011, with rapid progress having been made since he first burst onto the scene.
He said: "I have taken it all in my stride and I have really enjoyed it. This season being captain has been great and if I play every game until the end of the season I will get to 100 appearances. I'm really proud of that and it's been a great couple of years. It's gone really quick. At the start of the season we were struggling to win games and I was thinking it might be a long season, but I have really enjoyed the last couple of years and I am really looking forward to carrying on."
The 2011/12 campaign has not gone entirely to plan for Northampton, but Jacobs considers it to have been another step in the right direction for him.
He said: "I haven't missed a game this year so it's been a good year for me. I would have liked to score a few more goals but I have played every week so I feel like I have matured a lot. I am a more experienced player now and I captained the side for the first time this season. It's been a really good year for me on the whole."
The arrival of Aidy Boothroyd as manager in November has helped to turn the Northampton ship around and Jacobs credits the former Watford and Coventry manager with raising his own standards.
Confidence
He said: "He's a good gaffer. He's a good man-manager and he gets his sides playing with confidence. He has got a direct style of play, but that's worked for us and he has brought players like Luke Guttridge in and provided a bit of quality in the team. That's helped a lot and he's a good gaffer and has done well for the club.
"I think he has brought the best out of me in the last couple of months. At the start of the season, I wasn't producing the performances that I was producing last year but since he's come in my form has picked up probably another 50 per cent. I owe a lot to him for that and hopefully I can keep that going for the last eight games."
Northampton head into the final weeks of the season just five points clear of the Football League trapdoor, but with momentum on their side after picking up four wins in their last six outings.
"Our form has picked up really well," said Jacobs.
"It's all been about confidence coming into the side. When you have got Bayo (Akinfemwa) up front scoring goals and lots of good players coming in in January, that's boosted the players that are already here. Things are good at the minute and it's all positive.
"We were quite far adrift from the others so we will be, with eight games to go now, looking to win three or four of them and get safe and mid-table would be a healthy achievement for the club. Next year, hopefully things will pick up."
Jacobs admits it has been a frustrating campaign for Northampton as a whole, but he is confident that a brighter future lies ahead for both the club and himself.
He said: "At the start of the year everyone expected us to be up there. We spent a lot of money in the summer to get some good players in but it didn't really gel and we have been down the bottom for the majority of the season. It's frustrating when you look at it now and how well we're playing. We haven't done that all season but we will all be happy to get safe and then start again next year."