Holding out hope
Danny Jackman tells Chris Burton that Gillingham are hoping to end a frustrating season on a high.
Last Updated: 21/04/12 9:31am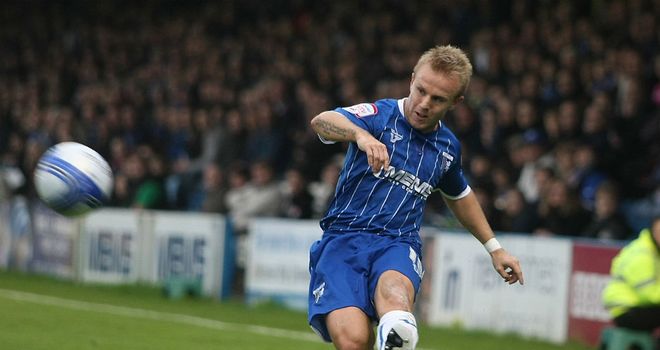 Last season Gillingham ended the season in eighth spot in League Two, with only goal difference denying them a shot at the play-offs.
Twelve months on and there is a serious case of déjà vu at Priestfield, with the club once again finding themselves on the outside of the promotion party looking in.
They sit ninth in the fourth tier standings at present, four points adrift of the top seven with only six left to play for.
There is every chance that inconsistencies will once again end up costing the Gills dear and prevent them from acquiring an invitation to the play-offs.
Danny Jackman admits there is a feeling of what might have been at the Kent-based club, with it easy to look back now and curse missed opportunities.
A run of one win in seven has arrived at just the wrong time for the Gills and they are now clinging to the hope that favours from elsewhere will see them gatecrash the end of season shake-up.
Dip
Jackman told Sky Sports' Chris Burton: "It's been frustrating. We have had a bit of a dip again at a bad time, one win in seven, but we are still in there so that shows that other teams must be feeling it as well a little bit.
"Just when we have started to get a few good wins together, we have managed to slip up and let it get away from us a little bit. When we have done that, we have been losing and not picking up the odd points which would help us to keep going. It's been frustrating, a bit stop-start with us, and we haven't really had a great run through the whole season. But we are still in and around there. It's going to be tough but we will see what happens in the next few games.
"It was hard to take last year to miss out on goal difference. We don't want to do that again. It's not in our own hands, we need teams to slip up. At this club we never do things easy and we have proved that again."
Relying on others is hardly ideal, but Jackman admits the Gills cannot afford to get too caught up in the exploits of their rivals.
He said: "If we slip up then it's gone anyway, so we have not to concentrate on ourselves. If teams slip up, we will be there to hopefuly take our chance. We can't change results elsewhere, we have to just concentrate on ourselves. We will be keeping an eye on other fixtures as well, of course."
Momentum could be key at this stage, though, and were Gillingham to sneak in to the play-off pack they would have to be considered strong contenders to go all the way.
Jackman said: "I think Crewe have been on a great run of late and I always thought that if they did get in and we didn't, that perhaps they would be the favourites to go up. The team with momentum normally goes all the way through. But that can be us, I don't see why it can't be. It's a big game against Swindon so hopefully we can get a result and a good performance."
Experience
If they do miss out, it will be a case of back to drawing board for Andy Hessenthaler and his troops, but Jackman insists the club are building towards a brighter future.
He said: "Since I have come back they have strengthened the club, the squad with some very good players. It's just been frustrating that in the last couple of years we haven't managed to get in the play-offs, which is a big disappointment for a club like us. None of us want to be in this league, we want to be in the league above and playing against some really good teams up there. That's where we feel we should be, but it's not quite happened yet.
"We have got a lot of experience and a lot of good players, players that have come from higher leagues. It's just about trying to get the right winning mentality. Once we get that, I think we will be okay."
While still hoping that the season will get considerably better for him and the Gills, Jackman admits that if the campaign were to end now he would look back on it fondly from a personal point of view.
He said: "The season has gone well for me. Since coming back I have had two tough years injury-wise and form-wise but it's finally gone right for me this year, which is nice. But you want the team to be doing well as well. Although we are doing okay, it would be nice if we were where we deserve to be towards the top three.
"You tend to become a forgotten man if you don't play for a long time, people write you off as past it and not being able to do it anymore. But deep down you know you are confident that you can get back if you get a run of games and get back fit and be injury free. That's what I've done this year and it's nice to be playing week in, week out and showing that I can still do it and that I am still a good player."
Jackman is currently in his second spell at Priestfield and admits that he considers himself to be in the best place for his career heading forward.
He said: "It's a good club and it's somewhere that I have been for a long time now. I know what the club is all about, I know what the fans expect and I know what it means to people down here. They love their football and so do I, so if we can all come together and move in the right direction there is no reason why we can't have success again."