Final countdown
Steve Phillips discusses all things Crewe with Chris Burton ahead of the League Two play-off final.
Last Updated: 25/05/12 1:40pm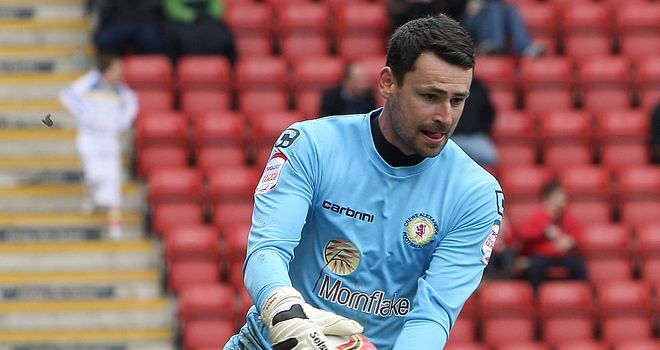 On Sunday, Crewe Alexandra and Cheltenham Town will lock horns at Wembley Stadium for the right to grace the third tier of English football next season.
The League Two play-off final represents the final fixture in the 2011/12 calendar, with the curtain set to come down on the most memorable of campaigns - from top to bottom.
Crewe are looking to clamber back up the Football League ladder after three years in the basement, and the signs are that they are ready to make that step up.
A club renowned for its production of young talent is once again brimming with potential, while a few experienced heads have been added to the mix for good measure.
Dario Gradi, after almost 30 years with the club, is the man who continues to keep the production line ticking over and he would take great pride in seeing the current crop enjoy a memorable day out at the home of English football.
It could be said that the Alex have overachieved in many respects this season, given the average age of their squad, but Steve Phillips - a seasoned goalkeeper who has seen it all - believes the club always had it in them to make an impression.
He told Sky Sports' Chris Burton: "Bearing in mind our start, the start we made up until sort of Christmas time - I would imagine that it has (surpassed expectations), yeah. Once we got into the unbeaten run, six or seven games in, you tend to get that belief that you can carry that run on. If you had asked anyone if we could go 18 games unbeaten during the season, everyone would have considered that to be an unbelievable achievement. That's what we have done.
"We have done exceptionally well from Christmas onwards. The players deserve a lot of credit. We have changed a few things here and there and those subtle changes to the team and the way we play, and a different attitude as we have gone out looking to win every game, has come along at just the right time."
Reward
Phillips is convinced that Crewe, after 48 testing fixtures, can now complete the job and ensure that a successful season reaches a fitting climax.
He said: "I play in a team that has no fear, everyone can see that. There are a lot of young lads but they are all very good footballers and we go out there looking to win every game. Whether we are favourites or not, everyone feels the pressure in a one-off game that has such a reward at the end of it. I would be lying if I said there was no pressure on either side, when there is."
Crewe booked their place at Wembley after seeing off Southend 3-2 on aggregate in the play-off semi-finals and Phillips admits they can take plenty of positives from their displays against a much-fancied Shrimpers side.
He said: "If confidence isn't high after the run we have been on, something is wrong. Everybody looked at Southend and thought they were probably the toughest team to get out of the three - no disrespect to Cheltenham or Torquay. They were in form, just like we were, and they had a lot more experience in their team of that situation. Rightly so, we deserved to go through over the two legs quite comfortably in the end."
Crewe's season has, however, boiled down to just one all-or-nothing encounter.
Phillips said: "It has, but when you are in our situation and you are in an unbelievable position from nowhere, we don't want to now slip up right at the end. We want to go out and make it 19 games unbeaten and of course what comes with 19 is promotion, and that's what everybody starts off looking for - whether you win your first four or lose your first four. It's still possible over the course of the season, as we've shown."
Phillips knows what it takes to win a League Two play-off final, having tasted success with Bristol Rovers in 2007, and he is convinced that Crewe are ready to test themselves at a higher level.
Capable
He said: "Bristol Rovers made the step up and stayed in there for three or four seasons. It wasn't until the team that got promoted was dismantled for whatever reason that the club slipped back down into League Two. For whatever reason, I'm not going to go into that, they decided that the team wasn't good enough anymore and they paid the price for that in the end. I would like to think that if we can keep our team together, this team is more than capable of performing in League One."
Three years in League Two is considered to be three too many for those at the Alexandra Stadium, with Phillips adding: "It is. If you look around the place - even the stadium, I know it only holds 10 or 11,000 - but if you look at the stadium here, it's a top class stadium and the pitch is always nice. The training ground is Premier League standard, there is no other word for it, so we need to get out of League Two and we need to push on. The club has been down there for too long, but now we have got a different mentality around the place that we want to go and do things."
Youthful exuberance has carried Crewe a long way this season and Phillips is full of praise for the academy class of 2012.
He said: "The boys that I am playing with now are as good as anyone I have played with in my career, and I've played with some very good players along the way. I'm not going to name drop, but we have got some players in our team that, I would say at least one could play in the Premier League and a lot of the others would be good players in the Championship. They will be ready. They have been outstandingly good to a man from Christmas onwards and there is a belief. A lot of them haven't really played much in front of the Sky cameras and none of them have played in the play-offs, but I think they showed their mettle when we played Southend. They are only 21 or 22, Nick Powell is 18, Max Clayton is 17 - the club is in a good position at the moment."
Asked if he expects bigger clubs to come calling this summer regardless of the outcome in Crewe's play-off quest, Phillips added: "Absolutely. But, let's be honest, that's what the club has been doing for as long as Dario has been there. That's what the club has got to do to survive. If you are going to get Manchester United, Arsenal, Chelsea knocking on the door and offering vast sums of money, there is only one answer and that is keep producing these wonderful talents to keep the club going."
For now, though, Crewe's focus is locked on the present, with Phillips of the opinion that Steve Davis' side could not be more ready for the challenge that lies ahead.
Pressed on whether his experience could come into play during the pre-match build-up, he said: "I don't think I will need to say too much about the occasion, they have proved that they can handle the pressure. In front of the Sky cameras, it's a bigger game than the Southend game, of course it is, but these players don't show any fear and they express themselves day in, day out in training. I expect them to be totally focused on the job in hand and not let the occasion faze them. I imagine you will see a very good game."