Student of the game
Chris Burton chats to George Friend, a man working towards a bright future on and off the field.
Last Updated: 15/04/12 11:01pm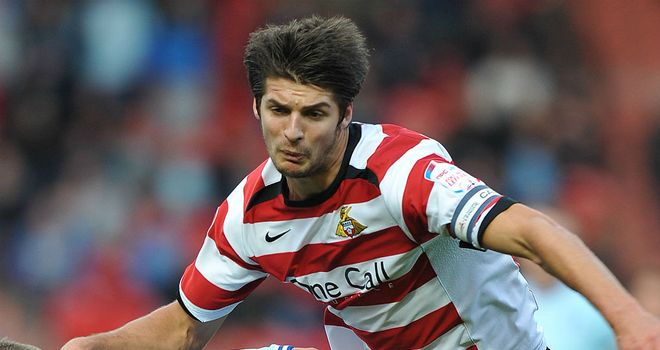 Speaking to George Friend on Friday afternoon, you did not get the impression that you were dealing with a man plagued by relegation fears.
Despite Doncaster's standing at the foot of the Championship table, you got the feeling that here was a player and a club that had made peace with the hand they had been dealt and were already planning their rebirth in 2012/13.
Twenty-four hours after my chat with Friend, Rovers' relegation out of the second tier was confirmed.
There were tears, inevitably, but the emotion of the occasion will not be allowed to weigh heavy on the shoulders of a club that intends to bounce back stronger.
As one era comes to an end, another begins - perhaps a more productive, successful era.
Changes aplenty are expected at the Keepmoat Stadium this summer, and that means the side that takes to the field on the opening day of next season is likely to be markedly different to that which brings the curtain down on the current campaign.
Fresh starts and clean slates will be the order of the day in South Yorkshire, with Friend telling Sky Sports that the outlook for Doncaster is brighter than many may assume.
"There's bound to be comings and goings," he said.
"I don't think there are many players with contracts left at the club, so they will either get offered new ones or there will be a complete turnaround. It's just waiting and seeing. It's been announced that five youth team players have been offered contracts, which hasn't happened in the last few years at Doncaster. That's really good, to see them coming through, and that's great for the development of the club."
Interesting
On the prospect of a summer overhaul actually benefitting Rovers in the long run, Friend added: "It could give the club the chance to have new people coming in, a clean slate and a chance to be, perhaps, a bigger team in the division, rather than one of the smaller teams. That might suit Doncaster a bit better. Not wanting to put pressure on us, but if we are one of the bigger teams in the league, the fans might enjoy it a bit more, whereas this season they might not have enjoyed it so much."
Friend admits it is not only the fans who have found the going tough this season, with the players having also been forced to deal with regular blows to squad morale.
"With a lot of players coming in, it's always hard if you're not playing, wherever you are and whatever club you are at," he said.
"We've had a few injuries over the last few seasons as well, and this season has been similar. That's been tough, and I myself have been out injured. You're always going to get different characters in the team and we have had some really experienced players as well, so it's been interesting to see what they can bring to the squad."
Doncaster certainly have had their fair share of Premier League pedigree walk through the doors this season, with the likes of El Hadji Diouf, Habib Beye, Frederic Piquionne and Pascal Chimbonda having joined the Rovers ranks.
The willingness of the owners to give manager Dean Saunders as much support as possible in the transfer market bodes well - especially when you consider how many fresh faces they may require this summer.
Friend said: "They have definitely showed some ambition. We have had some very big names coming into the club, with a big squad, and we have given it a go. It's just a shame that it has ended the way it has. I think Doncaster have still got a very good future and whoever is playing, they have got passionate fans here, they are very loyal, and whoever plays you want to play hard for a team like that, whether you are a two-time African Player of the Year like Diouf or if you have come up through the lower leagues. I think it's going to be a good club to be at."
Pride
Friend is enjoying his time at the Keepmoat and embodies the kind of character Doncaster will need to show if they are to respond positively to their relegation heartache.
On his own 2011/12 campaign, he said: "I would like to think that if I hadn't got injured I would have played more. I was disappointed to be injured, but the main thing for me was getting back before the season finished. I'm really pleased to have done that. I was captain at the start of the season and to come back now I'm fit and be captain again is great, and just playing and showing the fans that I have got a lot of passion for the club and playing with pride."
Friend's passion for football stretches past Saturday afternoons and he will be turning his hand to academic studies this summer when he starts a Sports Journalism degree at the University of Stafford.
He said: "I am looking to do that in May, that's when the course starts. It's a part-time course designed for professional athletes, so it's something I'm really interested in. I have worked alongside some of the media department at Doncaster and they have been really good at letting me have a go at a few different things, a few match reports and articles, get on the radio now and again. I have really enjoyed it and I'm looking forward to the course."
So does the 24-year-old defender have ambitions of becoming the next face of Soccer Saturday?
He said: "I don't know if I will ever be as good as the one and only Jeff Stelling, but it is something that I am interested in. I'm not entirely sure what avenue I want to go down but I'm sure that by doing the course I will have a better idea. The stuff I have been doing I've really enjoyed and I have always wanted to do a degree. It's a good chance for me to do that while still playing football."
Planning for the future is something footballers need to be aware of, with a relatively short career at the very top of the game meaning they will have a lot of time to fill when the day comes to hang up their boots.
"I think it's massive for all players to think about it," Friend said.
"Even for the top players, I think it's important to have some sort of academic side. If you don't want to go down that route, of course there are the coaching badges and a lot of lads get involved in the community side of the club. It's just good to have something apart from football sometimes. There's more to life than the game, especially when you're retired, and you have to realise that. It's something I'm really looking forward to, but I'm delighted that I'm able to do it while still playing football, as that is still my main passion at the moment."