Holding out hope
Tranmere's Owain Fon Williams talks play-off hopes, third tier competition and future plans.
Last Updated: 27/05/13 11:40am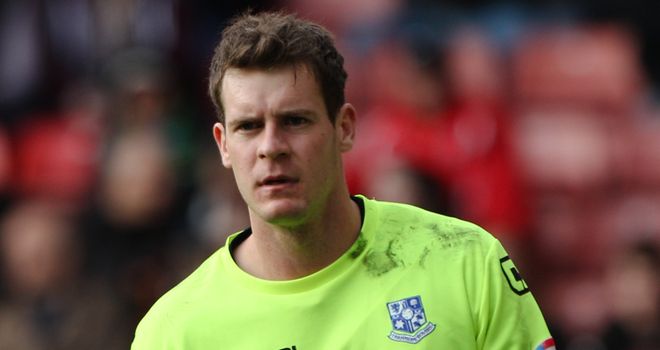 The 2012/13 campaign has entered the final straight, with promotion pushes and relegation battles now in full swing.
Here at Sky Sports, we continue to take you to the very heart of the Football League, with our Spotlight features intended to give you a greater insight into the clubs and players that keep us on the edge of our seats.
We are hoping to bring you the views and thoughts of a representative from each of the 72 teams over the course of the season, with those involved asked to give their take on the division they compete in, the club that pays their wages and those we should all be keeping an eye on.
Next in our hot seat is Tranmere's Owain Fon Williams, with the Rovers goalkeeper taking time out to discuss play-off hopes, third tier competition and future plans with Chris Burton.
Can you put your finger on what has gone wrong since February - everything was going so well?
We've had a lot of injuries, a lot of injuries. Things haven't gone our way. Once you lose one, we lost a handful of players. Then we were asking people who had never played in the league before to fill the gaps in. It's been tough. It was great at the start, three quarters of the season have been fantastic. We were top of the league flying, but I don't think you can pinpoint exactly what it is that has happened. It's a tough one. We are still in there with a little bit of a chance because results went our way a bit in midweek. We are still fighting and still hoping that we can get in there. It's a tall order, we all know that, but if we can pull through - which we have done and shown this season - you never know. It's annoying that we have dropped and haven't been able to take advantage of the points that other teams have lost. But, looking at the whole season, it has been a very good season for Tranmere Rovers, in terms of what we were expecting at the beginning of the season and where we are now. It's been a fairly good season if you look at it overall, but obviously people look at it at the end of the season and not the start.
You started really well - 12 unbeaten - was there a point where you sit there and think 'We're top of the league' and then things start to get a bit edgy and nervy?
We were top of the league until January. That shows that we weren't nervous or anything, we just lost a few players and the pitch didn't help. At the start of the season we were playing football, and we were playing teams off the park - that's quite fair to say. We are a footballing side and the pitch now doesn't help. It's not an excuse, but it does tend to affect the way we play because we tend to play longer. We have been talking about this in the dressing room and if the pitch was alright, we could chip it about and keep the ball. But, because of the conditions and the changes in personnel, we've had to adapt to the situation and do the best we can with what we've got. We've done alright, but it's just a shame that we haven't been able to maintain where we were. It's difficult when you have got the size of the squad that we have, and it's difficult financially - it's all tough.
It has been tough, and goals have been hard to come by of late haven't they - you've lost your last three 1-0 and failed to score in eight of your last 14?
If you go back to earlier in the season, we were beating teams 3-0 or 4-0, or even fives, and we were getting plenty of goals. The goals haven't been there of late, and we need goals to win games. It's been tough getting goals. Hopefully, we have got three games to get as many goals as we can because who knows, we are in April now and it might go to goal difference, it is that tight. No-one knows who is safe in the play-offs, there is no security at the minute and it could well be down to goal difference to go up. It's been that type of league all season, it's been really tough. It's been a hell of a league, it's been anyone's. That's what has made it so interesting, the fact that anyone can go and win it.

You have played a game more than those above you and have those behind you closing fast, do you require favours from elsewhere to make the top six?
There is no doubt that we need favours. But we can't let anything affect us. We have got Hartlepool on Saturday, which is going to be a tough one - Hartlepool are trying to stay in the division while we are trying to get out of the division. It is a massive game. It would have been nice to play a team, maybe easier to play a team, that is safe, not fighting relegation or going up. Saturday is going to be a case of one fighting relegation to stay in the league and one team trying to get promoted. It's going to be a massive game for both of us and it's going to be cracker. It's never nice this time of the season - I've been involved with teams trying to survive, and it's really tough. It's nice to be involved with a team that is trying to get promotion, and that's what we will try and do tomorrow.
You are hoping Tranmere go up, but who is going up alongside you?
I wouldn't like to name clubs, to be honest, because I don't know. We have played MK Dons and I think they are the best team we have played against all season. But there is nothing to say that they will go up or that they will get a play-off spot. It could be absolutely anyone. You look at Doncaster, everyone thought they are going up, all of a sudden you have got your Bournemouths, Brentford, all of these teams looking at automatic. I wouldn't like to say who is definitely in the mix. I don't know. It's that kind of league - you say they are definitely going up and then come 5 o'clock on Saturday they have lost and you are like 'Oh, I thought they were stonewall to go up'. It doesn't work like that in this league and it hasn't done all season. It's been a really interesting league. For the neutral, I guess, it's great.
Who has really impressed you at Tranmere this season? Who deserves more credit than they have been getting?
It would be unfair to pick one out of the bunch. We haven't got a massive squad, we have got a really young bunch of lads and everyone has pulled together and done really well. We have lost players and brought players in, and they have been terrific. We have been asking young players to play a lot of games, where really they have not played that amount of games ever before. It's been a big ask for them to play so many games. It's a great experience for everyone and it's great that everyone has gelled together and everyone gets along with a good spirit in the club. I can't pinpoint anyone, everyone has gelled together fantastically - on the pitch and off the pitch.
On a personal level, how do you feel the season has gone - you have been an ever present in the league and involved with the Wales senior squad again?
In some ways I have enjoyed every minute of it, it's been great. I have played every single game. I think I have done well. I have been going with Wales again, which I have really enjoyed. You want to try and be involved as much as you can with the international side, because that's the biggest stage of football you can be a part of. The only thing, the icing on the cake, would be to get promoted with Tranmere Rovers. Three games to go, nine points to play for, so it's make or break.
Three games left, is that all you can focus on now - with the future for you and many others set to be sorted in the summer?
That's it. First things first, we have to do the job tomorrow. After tomorrow it will go down to two games in the fight for the last spot. There are a handful of teams trying to get that sixth spot and have a crack at the play-offs. We have got to think about that first and then, after that, who knows what will happen. Until then, every single person involved with Tranmere Rovers will be doing everything possible to get the club promoted.
You want to be Championship players don't you, you are all playing for your futures in a way?
Of course, there is no doubt about that. You dream about winning things in football, so that would be a real achievement to do something with Tranmere. The budget and stuff we have here isn't massive, but it would be a really successful season if we were to achieve something. It would be great for the Wirral and for Merseyside if another team could push up the leagues and really have a crack at the Championship again.