Make or break
Chris Burton catches up with Frank Simek ahead of a crucial final day fixture for Carlisle United.
Last Updated: 01/05/12 3:24pm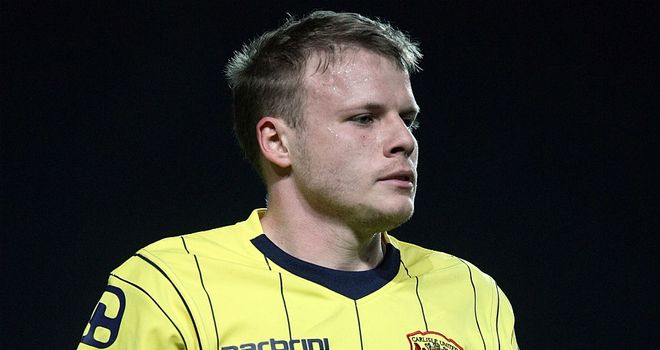 On Saturday, Carlisle United will take to the field knowing that the 90 minutes which lie in front of them will shape their season.
Forget about the previous 45 games, their 2011/12 campaign has boiled down to one all-or-nothing encounter.
They have to beat Oldham Athletic at Boundary Park, it is as simple as that.
There are no grey areas now, the Cumbrians must take three points off the Latics to stand any chance of forcing their way into the League One play-offs.
Even victory may not be enough, with Stevenage and Notts County having to slip up if the door to the end-of-season promotion party is to swing open.
Carlisle are still in the hunt, though, and Frank Simek has told Sky Sports' Chris Burton that Greg Abbott's side will be doing all they can to ensure that their season stretches past 5th May.
He said: "We are obviously relying on two other results to go our way, but we can only go out and win our game and hope that the other two slip up. We have put in a great effort to get into the position where our season is still alive on the last day of the season. Hopefully we can win our game and look for others to slip up.
"We are probably the outsiders going into the last game of the season, but we are still in with a shout. Strange things happen in football. We will try and win our game and it's not a forgone conclusion that both of them are going to win their games. We are still alive and fighting."
Change
When relying on others to do you a favour - in this case Bury and Colchester United - you would think that the Carlisle players would want to know what is going on elsewhere.
Simek, though, insists that is not the case.
He said: "Not especially. I don't think we will probably find out too much while the game is going on. We know what we have to do, we have to go out and win our game. If we don't win, then that's us out. It doesn't really affect us what the other results are, we have to win no matter what.
"It's nice to have a game at the end of the season where it matters. A lot of times in the last two or three games of the season you end up going through the motions because you have nothing to play for. It's a nice change for us from last year where things kind of fizzled out for us. Now we are right in the mix and if we win our game, we have every chance of prolonging our season."
Carlisle could be forgiven for thinking that they should already have a top-six finish wrapped up, with a run that has brought just three wins in 11 outings having arrived at just the wrong time.
Simek said: "I wouldn't say that we have let ourselves down. We have had a good season and have done really well to be where we are at right now. Hopefully we can cross the finishing line on a high with a win. If that's not enough, we can look back and say that we have done our very best and had a good season. We have got the most points Carlisle have got in I don't know how many seasons, so it's been a good season for us either way.
"If we don't make it, it will be disappointing, obviously, but we are in the mix at the last day of the season. We will go out there and try to win the game and see where that takes us."
Regrouped
Goals were an issue for the Cumbrians during their recent wobble, but they were able to put four past Exeter City in their last outing to suggest they have put their troubles in the final third to one side.
Simek said: "We have had our main striker Lee Miller missing for the last few games of the season, which was a bit of a blow for us, but we have regrouped and we have hit four goals at the weekend and hopefully we can score a few more at Oldham on the last day of the season."
Whatever happens on Saturday, former Arsenal trainee Simek claims he will look back on the 2011/12 campaign with fond memories.
He said: "I picked up an injury on the first day of the season but I have been back for a lot of games since Christmas and I have been fit. It's been nice to get back on the field and help the team to progress and help with what has already been a successful season."
Simek has spent the last two years with Carlisle, having joined from Sheffield Wednesday in 2010, but will see his current contract expire at the end of the season.
The United States international has not been one to travel around much over the course of his career and he has refused to rule out the prospect of penning a new deal at Brunton Park.
He said: "It's a great football club. It's a family club and there is a good feel to the place after the season that we've had and the relative success that we have had on the pitch. Hopefully we can take it one step further.
"My contract is up at the end of the season and I'm not too sure what is going to happen yet. That's at the back of my mind at the moment. For now I'm concentrating on Oldham on the last day of the season and getting those three points."