Steady as we go
Paul Huntington tells Chris Burton that Yeovil are a better side than their league standing suggests.
Last Updated: 17/02/12 4:27pm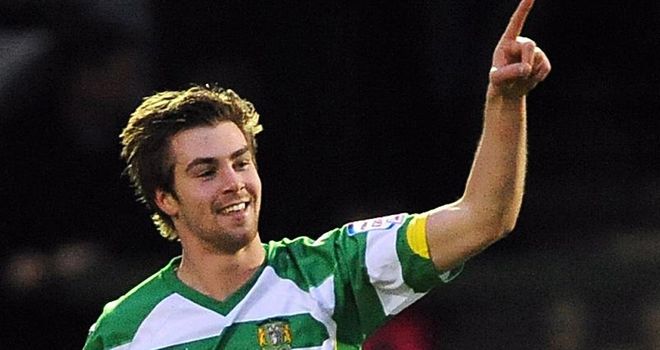 It is easy to forget that Yeovil Town have been gracing the Football League for less than a decade.
It took the club 108 years to make the step up out of the non-league, but impressive strides have been made in a short period of time.
Promotion into League One was secured in just their second season as a League outfit and they have since gone on to make the third tier play-off final.
It has been a struggle over recent years to replicate that achievement, but the Glovers continue to hold their own in a division which has seen them pit their wits against the likes of Nottingham Forest, Leeds United, Sheffield Wednesday, Norwich City and Southampton.
This season once again sees Yeovil making steady progress, with the club having edged clear of relegation trouble.
The annual turnaround of players at Huish Park and a limited budget means it will always be difficult for them to compete with their more illustrious third tier rivals, but there is a feeling in and around the club that they are heading in the right direction.
Sky Sports' Chris Burton caught up with club captain Paul Huntington recently to get his take on where Yeovil stand, and found the defender to be in optimistic mood.
He said: "In the last five or six games we have picked up 10 points. Since the new manager has come in, we have been looking like we should be pushing for the play-offs. We are looking more of a threat going forward and we are playing some good football. I think we have got the opportunity to pick up some more points.
"The way we have been playing, we have only really been beaten by the two Sheffield clubs. We were outplayed a little bit against Sheffield United, but we deserved a draw at Sheffield Wednesday and then we went to Wycombe and won. We are definitely looking more of a threat going forward at the moment."
Consistency is now the aim for the Glovers, with back-to-back victories having only been secured once so far this term.
Huntington said: "Looking at the fixtures, the next five or six are very winnable. We have only got MK Dons away in the top six. We played Wycombe on Tuesday, we have got Colchester at home on Saturday, Carlisle away next Saturday, Brentford at home and then we have got MK Dons away. We have got a lot of winnable games.
Chances
"The second week in March, we have got three games at home where we play Hartlepool, Scunthorpe and Walsall. That's a great opportunity to pick up points. If we can pick up a few wins back-to-back, we could really shoot up the table. We are already looking at dragging in Tranmere and Oldham above us, which we haven't been able to do for a while. We are looking up rather than behind us.
"We feel as a group that we should be a lot higher up. If you have seen our games and how they have gone, we have been playing well and not getting the results. Hopefully we keep creating chances and keep ourselves in games. I think we feel we should be nine or 10 points better off than where we are. We have started to get it together and it's enjoyable at the minute. Hopefully we can keep plugging away and get another win on Saturday."
The games will come thick and fast from this point on, but Huntington believes Yeovil are capable of handling the demands of a gruelling end of season run-in.
He said: "I'm suspended at the minute, which is a bit frustrating, but I will be back for the games in March. In March and April, the games are flying but the quicker we can get the points we need to get to 50 the better. We spoke about not leaving it while we have got plenty of time.
"There has been a real change in the squad, with a few players brought in, and we have got quite a young squad which is enthusiastic and athletic. There will be quite a lot of games where we think we can pick up points and if we have to win ugly, that's what we will do. We will play a lot of teams around us in March and we have been quite solid in them so far."
Reaching the 50-point mark as soon as possible may be the short-term goal for Yeovil, but their ambition stretches much further than that.
On their targets, Huntington said. "I think we finished on 60 points last year. We got to 50 and we finished the season really well. It's hard for the club and the staff because there are a lot of players out of contract each year. It was the same last year, I think 10 went out and 10 came in. The first half of the season you are still finding your feet and getting to know the way we play.
"What happened last season was we got settled and had the games gone on for four or five more, we would have been pushing for the play-offs. But then you lose the bulk of the team because we did well last year and you have to do it all over again. That's what we will be looking to do this season. We want to get to 50 points and then see what we can do. We go into every game with the idea that we're going to win. In the past we have been a bit negative in the way we have approached games against the top six, top three, but now we are going for it more and we think that suits us."
Anything better than their 14th-place finish from last season could be considered a step in the right direction for Yeovil, but Huntington insists the club are determined not to settle for mid-table mediocrity year on year.
He said: "We finished level with Charlton and above Sheffield Wednesday last year, so that was great for us. I think it was the second-highest position the club has ever finished. If we can get into mid-table, that will be an achievement from the position we are currently in. Then next season, depending on who the club keep, the manager has already spoken about long-term plans and pushing on.
"We don't want to settle for 14th or 15th every season like some clubs do, we want to try and do something. The club has done it once before, they got to the play-off final against Blackpool. Initially we just want to get to 50 points and then see what we can do after that."
Buzz
The return of Gary Johnson to the managerial hot-seat at the turn of the year has been welcomed by all of those connected with the club, with the man who led the Glovers out of the non-league and into the third tier now back at the helm.
Huntington said: "I think it has given the club a lift. I wasn't here earlier when he was here, but he got a couple of promotions. The fans love him, he's well respected and he's given the club a lift. He's created a bit of a buzz, especially at home. We have had two home games and he's won them both. To be honest, I fancy us again against Colchester on Saturday.
"The way we have been playing, we are really looking forward to the games. We are looking a threat going forward, rather than sitting back and soaking it up and hitting teams on the break. We are taking the initiative now and putting them on the back foot. At home that's important and it breeds confidence in the players. He's brought in a few of his own players and he's still trying to put his imprint on the team and the way he likes things to run but, in terms of the points total, he's been very good for us."
Johnson was drafted in to inherit the reins from Terry Skiverton, but the man formerly charged with leading the Glovers into battle has stayed on as right-hand man to the new boss.
On that set-up, Huntington said: "At first, I'm not going to lie, it was weird. It was strange and it took a while for the players to get used to it. But he's embraced that role and I have great respect for Terry because he brought me to the club. It is strange because he was gaffer, but the new manager has got a lot of experience and he's got promotions - he got Bristol City promoted and got them to the play-offs. He's also got Yeovil into League Two and into League One, so his CV is very good and that can only benefit the club and Terry and Nathan Jones, who was his assistant and has moved down to first team coach.
"It was strange at first but the players have taken it on board and it's a good thing in a way because it's like we have got two managers now because we are working off both of them. Terry played in my position as well, so it's been good so far."
Huntington is enjoying working under Johnson and says he has thoroughly enjoyed the two seasons he has spent at Huish Park.
The former Newcastle, Leeds and Stockport centre-half said: "It's gone really well. I really enjoyed last year and I feel as though I have really kicked on this year. I broke my finger earlier on, which sounds really small but I was out for three or four weeks. Then I have had my suspensions, which is a little bit frustrating as I felt I was playing really well.
"I'm just looking forward to getting back and finishing the season really strongly. If I can add a couple more goals to my tally this year, I will be happy with that. A few more clean sheets would be good as well. Personally, I have really enjoyed this season and I'm just hoping to finish off really well. March and April are big months and we will be looking to get points as soon as possible and then see what happens in the summer. I have enjoyed the responsibility of being captain. Even though I'm only 24, I was captain quite a lot last year and it brings out a talkative side in me a lot more. I feel as though I am learning all the time, but it's good and I am enjoying being here."
Huntington's current contract is set to expire at the end of the season, but he is hoping his efforts over the remainder of the campaign will see him offered fresh terms.
He said: "It's been mentioned briefly, but I can't really say too much on it. I don't know what is happening yet. Obviously we need to get to our target first and then see what happens. There are quite a few players out of contract, including myself, and we will have to see what happens. It's my second year here now and I've enjoyed my time. I just have to see how talks progress and go from there."