Ince almighty
Graeme Bailey catches up with Blackpool star Tom Ince ahead of their play-off campaign.
Last Updated: 04/05/12 8:33am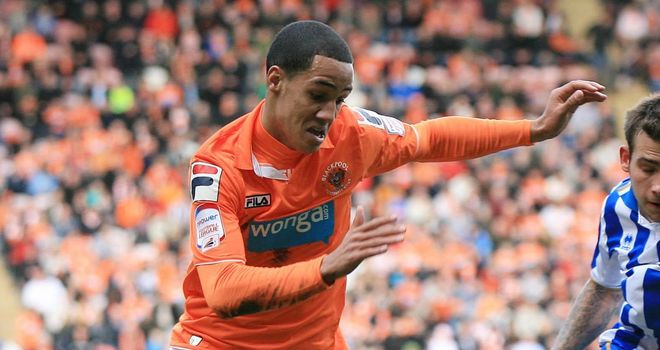 Tom Ince has enjoyed a wonderful season with Blackpool, emerging as one of the best young wingers outside the Premier League.
Ince is now hoping he can help inspire the Tangerines to play-off glory as they tackle Birmingham City over two legs.
And Ince feels that Blackpool have nothing to fear after battling their way into the top six in the Championship.
"It has been a bit of a tough season, after a slow start but we have had a few good runs, but for us to be in the play-offs is great," he explained.
"We have got a few lads who experienced the play-offs a few years ago and so we have that together with a few young lads like myself and Matty Phillips, we have a good blend at the moment.
"The likes of Reading and Southampton it is great for them to already know they are up, and the Blackpool fans wants the same and as a club we have been there before and we want to be back there again."
Famous father
Ince, as many know, is the son of former England international Paul Ince - and as with many famous footballing fathers and their sons, it can often be hard for the latter to make their way in the game.
But at just 20, Ince is already starting to show he is made from somewhat different stuff to his dad. For starters he is an out-and-out winger, in stark contrast to the box-to-box midfield role his father used to play.
"A lot of people always ask me about it, he is my father off it and on the pitch he is another person who is there to help, I have a great manager Ian Holloway now who has shown great confidence in me - but it is down to me to show how good I am and how different I am to my dad but he has helped guide me, so for me it is a double advantage.
"I am a totally different type of player to my dad, I am tricky and an out-and-out winger. I have always based my game on my dad's old friend Ryan Giggs, obviously we are going to get comparisons and I am just happy to have someone like that in my life."
Ince joined Blackpool last summer from Liverpool, and he reveals that he had the option to sign a new long-term deal at Anfield but he rejected this in order to find first-team football.
"I was at Liverpool for a long, long time since I was 11 or 12, and I have had great schooling and it is hard to leave, but when you turn 18 or so it is hard for a player to break through and I wanted to get out and play football and I had a great loan spell at Notts County with my dad," he revealed.
"When I got back and I didn't think reserve-team football would progress me, I could have signed a new four-year deal at Liverpool but as far as I was concerned I wanted game time and first-team football and the opportunity to join Blackpool was there and I took it with both hands.
"For a year ago from playing reserve-team football to the verge of the Premier League, it has been a great move for me."
Brave
Ince admits he did not think twice about making the move, but admits others in his position could very well have remained.
"A lot of people may have decided to stay and hope for the best, but I just felt if I could drop down to the Championship which is still a great league with teams like West Ham, Southampton, Cardiff, Middlesbrough, Leicester, Birmingham they all feel they have Premier League pedigree along with Blackpool but to join a great club like Blackpool who play great football it would be great, it is also close to home and has been a great experience for me."
Such has been Ince's form this season he is already being coveted by Premier League clubs, and he is being tipped for a big-money summer move whether Blackpool get promotion or not.
He admits he maintains the desire to play in the top flight, but would love to help Blackpool back there.
"Every player aspires to be playing at the top of their game and playing in the top league, but I know I would not be the player I am now without Blackpool. Premier League is where I want to be but I need to work hard in training and on my weaknesses and keep showing myself in the Championship.
"I want Blackpool to get promoted not just for me, but for all the guys."
You can see Tom in action in the first leg of Blackpool's Championship play-off semi-final with Birmingham on Friday evening, live on Sky Sports.