G-Mac
Chris Burton discusses Garath McCleary's rise to prominence at Nottm Forest with the man himself.
Last Updated: 16/04/12 5:19pm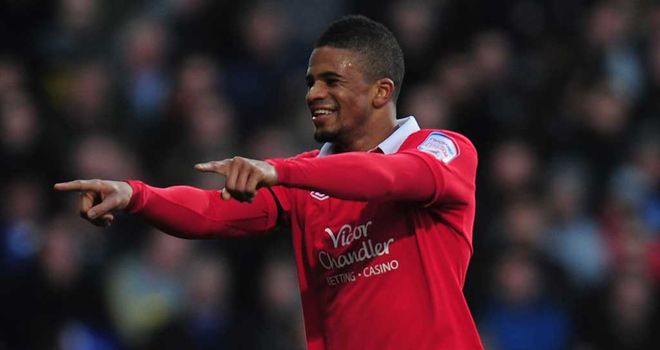 Before the 2011/12 campaign got under way, and even part way through it, Garath McCleary's standing at Nottingham Forest was that of a squad player - an impact performer often deployed off the bench.
Fast forward to the middle of April and the 24-year-old has become a key component in the City Ground machine, with his ever-shortening contract of great concern to those of a red persuasion.
His meteoric rise to prominence has been little short of incredible, with his raw materials - electric pace and a keen eye for goal - now functioning in perfect harmony.
McCleary was precisely that, raw, when he was drafted into the Forest ranks, but added maturity and priceless game time have taught him how best to deploy his arsenal of attacking weapons.
His efforts have been of considerable benefit to Forest in their Championship survival bid, with nine goals in 21 appearances taking him to the top of the club's scoring charts and offering hope of plenty more to come.
It truly has been a breakthrough campaign for McCleary, with his exploits having drawn plenty of admitting glances, but the former Bromley forward is taking everything in his stride - as Sky Sports' resident Forest fan Chris Burton found out when he took the opportunity to discuss an eventful season on Trentside.
Asked what his marked improvement this season has been down to, McCleary said: "I would put it down to playing games. I have never really had a fair crack at it and the gaffer (Steve Cotterill) has come in and given me a chance. I think any footballer would say to you that if they get games, they can show what they really can do. I think it's down to that.
"I have had a lot more starts. This is the most starts I've ever had in the professional game. I don't think I have had more than four starts in a row before, maybe even three. To have a run of games is vital to any player and I'm just glad I could grab my chance with two hands."
Brilliant
Having only recent registered on the radars of many supporters outside of Nottingham, it is also important to note that McCleary is currently in his fifth season with Forest and has worked hard to get onto his current pedestal.
He added: "It was good to get my head down when I wasn't playing. To come back from injury earlier in the season, I think I have done well in doing that as well. The physios have helped me through that and all the players have got behind me. It's been brilliant and if we can make sure that we are safe, hopefully in tomorrow's game (against Reading), it will be even better."
While McCleary would understandably have liked to have made more appearances at this stage in his career, he acknowledges that he has come a long way in a short space of time - with Forest having taken him from the Conference South, to League One, and now the Championship.
He said: "It has been a massive step. I have always said that there are a load of good players in non-league and sometimes you have just got to get the right break. Thankfully when the scout came to watch me - he was watching someone else, funnily enough - I managed to impress that day and thankfully I haven't really looked back. Hopefully I can continue doing what I'm doing."
What McCleary has been doing is setting the Championship alight, with a string of eye-catching performances in March - which included a four-goal showing in a 7-3 victory over Leeds - earning him the second tier Player of the Month award.
Asked if he considers that gong, or his heroics at Elland Road, to be the highlight of his campaign, McCleary said: "March was a funny month, it was crazy. The four goals were tremendous, I don't think that will happen again in my career, but it is something that I hold very highly. The Player of the Month was massive as well, but I would say that if we stay up, it has got to be that. Helping us to stay up and being a huge part of it, that would most probably be the highest."
Forest would appear to be all but safe with three games of the season remaining, with a reversal in fortune since the middle of February seeing the club suffer just three defeats in their last 13 games.
McCleary said: "In February, March and April we have been playing some really good football. We have been getting a lot of chances and scoring a lot more goals than we were doing in December and January, when we weren't really scoring at all. We are playing a lot more attractive football and hopefully we can continue to win games and put points on the table, moving us further away from the relegation zone."
Finding the target on a more regular basis has, inevitably, aided Forest's cause, with McCleary's efforts complemented by the timely return from injury of key frontman Dexter Blackstock.
"Dexter being back is massive," said McCleary.
"He's done it all through his career, he has scored goals. We knew that if we could make chances for him he would definitely score. Then you have got players like Andy Reid, who has come in, Raddy (Majewski) has scored three, it's all started to happen. Hopefully the boys can get three points at Reading. Obviously I'm not best pleased that I won't be involved, but hopefully we can pick up the points - either tomorrow or Saturday and cement our push towards next season."
Memory
McCleary admits that Forest had been hoping for more than just second tier survival this season but, with managerial changes and the tragic passing of owner Nigel Doughty having offered unwelcome distractions, the club have done well to steady the ship.
He said: "It has been a bad season for the club. With the squad that we have got, we know that we should be achieving a lot more than we have this season. The sad passing of the chairman has added so much to the fact that we want to stay up, we want to do it in memory of him and for his family. Us staying up, we have just got to think about that. Back in January I think we had 23 points and I think we have done really well to build on that."
Forest are, however, still facing an uncertain future, with a number of senior stars, including McCleary, set to see their contracts expire in the summer.
With no owner, and therefore no promise of funding in place, the Reds could be about to take in a make or break off-season.
McCleary said: "There are loads of players out of contract, but I don't really know what's going to happen with myself and I don't know what's going to happen with the rest of the players. I just want to get the season out of the way and hopefully make sure that we are playing in the Championship next season. Then we can talk about things then.
"I have always said that I want to get this season out of the way and then wait and see what happens. Hopefully we can stay in the Championship and then we can talk about the future from there."
It would be unwise of McCleary to offer any promises at this point - with it uncertain what, if anything, Forest will be able to put to him at the end of the season.
He is also as eager as any professional footballer to test himself at the highest possible level, saying: "It would be nice to play in the Premier League at any point, I think any player would want to play in the Premier League at some stage of their career. If it was with Forest, then brilliant, but I can't say what the future will hold. We'll see what happens."