Fresh approach
Marvin Elliott tells Chris Burton that Derek McInnes has helped to breathe new life into Bristol City.
Last Updated: 18/11/11 5:09pm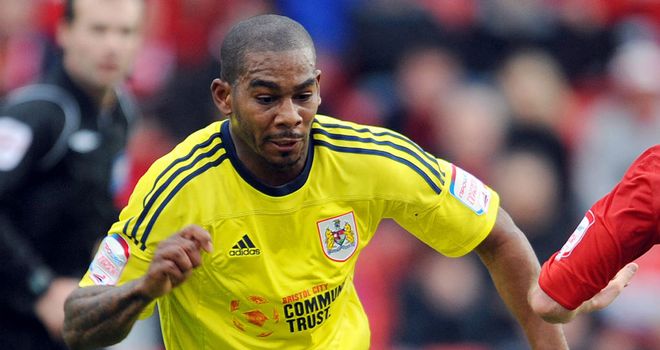 Bristol City are by no means the first team to have experienced an upturn in fortune after appointing a new manager.
It is remarkable how often a change in the dugout can have an immediate impact on results.
Sides that looked to be dead and buried can rise from the ashes and suddenly look like world beaters.
Various reasons can be offered for this phenomenon.
Players will inevitably look to raise their game in an effort to avoid being left on the scrapheap, and those who previously found themselves in such a position will be determined to prove that they are worthy of a second chance.
Fresh ideas and a new approach can also have the desired impact, with it possible that the previous regime were not playing to their team's strengths.
Whatever the reason, bringing a fresh face into the hot-seat can be a good idea and can help to salvage a season if the right move is made at the right time.
Bristol City will be hoping that they got their timing spot on, having decided to sever ties with Keith Millen on the back of a disappointing opening to the 2011/12 campaign.
The Robins were determined to bring positivity and potential into Ashton Gate and it did not take long for their sights to be locked on St Johnstone's Derek McInnes.
The Scot has made the transition from midfield enforcer to tactical tinkerer in impressive style and was able to forge quite a reputation during his time with the Saints.
It was expected to be only a matter of time before he followed the lead of Owen Coyle, his predecessor at McDiarmid Park, and took on a challenge in England.
Bristol City offered him that opportunity in mid-October and he has enjoyed a productive honeymoon period in the West Country.
Bubbly
Defeat by Birmingham on his Robins bow was quickly put to one side and seven points have been picked up in the club's last three Championship outings.
The doom and gloom has started to lift and City are hoping that their decision to turn to McInnes proves to be a masterstroke.
"It's obviously turned. The last three games have been better than the rest of the season. It's been so far so good for the new gaffer," Marvin Elliott told Chris Burton when skysports.com caught up with the Robins midfielder to get his take on a new era at Ashton Gate.
"He's just put his own stamp on things. Training is bright and bubbly and it's been a bit different to what we've done before. Everything he's done has been really good and everyone's enjoying it."
Asked if McInnes had brought anything new to the table and got City adopting a different approach on the field, Elliott added: "A little bit. It's his tactics and his style of play that are different. The things he wants us to do are different.
"It's enjoyable. You can say it's enjoyable, but if you aren't winning it isn't. Results have picked up, though, so hopefully that will continue."
Elliott is of the belief that City's new boss is destined for a bright future in the game, with McInnes having only turned 40 over the summer.
He said: "Definitely. I think he will have a bright future. Only time will tell but from what I have seen so far, both him and his assistant (Tony Docherty) are both really good."
While many observers of English football will know little of McInnes' coaching credentials, they will recognise him from spells at West Brom and Millwall during his playing days.
During his time at The Den, the Scot came across a promising midfielder by the name of Marvin Elliott.
"Yeah, I played with him for a year when I was quite young," said the now 27-year-old.
"I have memories of him but I was quite young at the time. I played quite a few games with him."
Break
While McInnes appears to have the Midas touch when it comes to management, Elliott and his team-mates are aware that maintaining form is considerably harder than finding it.
He said: "Of course. You look at the Championship and any Saturday you don't know who the favourites are. Him coming in has been really good so far and we have done well in the last three games. We have got seven points and we need to maintain that. The international break came at a bad time for us, to be honest."
When it was suggested that the break still has its benefits, with a rest period provided, Elliott added: "You could say that. But when you have found a bit of form you just want to get on with the next game. We were on a bit of a run. But that's gone and we have recharged our batteries and we have to look ahead to the next game."
The next game for City is a trip to Millwall on Sunday, which can be seen live on Sky Sports HD1, providing McInnes and Elliott with an opportunity to reminisce about days gone by.
"You get fired up for every game but obviously this one is a bit personal," said Elliott.
"This will be the second time I have been back since I left and I still love the club. I'm looking forward to it on Sunday."
Something else Elliott is looking forward to this season is adding to his collection of international caps, with Jamaica having selected him for the first time in a meeting with Honduras back in October.
On making the step up onto the global stage, he said: "It was good. Getting my first cap was enjoyable, it was a great experience and one I will never forget. I'm hoping that I will get further opportunities.
"It's something that stays with you forever, your first cap. International football is very different to domestic football and I'm looking forward to learning all about it."
Bristol City remain Elliott's bread and butter, though, and he admits that helping the club to preserve their second tier status is his priority.
He said: "I don't think you can get carried away. The last three games have seen us pick up, but you can't get carried away at all. At the moment we can't be looking at mid-table, we just need to pick up as many points as possible to make up for our poor start.
"Our ambition as a club is to get out of the bottom three first and foremost. Then maybe we can sit down and start setting new targets."