It's all White
Adam Clayton tells Chris Burton that in-form Leeds United are hoping to enjoy a productive 2012.
Last Updated: 08/12/11 4:45pm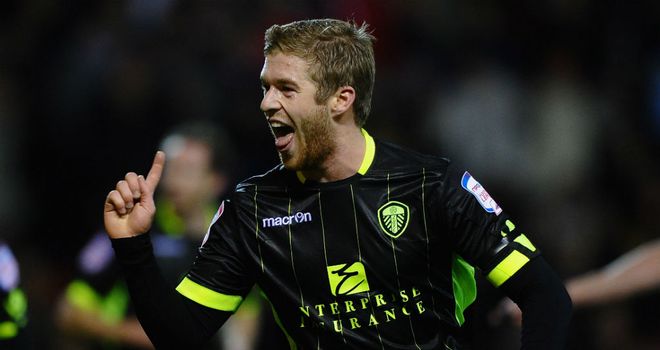 Four wins in five, the fourth most prolific attack in the Championship and a burning desire to make a fallen hero proud - Leeds United have become a very real threat to the second tier frontrunners.
The Whites were considered to be play-off contenders before a ball was kicked this season, but walking the walk is considerably harder than talking the talk.
Not that anyone at Elland Road was bellowing promotion aspirations from the rooftops - they didn't need to, a certain level of success is required in this particular part of West Yorkshire and expectation comes with the territory.
A unwanted stint in League One may still be fresh in the memory, but Leeds are a club that prefers to look forward and cling to the dream that betters times, including a return to the Premier League Promised Land, lie ahead.
This could be the season that they take the step up and re-join English football's elite, eight years after tumbling from that lofty perch and rather losing their bearings somewhat.
It would be a fitting campaign in which to secure promotion as well, given the tragic death of Leeds legend Gary Speed.
The passing of the former Whites midfielder has certainly stirred emotions at Elland Road - with added motivation provided, as if it were needed.
There is, of course, still a long way to go, with the Championship campaign a 46-game marathon that tends to separate the men from the boys and seasoned athletes from weekend fun runners.
Leeds are confident they can last the pace, though, with Adam Clayton telling skysports.com's Chris Burton that recent victories over Nottingham Forest and Millwall have left confidence sky high within the Whites camp.
Pushing
"We can't wait to get into the next game," said the 22-year-old midfielder.
"The last two games have probably been our best two performances of the season, so if we can continue that we can start looking at pushing on into the top two."
Consistency and momentum will be key to any side harbouring top-six ambitions this term, and Leeds' recent run of results suggests they are not too far away from finding the promotion formula.
"I think that's what this league is all about, you have got to be consistent," said Clayton.
"Anybody can beat anyone, so it's all about who wins the most games. Hopefully we can keep this run going and get up the league."
Taking a 5-0 defeat to Blackpool out of the equation, Leeds have been in contention to take something from just about every fixture so far this term - and that is a useful habit to get into.
"The Blackpool game was a bit of freak, especially as we had a man sent off as well," said Clayton.
"But we have been in and amongst it in every game so far and we have given every team a game. So long as we can keep that up and not concede any late goals, we'll be alright."
It could be argued that recent performances have been inspired by the memory of Speed, but Clayton is confident the Whites can maintain those high standards and carry them through to the end of the season - with Leeds supporters planning to pay tribute to their former midfielder in each of their remaining fixtures.
"I think the fans are going to sing that song in the 11th minute of every game, so it's going to be there every game now," said Clayton.
"I'm sure we will try to keep that passion and desire we have had in the last two games for the rest of the season."
Determined
It is hoped that inspiration from the stands will spill over onto the field, with Leeds determined to go at least one better than last year - when they ended the season in seventh spot, agonisingly short of the play-off places.
"We only just missed out last year, the last couple of games cost us, but this year we are more than determined to stay in these play-offs and, if we can, push into the top two," said Clayton.
"We hope to do that if given the chance."
The Championship is, however, a notoriously difficult beast to tame, with Doncaster's 1-0 victory over table-topping Southampton on Saturday offering another timely reminder of just how competitive the division has become.
Clayton said: "It is a crazy division. Anyone can beat anyone. When you go to the bottom of the league, or the top of the league, you have just got to prepare properly, do the right things and try to get the result.
"We go into every game trying to win the game. It's so tough to win games in this division, but we go into every game with that intention. We will see where that takes us at the end of the season."
Negotiating the festive period is next on Leeds' to-do list and, with the 2011 Christmas schedule not as gruelling as it has been in the past, Clayton is hoping it will be a happy New Year for the Whites.
He said: "I was looking at that and it is a bit more spaced out and a bit more forgiving. It's still going to be a very tough Christmas period, though, because we have got some very tough teams to play.
"If we can come out of that run still where we are, if not better, I'm sure we will take that."