Tiger feat
With Hull City pushing hard for a return to the Premier League, Chris Burton chats to Aaron McLean.
Last Updated: 26/01/12 8:21pm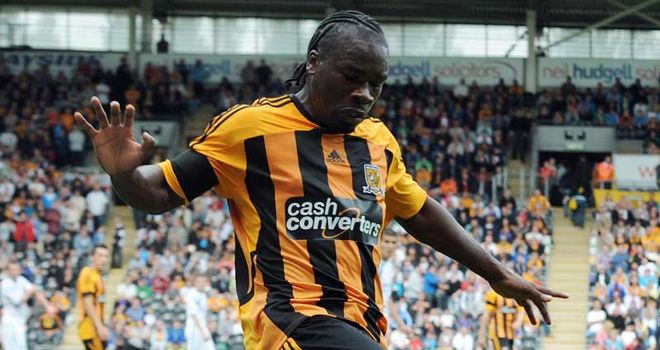 On Saturday, Hull City left the Madejski Stadium with three points securely tucked away in their back pocket and safe in the knowledge that they had cemented their standing within the Championship play-off places.
Their opponents, despite suffering only their second defeat in seven, found themselves on the outside of the top six looking in.
There is a fine line between success and failure in the second tier right now.
Only 13 points separate league leaders West Ham from Burnley in 12th, meaning the entire top half of the table, and a few more below that, still harbour ambitions of gracing the Premier League in 2012/13.
Hull City have been there, done that and got the t-shirt.
Unfortunately for them, theirs' shrunk in the wash and they have been scratching around in desperate search of a replacement for a couple of years now.
It appeared at one stage as if their desire to get their hands on that most coveted of accessories may cost them dear, with the club having chased the dream only to discover that living the high life comes at quite a cost.
Times are a changing at the KC Stadium, though, with new owners, a new manager and a new lease of life firing the club back into promotion contention.
Dreams of the top flight have been rekindled, with financial worries and painful memories of questionable impulse buys and cringe-worthy managerial sing-a-longs consigned to the memory banks.
It may be slightly premature to start checking train times to Manchester and Liverpool, but there is a feeling within the Tigers camp that 2012 could be their year - as skysports.com's Chris Burton found out when he caught up with Aaron McLean.
Massive
He said: "The Reading game was a massive one for us and we said before the game that if we could get three points from it that would stand us in good stead for the games to come. It was a massive result for us.
"We said from the beginning of the season that we wanted to be in and around it, around the bigger clubs - your Middlesbroughs, your Southamptons, Readings, Cardiffs. They are all massive clubs and they are all looking for the same thing. It's important that we get points against those around us to try and give us that extra boost."
As mentioned, the Championship promotion race is virtually impossible to call at present and, for that reason, McLean believes all of those within touching distance of the frontrunners should be looking to surge into medal contention before the end of the season.
He said: "Promotion was our target at the beginning of the season. In the worst case scenario, we want to go up through the play-offs. At the moment we are still eyeing those top two positions and we will do everything we can until it's not possible to try and get into the top two.
"From halfway down up to the top of the league, everyone could get in there, from about eighth upwards, everyone could win it. The team that can put five, six or seven games together from now until the end of the season, goes on a good run, will be in amongst it, so we need to make sure that we are one of those teams. Hopefully the result on Saturday has gone some way towards that."
The Tigers have done well to keep themselves in contention over recent weeks, with history dictating that a managerial reshuffle midway through a season is rarely a good idea.
Hull's hand was forced as Nigel Pearson opted to jump ship for Championship rivals Leicester City, but fans' favourite Nicky Barmby has filled that void admirably and further strengthened his legend status within the eyes of the KC Stadium faithful.
Continuity, undoubtedly, has been key to the club's success, with a familiar face helping to ensure that there has been no unnecessary rocking of the boat.
McLean said: "That was always going to be important. When Nigel left, it was always going to be important who was brought in to take over, and that it didn't disrupt things too much. There wasn't really anything wrong at the time, so it was important that we kept the same spirit and the same belief that we have had the whole season and continued as we are.
"The team spirit in the dressing room has always been brilliant. Nick has come in with some new ideas and everything has gone well. It's the same players, so we just have to keep doing what we were doing before."
Respect
McLean also claims that those within the Hull squad always had an inkling that Barmby might fancy making the transition from classy playmaker to coaching tactician at some stage in the near future.
He said: "I think everyone could see that eventually he would step up into management. Just from the way he was around the place, all the players respect him and the same with the fans. Just the way that he conducts himself, you always knew that he was going to go into management at some stage. It's gone well for him the way it's happened."
McLean is among those most relieved to have seen Barmby handed the reins, with the 28-year-old having been taken to the KC Stadium by Pearson - and managerial changes can sometimes lead to a last in, first out approach being implemented.
The former Peterborough forward said: "It's the same for everyone when the manager leaves. Nigel Pearson brought me to the club, so when a new manager comes in, he normally has his own ideas about how he wants to play and the personnel he wants to have. But with Nick, he knew all the lads already from being a player and he knows what I'm all about and what my situation is. I was more than happy with that."
While happy with the decisions being made from above, McLean is also enjoying his football in Hull, with the former non-league star delighted with his decision to head to East Yorkshire in January 2011.
He said: "I have been here 13 months now and I've enjoyed every minute of it. I'm still not satisfied with where we are, we want to be in the Premier League at the end of the season. We are all pushing to get there.
"We are in amongst the play-offs, we are right in there and the lads are starting to hit form again. I am playing week in, week out and playing well, so at the moment I'm fairly happy. If come the end of the season we haven't got promoted I won't be too happy, but at the moment we are in amongst it and things are looking good."
McLean is also of the opinion that he is part of a club that deserves to be competing at the very highest level.
He added: "The club is geared towards being back in the Premier League. When the new owners came in, that is what they said they wanted. They said they were going to push the club forward. The quality they have brought in has been excellent. We need to make sure we build on that now and make the most of it.
"The club was in a bit of a bad place just before the new owners came in, but they have put their money where their mouth is and invested well in the squad and given the manager opportunities to bring in quality players. Hopefully we can make the most of that."