Sent to Coventry
Martin Cranie discusses Coventry's survival bid and his plans for the future with Chris Burton.
Last Updated: 14/04/12 10:48am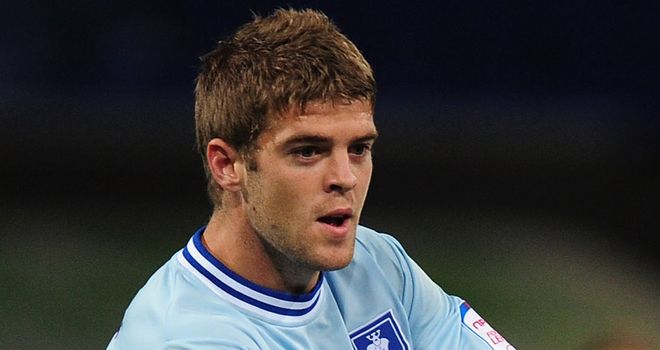 Nottingham Forest, Manchester City, Leeds United, Sheffield Wednesday, Norwich City, Charlton Athletic, Sheffield United, Southampton - a selection of those to have tumbled out of the Premier League and fallen as far as the third tier.
A new name could be added to that list in 2012, with Coventry City teetering on the brink of relegation out of the Championship.
The Sky Blues have just four fixtures, 360 minutes, in which to close a four-point gap and ensure that they will be taking in fixtures at Pride Park and Selhurst Park next season, rather than Huish Park and Prenton Park.
It appeared at one stage as if a stint in League One was inevitable, with a hugely frustrating campaign having seen Andy Thorn's side scratching around in the basement from pretty much day one.
Spring has offered fresh hope, with a run of one defeat in eight suggesting there is life in Coventry yet.
Unfortunately for them, that solitary setback came against fellow strugglers Bristol City on Easter Monday and former England U21 international Martin Cranie was slightly less bubbly than he would have been a week previous when Sky Sports' Chris Burton caught up with him to discuss goings on at the Ricoh Arena.
"It was a big weekend for everyone last weekend," he said.
"We felt like if we could come out of it with four points, that would set us up for the rest of the season. But we got beaten in the end and it's not looking too good at the minute. We have all got to stay upbeat because we aren't out of it yet, so we have got to go looking for a few wins in the next few games.
"We have got to get it right next week, there are no ifs or buts about it. We have got to win. It was disappointing for everyone (against Bristol City) but the game has gone now and we have got to get on with it and look forward to Burnley at the weekend."
Massive
Each passing fixture now takes on added importance for Coventry, with there little or no margin for error from this point on.
Cranie said: "They are all massive. We have sort of been in the same position all season, but we did well to claw our way back of it. We thought we could have got results at the weekend but it didn't really go our way. We have left ourselves with a lot to do. These four games are massive and I think we are going to need to win at least three of them."
There is, however, an argument that says Coventry have done remarkably well to give themselves a shot at survival.
Cranie said: "At one point I think we were about nine points off it and everyone wrote us off. We were sat bottom of the league and pretty much out of it, but we got together and had a chat and have come through well. We got out of it last week, but now we are four points back in it. We have got to regroup again and go into the match on Saturday looking for three points."
Asked if a recent revival was the result of anything in particular, he added: "I think everyone realised that something needed to happen and something needed to happen fast. We went on a decent run. We probably didn't get as many wins as we deserved, we drew a few games, but we got ourselves out of the situation and gave ourselves a fighting chance. Now we have got to go again."
Football is all about timing and there is a chance that Coventry have got theirs spot on, with history suggesting that it is the teams that build momentum heading down the final straight that go on to win promotion or beat the drop.
Cranie said: "You see that every year. Look at Reading now, they have gone on a great run and have given themselves a massive chance of getting automatic promotion. The teams that are down at the bottom with decent runs, from February/March until the end of the season, they can get themselves out of a relegation fight. We have had a decent run, with a blip on Monday, but if we can pick up the form again, hopefully the last four games will go well and we can pick up a few wins."
With Coventry aiming for at least three wins from their last four fixtures, they will be looking at home dates with Millwall and Doncaster Rovers as ideal opportunities to pick up points against sides that have endured similar struggles to them.
Cranie said: "They are two home games and we have looked quite strong at home recently. We aren't looking for draws at the minute, we have got to pick up wins. I think Bristol City have got a couple of hard games coming up, so we are looking for them to not pick up any points and we need all the points we can get."
Prepared
Should the basement battle go down to the final day of the season, Coventry will travel to champions-elect Southampton having to take something.
On paper, the Sky Blues could not have been handed a tougher test, but there is a chance that the Saints will already have been promoted by then, meaning they will have little to play for.
Asked if that is a scenario Coventry will be looking to play out, Cranie said: "In an ideal world, yeah. It would be nice for us to be safe and for them to have automatic promotion. At the minute it could go down to the last game, so we have got to be prepared for that. If they have got promotion, fair play to them, but it might be a different situation for us and we might have to go down there and get a win or a draw. I don't think anything changes for us at the minute."
Coventry, as a club, may be aware of what is expected of them, but the future for all concerned remains very much up in the air.
Cranie is among those set to be out of contract in the summer and is unsure whether he will get the chance to prolong a three-year stay in the Midlands.
He said: "I've had a great time. This is probably the first time that I have been settled. I have played pretty much every game for the last three seasons and it's been good. I'm settled up here now and I'm enjoying my football.
"I am just hoping that we can sort something out. We have left it because of the position we are in at the minute, but as soon as the season is over then we will sit down and hopefully sort something out."
It promises to be a big few weeks then for Coventry and Cranie, with there all to play for between now and 28th April.
He signed off by saying: "100 per cent. There are only four games left in my contract at the minute. Then hopefully we can sit down with the club and see where we can go from there."