Claret and Blue
Chris Burton catches up with Kieran Trippier, a Man City youngster making a big noise at Burnley.
Last Updated: 07/10/11 5:59pm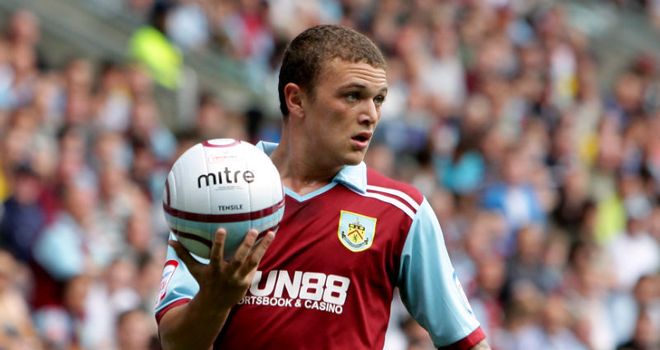 Getting yourself noticed at a Premier League club is hard enough at the best of times, never mind when that club is Manchester City.
With Roberto Mancini working with unimaginable riches, City are in the enviable position of being able to cherry pick the cream of the footballing crop.
This may be good news for those in the senior set-up, with last season's FA Cup success and an impressive opening to the 2011/12 campaign suggesting an exciting new chapter in the club's history is in the process of being etched.
It is, however, not such good news for those emerging from the Academy ranks.
With only 25 places in a Premier League squad up for grabs, and with City's ranks brimming with international superstars, the stars of tomorrow may struggle to get a look in.
It can be argued that true talent always shines through and that even a club like City will be prepared to give youngsters a chance if they prove that they are worthy of such opportunities.
It is difficult, though, to blood Academy graduates into a side that is expected to win every game it plays and challenge for major honours.
As a result, some of City's more promising starlets are having to look elsewhere for games.
With it vital to get experience under their belts, the likes of Kieran Trippier have decided that loan spells away from the Etihad Stadium are the way forward.
The 21-year-old full-back has seen his decision to take the plunge rewarded with England U21 recognition and City's Young Player of the Year gong for 2010/11.
Trippier is held in high regard by Mancini and his coaching staff and played a prominent role in the club's pre-season tour of the United States.
Improving
He has, however, opted to head out on loan again this term and believes he can only benefit from a season-long stint at Burnley - with regular football at Turf Moor intended to return him to City next summer a more complete player.
"That's why I came out on loan to Burnley from Man City," Trippier told skysports.com's Chris Burton.
"I need to try and get as many games as I can while I'm young and get experience. Coming up against players of Championship quality is only going to make me a better player."
The ultimate aim, though, is still to make the grade at City.
He added: "That has been my dream since I was 10 years old, to play for Manchester City. Obviously they have gone out and spent a lot of money, but I just need to concentrate on my own game and try to play well. The manager and scouts will be watching and they will report back and say how well I have done. Hopefully next season I will get a chance. If I get one, I will grab it."
City are keeping a close eye on Trippier's progress, with Mancini keen to know how all of his loan stars are faring during their time away from the Eastlands spotlight.
"I get a phone call from the scouts when they come and watch me," said Trippier.
"They have been quite a lot this season and I think I have had a good start to the season at Burnley. The manager will take that on board and keep a close eye on me."
Playing games and catching the eye is also imperative if he has any ambition of remaining part of Stuart Pearce's U21 plans.
"It's a privilege to play for your country, even if you are just selected in the squad and don't play," said Trippier.
"Being in and around the players can only be good. Most of them are playing in the Premier League week in, week out and that's my obvious aim. But for now I just have to concentrate on Burnley and playing as well as I can. If I do that, hopefully I can get a call-up."
Confidence
This is not the first time Trippier has taken in a loan spell in the Championship, with the last two campaigns seeing him spend time with Barnsley.
Last season saw him make over 40 appearances for the Tykes and he feels he benefited from his time at Oakwell and is now looking to take the next step.
"I was there last year and played a lot of games," he said.
"That gave me a lot of confidence. I was looking to take that into this season and do even better, try and better last year and become a better player. I think I have done that.
"In the Carling Cup and everything else I think I made about 42 appearances. My aim this year is to try and play as many games as possible. We will see how it goes.
"Last year I gained a lot of experience. It wasn't my first time out on loan, but it was the first time I'd played that amount of games. I have been able to take that into another Championship season. This year is even tougher because there has been a lot of money spent by teams like Leicester and it's a very strong league with the likes of West Ham coming down.
"I have to give respect to Barnsley as they are a good club but this year at Burnley, they are a very strong team. I have found it more settled on the pitch and a bit easier at times."
Trippier has wasted no time finding his feet at Turf Moor and admits he is already feeling at home, with Burnley's recent results giving cause for optimism.
He said: "I have settled very quickly, quicker than I expected really. But before I came I knew a few of the lads anyway and that helped me. That helped a lot. Everything has gone really well.
"We had a few injuries, that didn't help and was a bit of a blow. We didn't have a home win under our belt and we lost a few games and hadn't kept a clean sheet. But now we have picked up back-to-back wins. We beat Millwall down at their place, so that was a big boost."
Break
The international break has broken the momentum established by consecutive victories in the Championship, but Trippier is confident the Clarets can pick up where they left off when domestic action resumes.
"It probably has come at a bad time," he said.
"We were flying so it's just unfortunate really. I think will come back strong. We have got Reading at home in our first game back so hopefully we can pick it up straight away."
The outlook appears bright for Burnley with the club, following their relegation out of the Premier League in 2009/10, now working with a young squad and a highly-rated manager in Eddie Howe.
"Eddie Howe's a very good manager," said Trippier.
"He did well when he was at Bournemouth and he's done a good job since he's been at Burnley. He has a lot of respect for the players. I think he will do very well for the club."
Can the Clarets return to the top flight, though, and does Trippier believe he will get the opportunity to experience a promotion party before making the short journey back to Manchester?
"That's the main aim," he said.
"It's up to the players and I feel the squad we have is more than capable of getting into the Premier League. We have a very strong squad here. Hopefully we can get the results that we need and then I don't see why we can't get promoted this year."