Up for the cup
Chris Burton catches up with Tom Heaton ahead of Cardiff's Carling Cup quarter-final with Blackburn.
Last Updated: 28/11/11 5:31pm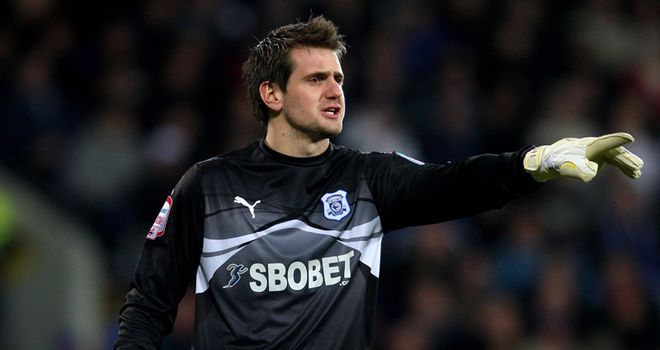 Once you reach the quarter-finals of a cup competition you really shouldn't need any added motivation.
The tragic events of the weekend have, however, made Cardiff City all the more determined to prolong their Carling Cup adventure.
The Bluebirds are set to entertain Blackburn Rovers on Tuesday in front of what promises to be an emotional home support.
The death of Wales manager Gary Speed on Sunday has left a nation in mourning, with the 42-year-old considered to be one of football's nice guys.
His passing has shaken both the Welsh football family and the wider sporting world.
Tributes have poured in since the announcement of his death and Cardiff will be keen to offer their own fitting tribute to the former Wales midfielder in midweek.
Tom Heaton will form part of the Bluebirds squad and skysports.com's Chris Burton caught up with the 25-year-old goalkeeper on Monday to see how Malky Mackay's squad are holding up ahead of a night that will understandably start in sombre fashion but could end on a considerable high for the club and their supporters.
"It's a tragic loss for the game," Heaton said on the news of Speed's passing.
"Being in South Wales and playing for Cardiff, it's a massive deal. It was a very sombre atmosphere today (in training) but I think it will be a special occasion (on Tuesday).
"We have got a lot of players and staff who knew him very well. They will look to turn it into added motivation and hopefully that will work in the right way. It's obviously a tough time, but hopefully we can respond to it positively."
Fate does appear to have played into Cardiff's hands, with the semi-final draw having pitched them against Premier League strugglers Blackburn - a side languishing at the foot of the top flight table amid supporter unrest.
Quality
Asked if it was a good time to be playing the men from Ewood Park, Heaton said: "Possibly so. They are still a Primer League side though, an established Premier League side, and have obviously got quality.
"They haven't had the best of starts to the season in the league, but if you look at the players they have got and the squad they have got, they have got undoubted quality. It will be a tough test but one we are relishing and one we have high hopes of winning. We are looking forward to it."
Being drawn at home has also played into Cardiff's hands, with the Bluebirds having suffered only one setback in front of their own supporters in the league this season.
On the impact home advantage could have on the tie, Heaton said: "We have been trying to make the Cardiff City Stadium a fortress this year and we have had some great results there. I think it's a tough place for anyone to come, even Premier League teams. We are looking forward to it. We know it will be a tough test, but we will try and win the game at home."
Progress into the semi-finals would see two more fixtures added to an already hectic schedule, but the Bluebirds have so far managed to get the balance between league and cup just right - which is never easy.
"No, it's not. It's definitely not," admitted Heaton.
"You often find that teams struggle in the league but do well in the cup, or do well in the league and struggle in the cup. We have managed to do well in both this year. We have had continuity within the club and within the squad in as much as we approach every game the same and it has been working well. We are certainly a tough team to play and we will look to carry that on. Hopefully that will get us through to the semi-finals and that will be another big game that will be fantastic for the club."
While Tuesday will see first tier face second tier in South Wales, it could very easily be argued that Cardiff will enter the game as strong favourites - with a seven-match unbeaten run in the league meaning confidence in their camp is sky high.
Heaton said: "It's fair to say that we have had some good results at the start of the season and we are full of confidence. We have played some good football. We are relishing the occasion of the quarter-final of the cup, it doesn't come around that often, so it's something we are really looking forward to and hopefully we can get a result."
The Championship remains Cardiff's bread and butter, though, and promotion is the priority this season.
Mackay's side sit third in the table at present, but everyone connected with the club is determined to force their way higher and avoid a third shot at the play-offs in successive seasons - with that particular route having been tough on the club in the past.
Targets
"They haven't been kind but it shows the strides the club have made in the last few years," said Heaton.
"We have been there or thereabouts for the last few seasons, so the goal this year is to try and go up automatically. If that's not the case, we need to get in the play-offs and give that a go. The end goal is promotion at the end of the day, however we do it. We aren't worried about how we do, just as long as we get there in the end."
Cardiff deserve immense credit for the manner in which they have been able to bounce back from play-off heartache, with their efforts this season proving that the spirit within the squad remains as strong as ever.
Heaton said: "It does. With the change of manager in the summer as well and we had a vast turnaround of players as well, we lost a lot of players. We brought quite a lot of fresh faces in, we had a lot of loans last year, so if you look at the personnel, a lot has changed.
"It can take a while for teams to settle in with that, but we hit the ground running after the work we did in pre-season. It helped that the manager was there from day one in pre-season. It's been good and perhaps a bit of a surprise to some. There was talk about consolidation when we changed the manager, but it's there for all to see that we aren't looking to consolidate, we are looking to challenge for promotion."
It could be said that change has actually been a good thing for Cardiff this season, with fresh ideas and a fresh approach often helping to prevent a club from going stale.
"Of course it can," said Heaton when asked if change can be positive.
"You sometimes find that people are opposed to change but, as long as it's not all the time, it can be good. Under the previous management we had a great squad and played some great football, but the owners obviously decided to change it. They got the right man for the job and we are firing on all cylinders at the minute. Hopefully we can continue that and it will be good for the club."
The job is, however, still a long way from being completed for Cardiff, with there plenty of hard work ahead if the Bluebirds are to hit their targets.
"Everyone wants to play in the Premier League," said Heaton.
"It was tough watching Swansea last year, they played some good football, but we certainly felt that it could have been us. That definitely motivated for us for this season. We want to get into the Premier League and have a good run in the cups. I know we are a Championship team but we believe we can go all the way, starting with Tuesday's game."