Lowe and behold
Ryan Lowe talks dream chasing, tough decisions and all things Sheffield Wendesday with Chris Burton.
Last Updated: 21/11/11 6:13pm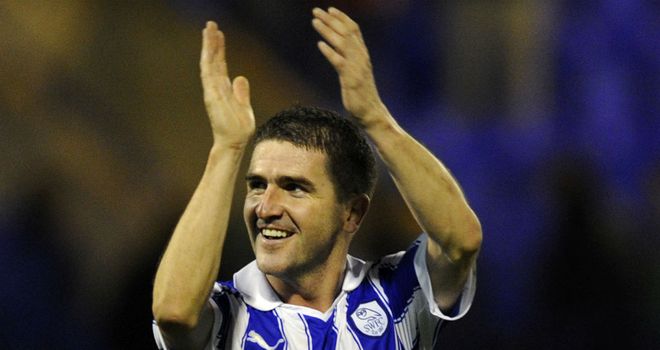 At the age of 33, Ryan Lowe is chasing the dream of turning out in the Championship.
He could, perhaps, have been forgiven for thinking that such an opportunity had passed him by, with many footballers considered to be past their sell-by date the moment they turn 30.
Quite why so many seasoned campaigners are cast onto the scrapheap at this stage of their career is a mystery, but sport has become a young man's game and the philosophies of many a manager are now geared very much towards 'the future'.
The Football League is, however, a breeding ground for young and old, with promotion pushes and relegation scraps built around squads that embrace an eclectic mix of youth and experience.
That means there is always a place for older heads, with League know-how worth its weight in gold the further you travel down the football pyramid.
Goal-getters are an especially precious commodity, with managers up and down the land forever searching for that most elusive of sporting heroes: the 20-goal-a-season striker.
If you find someone who is capable of hitting that target on an annual basis, it is advisable to gloss over the numbers on their birth certificate and crack on with the thrashing out of terms.
Goals win games and players who can provide that spark are priceless, regardless of whether they are 14 or 40.
One man who is enjoying something of an Indian summer in his career right now is Ryan Lowe.
He may find himself on the wrong side of 30, but he is displaying no signs that the killer instincts that have allowed him to forge a successful career in the lower leagues are about to desert him.
Ambition
A goal-laden spell at Bury proved, if proof were needed, that he still knows his way to the back of the net and the only surprising thing about this particular tale is that it has taken so long for a so-called 'bigger club' to come calling.
Sheffield Wednesday finally took a punt on transfer deadline day, with Gary Megson deciding he could well do with Lowe's services as the Owls attempt to awake from their slumber and shake off their unwanted sleeping giants tag.
A switch to Hillsborough was not a straight-forward call for the 33-year-old forward, given his strong ties to Bury, but he told skysports.com's Chris Burton that the opportunity to possibly turn out in the Championship in the not too distant future was too big a carrot to leave swinging.
"It wasn't an easy call, to be honest, it was tough," said Lowe.
"I enjoyed my time at Bury. When I say it wasn't an easy call, it was an easy call because of the club they are (Wednesday), but it was hard to leave a club that I fell in love with. I had been there two and a bit seasons and I had the best time of my life there. Obviously I will have a bit of a hole in my heart for Bury, but it was too good an opportunity to turn down.
"It wasn't easy to walk away from Bury, it was hard, but, with all due respect to Bury, it was a bigger club and to get the chance to play in the Championship at my age I had to move to Sheffield Wednesday, because that's where they want to be."
Wednesday were the only side that could have lured Lowe away from Gigg Lane, with it always going to take a special offer for him to consider severing ties with Bury.
He said: "They offered me a contract, just for the record they did offer me a contract, but it was my choice to leave. I took the decision to move on to a bigger club because everyone knows how big Sheffield Wednesday are.
"If it had been another club in League One would I have gone? Probably not. But because it was Sheffield Wednesday and the ambitions they have got, I felt my ambition was the same as theirs.
"I am not getting any younger and I want to test myself at the highest level possible. I have tested myself in the Conference, the lower leagues, League Two, League One. I want to test myself for as long as I can and the opportunity to test myself in the Championship with a big club like Sheffield Wednesday, that's what I want to be doing."
Money
Pressed on why he believes such an opportunity has not presented itself before - loyalty perhaps - Lowe said: "Not so much loyalty, I think over the years clubs have struggled for money. When I left Chester, when they got relegated, there were a lot of clubs that wanted to sign me, but I was getting older and I have a young family and I felt it was better for me to be enjoying my football and to stay local. That's what I chose to do.
"Also, I think that over the years there hasn't been that much money around. You don't see players going anymore for a few hundred thousand pound, it's all frees. But you have to give Sheffield Wednesday credit, they put their money where their mouth was and that's why I'm here now."
Lowe may have taken the scenic route to Hillsborough - taking in spells at the likes of Burscough, Shrewsbury and Crewe - but he has no complaints at having had to work hard for a living and graduate out of the non-league ranks.
He said: "You see these players all the time because maybe they have been rejected by big clubs at an early age - like myself, I got rejected by all the Merseyside clubs - and you just keep plugging away and working hard. It probably wasn't until I was a bit older, 26 or 27, that I became more of an established player. I felt I was at the right age then and I peaked. But you are never too old and I always felt that if I kept plugging away I would get my chance."
Lowe is yet to hold down a regular starting berth at Wednesday, but a winning goal at Tranmere on Saturday and an unfortunate injury to fellow frontman Gary Madine could see him awarded an extended run over the coming weeks.
"I'm just happy to be at a big football club and when my chance comes along hopefully I can take it," he said on the opportunity which may be about to present itself.
"I think I have given the manager something to think about this weekend regardless of whether Gary was injured or not. It's one of those things, that's football for you. Hopefully Gary won't be out for too long, but if it gives me a chance hopefully I can get in there."
Asked if footballers need to be a tad selfish when chances such as these arise, Lowe added: "It's up to the manager. We aren't selfish among ourselves, we are a good bunch of lads. We have got four good strikers and I think that's the manager's job - that's why he gets paid more than anybody else, because he has to pick the team. You just have to go with what the gaffer does. It's up to me if I get a run of games to stay in there."
Should he be awarded a place in Megson's starting XI, Lowe will be looking to help Wednesday build on a bright start to the season and push towards their ultimate goal: a top-two finish.
Asked if that was the target for those in the Hillsborough camp this term, he said: "I'm reluctant to say it's not because I think every team, even those in the bottom four at the moment, everyone wants to be up there and everyone wants to be pushing for promotion and be in the play-offs because at the start of the season that's always your aim. We are obviously a massive club, Sheffield Wednesday deserve to be in a better league than League One, but we're there, we have to deal with it and hopefully we can try and get out of it as soon as possible."
Hurdles
The League One promotion race looks set to be a close run thing, though, with the likes of Charlton, Huddersfield, Sheffield United and the MK Dons also in the mix.
"They are all good teams," said Lowe.
"Two of those four have not long been Premier League teams. Huddersfield are dying to get up there, they've fell at a couple of hurdles over the years, but we are just worried about ourselves at the moment and won't be looking at anyone else. If we keep performing like we did at the weekend, we will be up there in and around it."
It is about time that Wednesday put themselves in a position to start climbing back up the League ladder, with the club having punched well below their weight in recent years.
"Well they have haven't they," said Lowe.
"What they have done hasn't been good enough over the last four or five years, maybe. The club know that, the players know that and we know the pressure you are playing under. It is going to be difficult because all of the teams mentioned are all going for the same spots. There are only three teams that can go up, two automatic and then one through the play-offs. It is going to be tough, but hopefully we can be one of them."
Times are a changing in South Yorkshire, though, and there is a feeling around Hillsborough that the club is back on track and heading towards a much healthier future.
Lowe said: "Of course. It is a lot brighter. The manager has come in and the coaching staff and we have got some great players as well, some that have played in the Championship and want to get back there. We know that we have got a good thing at the moment with the manager, the staff and the players. The chairman (Milan Mandaric) has invested in the club and he wants we want - we all want to be successful. That's our aim, but there is still a long way to go."
It is all about chasing collective targets for Wednesday at the moment and Lowe, despite his ascent into a third tier promotion challenger, cannot help but put a team spin on his final comments when asked to wrap things up with a run through of his ambitions for the remainder of the season.
He said: "Everyone's ambition is to aim as high as they possibly can and score as many goals as they possibly can. I'm happy at the moment. I had a bit of a setback with my injury just after I had signed for Wednesday and that put me back a little bit, but that's football and you have to deal with these things. Hopefully I am fully fit now and my aim is to score a few goals and help Sheffield Wednesday up the Football League."