Second coming
Chris Burton chats to Karl Duguid about returning to Colchester and the club's hopes for the season.
Last Updated: 13/12/11 3:33pm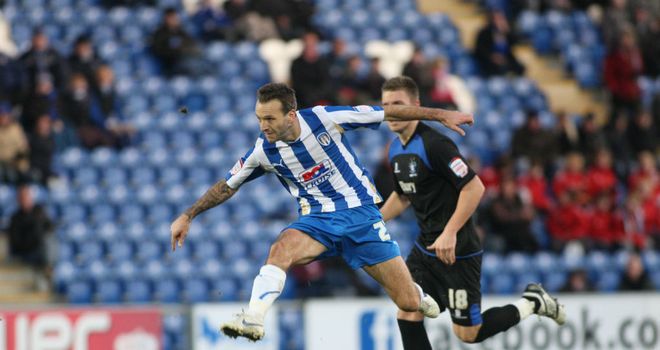 Karl Duguid is back where he belongs - on the books of Colchester United.
Some players are synonymous with the sides they turn out for, and there will forever be a place for Duguid in the hearts and minds of Us supporters.
He may have slipped off to Plymouth Argyle to enjoy a three-year sojourn on the South Coast in 2008, but a spell at Home Park barely registers when you consider the midfielder's career as a whole.
That is because we are talking about a man who is taking in his 14th season as a Colchester United player and has made nigh on 450 appearances for the club - placing him well inside the club's top 10 of all-time.
He may be slightly longer in the tooth than he was when he was snapped up as a starry-eyed 16-year-old, but Duguid is as committed to the Us cause now as he has ever been - perhaps even more so.
It could be argued that he is enjoying himself more now than he did during his first stint with the club, with the 33-year-old determined to make the most of an unexpected opportunity that fell into his lap over the summer.
Having parted company with Plymouth at the end of last season, Duguid found himself in need of somewhere to work on his fitness as he searched for a new employer.
There was only ever going to be one club he called, and Colchester were more than happy to offer him use of their facilities and coaching expertise.
Duguid arrived back in familiar surroundings with a spring in his step and impressed enough during pre-season to earn himself a one-year contract.
He needed little convincing when terms were put to him and admits he is delighted to be back in his spiritual home.
"It's good to be back," Duguid told skysports.com's Chris Burton.
"I've enjoyed my time so far. It took a while to get in the team, it's a good squad and it has taken a while to get in the team. But I got my chance on Saturday and it was nice to make my second full debut. I have really enjoyed it."
Familiarity
While Duguid may have blue and white blood running through his veins, plenty has changed since he was last part of the Colchester set-up.
He said: "It's a new ground. When I left it was still Layer Road, it was the season they finished there. It's a new ground, a completely new club really. There are obviously a few people that I knew before and there are a lot of new things, but it's good to be back."
Asked to give his take on how events unfolded over the summer, Duguid said: "I came training with them over the summer. I asked whether I could come training with them in pre-season just to get some pre-season in and I ended up getting offered a contract, so that was nice. It's familiar surroundings and I have still got my house here in Colchester, so I have just moved straight back in to my old home. It's nice to be somewhere that you know."
As mentioned, the experienced midfielder has had to be patient second time around, with an outing against Bury on Saturday marking his first start of the season.
He responded to that show of faith by manager John Ward by bagging a brace in a Man of the Match performance.
So, surely he should have been playing every week!
"I don't know," smiled Duguid.
"You have to work hard to get into the team, and when you do get in you have got to work hard to stay in it. That's all I can do. It went well for me on Saturday, but that's one game. Hopefully I can do it again more regularly."
Duguid's role at the Weston Homes Community Stadium is about more than just minutes on the field, though, with the club keen to put his vast experience and Football League know-how to good use.
He said: "The experience helps now and then. I think it might have helped a little bit on Saturday and I hope I can give the team something different to what other players can. But you have got to be playing well to stay there, you can't just stay there through experience. You have to play well to stay in the team and hopefully that's what I can do.
"I am 33 now but I feel that my fitness levels are still quite good. I think I have still got a few more years left in me yet. Hopefully I can continue for a number of years because you don't want to stop playing, you want to go on for as long as possible. I feel I have got a few more years left in me yet and that's what I want to do."
Of more immediate concern to Duguid is Colchester's 2011/12 campaign, with the club having struggled for consistency so far this term.
Blessing
He said: "We have a little bit. We started off very well. We lost three games in a row and that was seen as a negative thing but I think we learnt a lot about ourselves and as a team. It might have been a blessing in disguise. I think we can learn from our mistakes and put in performances like we did on Saturday. If we can continue playing like we did on Saturday, there is no reason why we can't push on and look upwards."
It will not be easy for the Us, though, with the likes of Charlton Athletic, Huddersfield Town, the MK Dons and Sheffield neighbours United and Wednesday having set the League One bar pretty high.
"It's a tough league," said Duguid.
"You have got your flyers, like Charlton and teams like that who are doing very well and consistently have done well all season, that's why they are top of the league. It's about finding that consistency and if we can find a little bit more, I am sure we can be where we want to be. Everyone wants to be in the same position but we have to push on and work hard. If we work as hard as we did on Saturday, then we shouldn't have too many problems.
"Charlton this season are probably at a different level at the moment. Everyone is looking to catch them and that's all you can do. I think anyone can beat anyone in this division. It's tight and it's a tough division to get out of, we know that because we've done it before. It's a tough ask but hopefully we can do that. As players we have to push on to try and get there."
The busy festive period will provide Colchester with an ideal opportunity to close the six-point gap which currently separates them from the play-off places.
Duguid said: "You can catch up over the Christmas period. There are a few games and that's when teams catch up. There are always some interesting results over the Christmas period as the games come thick and fast and hopefully we can get the results that we want. We aren't that far off it so hopefully we can catch up a little bit on some other teams and get to where we want to be."
Colchester have graced the second tier before, with Duguid having helped them to promotion in 2005/06, but instability on and off the field has held the club back in their efforts to build on that success.
"It's all about stability and that's what the club are trying to do," said Duguid.
"There has been a money situation at the club, the budget is lower than it has been in recent years, so it's about balancing the books as well. That's what football is all about now, that plays a massive part in it as well. We feel that we can push on because we have got enough here, but the stability part is very important as well. We have got that at the moment and it's not a bad team. Hopefully we can start catching up with the Charltons. We are looking up at that them and that's where we want to be. We can only work towards that."
Can Colchester scale those heights, though, and push themselves into the promotion picture?
Duguid said: "We feel as a squad, as a staff and as a club that we can. We can only work as hard as we can to achieve that. We feel we can achieve that and hopefully we can. It's tough but that's what football is all about, you all want to be successful. We are no different to anyone else in the division and hopefully by the end of the season we will be where we want to be."