Loving the Lilywhites
Chris Burton also catches up with Preston striker Iain Hume, a man enjoying his football again.
Last Updated: 23/09/11 4:47pm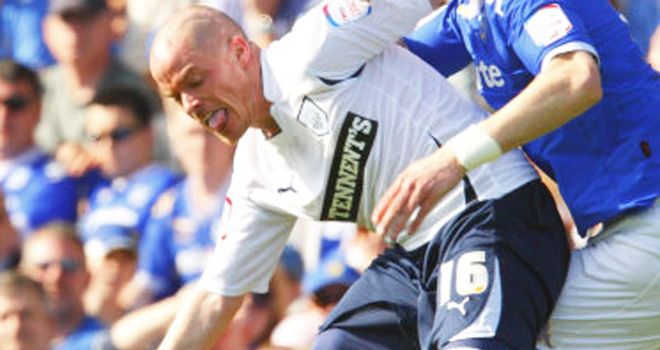 Iain Hume is a footballer made of strong stuff.
Less than three years on from suffering a fractured skull in a sickening clash with Sheffield United defender Chris Morgan, the 27-year-old is throwing himself around a football field again like he does not have a care in the world.
That is because that is precisely how he feels at the moment.
You could not have blamed Hume had he returned from a lengthy spell on the sidelines a different player - one afraid to get stuck in and one that felt the game he loved had let him down in some way.
The affable frontman is not that way inclined, though, and made it his target from the moment he began his rehabilitation to come back bigger and better than ever.
Yes, there have been a few speed bumps along the way - as he initially found it difficult to produce his best at Barnsley - but a move to Preston in September 2010 has breathed new life into his career.
The modest Canada international is reluctant to say he is playing the best football of his career at Deepdale, but he admitted to skysports.com's Chris Burton that life has rarely been better.
"I think I am back to my best," he said after deliberating whether or not he had reached a new level.
"I am feeling like the old days. I am back to getting in there with tackles and enjoying it and playing with a smile on my face. Don't get me wrong, I had a great spell with Leicester where I enjoyed myself and then I went to Barnsley and I enjoyed it at the start. But then what happened knocked me back a few steps. I tried to get myself back involved and I have no problem with the club, but for myself I think I needed a fresh start.
"Coming to Preston last September was the best thing that has happened to me. I have come in and played games and have been playing well and looking like scoring every game. This season I have only got three goals but I could have six, seven, eight goals. You can see when I am on the pitch that I am enjoying myself and that is testament to the lads around me because they keep me involved in games and make sure I don't go missing."
Hume may be enjoying this season slightly more than he did last, when Preston were relegated out of the Championship.
The character displayed by Hume is currently flowing through the Deepdale camp, though, with the club having moved to within four points of the League One summit on the back of five straight wins.
Confidence
"We have been fortunate in a couple of games where we haven't played too well and still got results, but they always say that is a sign of a good team - picking up results when you aren't at your best," said Hume.
"Fortunately we haven't had too many bad games and we have been getting the right results. Five wins on the bounce is good going for us. Confidence is high and we know that if we play well we will cause a lot of teams problems. In the last few games we have played well football-wise and defensively been okay. We had a few hiccups against Yeovil but we have had a couple of clean sheets and we know that if we are on our game, we are a force to be reckoned with."
Preston have done well to bounce back from the troubles of 2010/11, with relegation never easy to stomach.
Hume said: "It's a big thing to recover from. Coming down, financially it's a lot of money to lose, solely from the television rights, so you have to consider all of that. For us to hit the ground running, it's a good thing for the players and the club. It's a refreshing sign for the fans, but the last thing they want to see is their side go down a division. To bounce back straight away would be the ideal situation so we are going to work as hard as we possibly can to try and make sure the players get to where they want to be and the fans are happy again."
Preston supporters certainly should be happy at the moment, with the Lilywhites currently playing an entertaining brand of football that has produced 15 goals in seven fixtures.
Hume said: "That was the problem last year, we weren't scoring a lot of goals - I think we were one of the lowest scoring teams in the division. But this year, we have got Neil Mellor back and he has hit the ground running, he has been invaluable for us in front of goal because he is a very good player - if you give him chances, he will score. He has been the main goal-getter this year, I've managed to chip in with a few and young Jamie Proctor has done the same. He has really surprised a lot of people this year, he's been brilliant from the word go. Young players can have pressure on them, but Jamie has hit his stride and is settling in really well. The three of us are starting to gel together and we are becoming a three-pronged attack, which is going well at the moment."
Preston are fully aware that the likes of Leeds United and Nottingham Forest have struggled to find their feet in the third tier in the recent past, while the likes of Sheffield Wednesday and Charlton Athletic are currently languishing at that level.
"I think football-wise it's going to be a little less good on the eye compared to the Championship, from the Premiership it goes down and down, but as far as hard work goes, it's a step up because you don't see anyone in this league pulling out of tackles, whereas last year you would see a few people afraid to get hurt.," Hume said when asked to give his take on League One.
"It is a tough league with the likes of the two Sheffield clubs, Huddersfield, the MK Dons, Charlton - they are big clubs. It's been proven in the past that teams struggle to get out of it - Leeds took a few years to get out of it, so it's not a walk in the park. But with the way Norwich did it and Leicester, when they went down and straight back up, that's what we are aiming to do. With the players that we have got, we are as good as anybody in this league. We struggled last year for consistency and it cost us dear. We would get results against teams like Leicester but struggle against the so-called lesser teams. The sign of a good team is consistency, rather than individual games - playing well one in five. We have shown now that we can go into every game looking like we could win."
Preston find themselves well-placed at present and they also have games in hand on those around them. Whether that proves to be a blessing or a hindrance, given how harsh the winters have been in recent years, remains to be seen.
Hume said: "At the moment we are taking a positive look on it. We are four points behind the top two and have two games in hand on one of them and one game in hand on the other. We know that if we keep on winning our games before we get the games in hand back, we are going to be right up there - if not above them, right around them. We would then have the games in hand to try and create a gap.
"We aren't thinking like that at the moment, though, we are just thinking about Tranmere for now. We had a disappointing result against Southampton (in the Carling Cup) but we are still full of confidence because in the league, which is our main aim this year, we have got a chance. To have a home game on the back of a defeat, we have a chance to put it right. We are expecting a massive crowd, so we are really looking forward to it."
The Lilywhites' success has been achieved by a squad that possesses an intriguing mix of old and young, with seasoned professionals such as Graham Alexander and Ian Ashbee complemented by up and coming talents.
Promising
Having found the right blend, should they be expected to still be among the frontrunners come the end of the season?
"It's so easy to say that," said Hume.
"We should be. On paper we should be. To be honest, on paper we shouldn't have gone down last year. We can't really rest on that because we know what football is like, when you get some bad results here and there. It's down to us. We have lost a few players on financial terms, the chairman needed to get rid because we are losing money and needed to get rid of some of the high earners. That's disappointing because they were good players in the Championship and could really have set the world alight this year, but we have brought through a lot of young boys.
"Jamie Proctor has come through, Conor McLaughlin made a name for himself last year before he broke his leg. We have a nice blend - it's not all old heads and it's not all young kids. The manager and the backroom staff have put together a side that not only looks good on paper, but has come together as a team. We had a good pre-season, where we gelled, and there is no us and them between the older guys and the younger players. We have continued with that and it has worked well over the last couple of months. It's good for the older players to see the younger lads come through and earn a place in the team. We are putting together a really good football club right now."
Manager Phil Brown deserves a lot of credit for not allowing Preston to wallow in the relegation pit, with a larger than life character who can boast Premier League experience on his managerial CV having helped to turn things around in his first full season in charge.
"Everybody has their pluses and minuses but, since he's come in, he has been brilliant with everybody," Hume said of his boss.
"He hasn't been over the top with discipline. He keeps us in line and he knows what he wants and he asks us to deliver on the pitch. Last season was a tough time to come in because we were struggling, but with Phil and Brian Horton, they have got so much experience of the Premiership and the old First Division and the Football League. They know how to work the players and I think everybody in the squad at the moment is thoroughly enjoying it because we are playing well and working hard and getting the benefits. The experience they have given us, with David Unsworth as well, you have got a backroom staff that is second to none. Their experience and desire to win is rubbing off on everybody. The young boys are getting to learn and the older players, who have been there and played 600 or 700 games, they are enjoying it as well and we are looking like a really good side. "
Preston will get another opportunity to showcase their talent this weekend when they play host to Tranmere Rovers.
It promises to be a special occasion, with the Lilywhites expecting a bumper crowd on the back of their PNE Day promotion which will see ticket prices slashed to the lowest in the Football League on Saturday.
It will also be a memorable day for Hume as he prepares to line up against the side that helped to launch his career for the very first time.
"It will be weird for me because I've never played against them," he said.
"I started my career there and the coaching staff that are there at the moment are the ones that brought me through. Les (Parry) was the physio at the time and John (McMahon), his assistant, was my youth team coach, so they have set my career off because they were there for me. To be playing against them, I would have loved for it to be at Prenton Park. The first fixtures I looked for, I didn't care about the Sheffield games and the Huddersfield games, I was looking for Tranmere home and away. I had my fingers crossed that we would play at Prenton Park first game, with a nice pitch and a good fan base, but we are flying at the moment and to have the game at Deepdale is a massive boost for us. We just have to go out and play the way we can, and if we do that we are going to give ourselves every chance."