Rejuvenated Rams
Theo Robinson tells Chris Burton that Derby are eyeing a play-off spot after getting back on track.
Last Updated: 09/03/12 1:58pm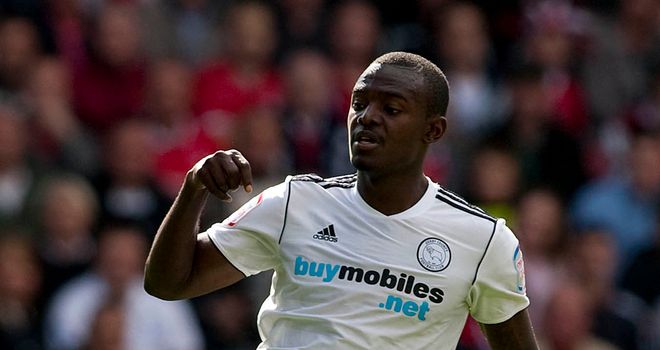 Playing catch-up at this stage of the season is never easy, with those leading from the front normally brimming with confidence and those languishing at the bottom usually stuck in a rut.
Derby County are hoping that they can buck the trend and haul their way up the Championship, with a nine-point gap currently separating them from the second tier play-off places.
The Rams still have 12 games to come, offering them the opportunity to pick up 36 points, but they are relying on others to do them a favour.
Nigel Clough's side sit 14th in the table at present, meaning they need to overhaul at least eight clubs to see themselves into the end of season promotion picture.
It has to be said that reaching the top six will be a big ask, but football has a habit of producing the unexpected and now is no time to throw in the towel.
Derby have already proved that they are capable of holding their own inside the leading pack, with a positive start to the campaign and a productive New Year seeing them into the mix.
They may have fallen away over recent weeks, but a 2-1 victory over high-flying Blackpool on Tuesday suggests they could be about to make a late charge.
Theo Robinson is among those who believe anything is still possible, with the Rams striker telling Sky Sports' Chris Burton that the club are planning to take giant strides between now and May.
Luck
Asked if the play-offs are still a target for Derby, he said: "Yeah, definitely. We have got a few home games coming up. They are tough games but we need to keep working hard and doing what we are doing. We need to kick on from the Blackpool game. Hopefully we can beat Watford and Nottingham Forest, but that will be a hard task for us. If we can get three points in one game and in the other game get a draw, that would be great because every point helps."
Robinson is looking for the Rams to use their Blackpool success as a springboard, with that result having snapped the club out of a seven-match winless run.
"To be honest, it was just one of things," he said on the dip in results.
"It wasn't that we weren't playing well, we just weren't getting the slices of luck. You could see that in certain games, especially the Southampton game - it wasn't a 4-0 game, but we lost 4-0. Hopefully the last two games have shown what we are back to, winning games and getting a slice of luck when it comes our way.
"The draw before (against Birmingham) obviously helped us out a bit and gave us the platform to kick on from there. Hopefully we can just keep going now."
Slipping off the pace has been hugely frustrating for all concerned at Pride Park, but Robinson admits he has found the slump harder to stomach than most.
He said: "It's been frustrating. I have been out injured so I have been watching the games and supporting the boys. Being on the sidelines is frustrating and makes it even harder because you know you can't do anything. I have just tried to get back fit and get back in the team and hopefully now I can play my part for the rest of the season."
Anything above 19th could be considered progress for Derby this season, with the club having only narrowly avoided the drop last term.
Robinson said: "We have got to get into the top half, that will be a lot better than where we are now. We just need to win as many games as possible and work hard to get as high as possible. We started the season flying but then we have had injuries and suspensions and that has hit us hard, especially as we have a young squad.
"Last season we finished with 49 points and we have already got 46 points now, so that's progress from last season."
Targets
Robinson is hoping to help the club to a considerably better points return this time around, with the 23-year-old having started both the draw with hometown team Birmingham and the win over Blackpool.
He was on target in a 2-2 draw with the Blues, with an emotional occasion seeing him take to the field on the 20th anniversary of his grandmother's death and the day after his girlfriend's father passed away.
He said: "I have just come back from injury for the Birmingham game, so it's been a bit frustrating for me. I have been injured a few times this season, but hopefully I can put that behind me now and stay injury-free. I want to get a few more goals and put in some good performances."
The former Huddersfield Town and Millwall forward has already netted nine goals this season, making him Derby's top scorer, but he is planning to add a few more to his tally before the 2011/12 campaign comes to a close.
He said: "I will take any goals when they come. But I want to get a few more and get into double figures for the season. That is a personal goal but it will help the team as well and make sure we finish in the top half."
There is every chance that Robinson will hit his target, with the confidence flowing now that he feels settled in his surroundings.
He said: "I have felt alright since I came in to be honest. I have got on with everybody and worked well with everybody on team trips. It's been good. We have gelled well together. We will see what happens in the future. I have got two years left on my contract, well one year and a year option. That allows you to think more about your football.
"I am feeling more settled now and I feel happy now. When you get more years on your contract you know you can work hard towards becoming a better player."