Hornets nest
Craig Forsyth talks finding his feet at Watford and the club's plans for the season with Chris Burton.
Last Updated: 05/10/11 6:14pm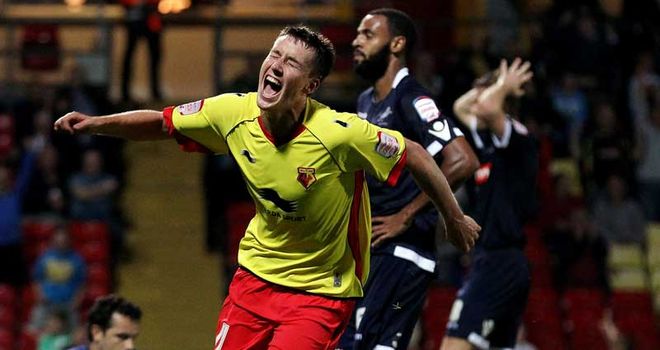 The 2010/11 campaign proved to be quite an eventful one for Craig Forsyth.
As a player on the books of Dundee at the start of the season, he was part of a set-up that was rocked by a 25-point penalty.
With the club having entered administration, they were left with a mountain to climb in the Scottish First Division.
Remarkably, they overcame that early setback to finish the season in sixth place - comfortably clear of the drop zone and only 26 points adrift of table-topping Dunfermline.
It was very much a case of what might have been as they entered the summer break, but everyone connected with the club had every right to feel proud of their efforts.
Having fared admirably in the face of adversity, it came as no surprise when clubs attempted to cherry-pick Dundee's most prized assets.
Forsyth was among those to head for pastures news, with Watford offering him an opportunity to test himself in the second tier of English football.
The 22-year-old jumped at the chance and penned a three-year contract with The Hornets in June.
Stepping out of the Scottish First Division and into the Championship is no mean feat and Watford were prepared to give Forsyth time in which to find his feet in new surroundings.
He has, however, been able to hit the ground running and is currently an ever-present in manager Sean Dyche's first-team plans.
Forsyth admits things have gone better than expected for him at Vicarage Road, with skysports.com's Chris Burton catching up with the promising winger to get his take on his rapid progress.
Massive
"Coming down, I really didn't expect to have played every game so far," he said.
"I have started every game, so it's gone very well. Looking at it, I probably expected to make 10 starts this season, so to have done that already is massive for me.
"The plan was for me to come down and be eased in gradually, but it's just the way things have gone. In pre-season I found it a bit tough, but the first game of the season came around and I started. I have just gone on from there.
"Sometimes it makes sense to do it slowly, but the manager and the coaching staff thought I could do it straightaway and gave me my chance. I have looked to take that chance and I think I have made the most of it so far."
Any player upping sticks and making such a dramatic move has to have full confidence in their ability, and Forsyth admits his cause has been helped by being offered opportunities to impress so early in his Watford career.
He said: "Yeah, that's what you want. You come down to play in a higher standard than you have experienced. You just want to get games and prove that you are capable of doing it. I wanted to prove that I was capable of playing in the Championship."
Scoring on your debut for new employers also helps to make the settling in period a little easier.
"It made things a lot easier," said Forsyth, who netted in an opening day draw at Burnley.
"It gave me a bit of belief. It was a big step for me, a huge step up, and that helped me to realise that I could do it."
With things going so well, and with the targets set upon his arrival having already been reached, Forsyth claims he is planning to take things steady for the remainder of the campaign.
He said: "I want to play regularly until the end of the season, but I haven't set myself any targets goal-wise or anything like that. I just want to try and get as many as I can."
Not allowing himself to get carried away will be important, as he admits there are notable differences between the level he was playing at last year and the pedestal he finds himself on now.
Fitness
"I think the fitness levels, especially at Watford, are massively different," he said.
"There is a big difference between what you do. Compared to up in Scotland, that was the major thing that I first struggled with the in the first few weeks. My fitness levels were a bit behind everyone else.
"But I don't mind the physical side of the game. The Scottish game is quite physical as well, and I've been out to the lower leagues in Scotland on loan. I'm quite a big lad and I can look after myself, so I'm not worried about that side of things."
Mental strength would also appear to be a quality possessed by Forsyth, given what he went through at Dens Park last season.
"That was definitely something I don't want to go through again," he said.
"But every one of us that was involved with that has learnt from it. It definitely toughened us up mentally and physically."
Having closed that particular chapter in his career, Forsyth is now focused on helping Watford establish some consistency following a slow start to the season.
He said: "I think in some of the performances we haven't got what we deserved. We just need to work on turning that round and getting points on the board. We just need to concentrate on the next game and try and make sure that we get things right.
"You need to get points on the board, win your games at home and get as many as you can on the road. That will stand you in good stead. Picking up points consistently is tough because it's a hard league, but we have to step up to the plate and match everyone else."
With the club sat 18th in the Championship, it could be argued that that the international break has come at a good time - with an opportunity presenting itself for a well-earned rest to be taken.
"For me, it's come at a good time," said Forsyth.
"I have played a lot of games in a row and I am still adjusting. For me it will be good to have a bit of a break and hopefully come back the following weekend and get straight back into it with a good result (against Crystal Palace)."