Hammer time
James Tomkins tells Chris Burton of his desire to help West Ham back to where they feel they belong.
Last Updated: 13/03/12 5:40pm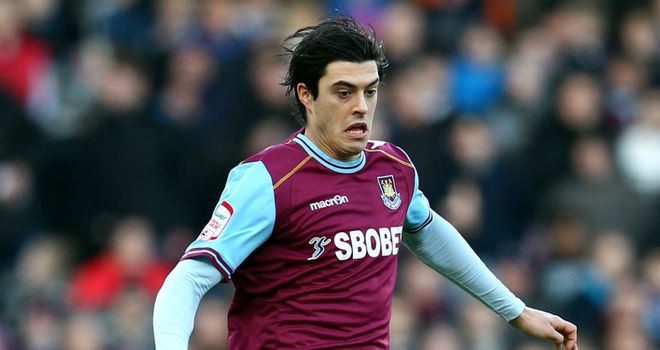 Bouncing back into the Premier League at the first time of asking is no mean feat, with the Championship a notoriously difficult beast to tame.
The second tier standings are littered with clubs that have experienced fine dining at English football's top table, but are struggling to earn a second invitation.
West Ham United have graced that particular party on numerous occasions in the recent past, but they once again find themselves on the outside looking in.
The Hammers are knocking on the door and hope the top flight elite will welcome a familiar face back with open arms come the end of the season.
They are, however, finding out the hard way that reputations count for little, with any number of clubs waiting in the wings to slip past Sam Allardyce's side and edge their way to the Promised Land.
With just 11 games of the campaign to come, the Hammers find themselves second in the Championship queue but fully aware of those breathing down their neck.
Only three points separate the top three sides in the division, while the majority of the top-half still harbour promotion aspirations.
West Ham know they cannot afford any untimely slip-ups from here on in, with any fallers at this late stage likely to get trampled on and find themselves crossed off the guest list.
James Tomkins accepts as much and the highly-rated centre-half has told Sky Sports' Chris Burton that the club will be doing all they can to get over the line - with a recent run of draws on home soil one area they intend to address as a matter of urgency.
Breakthrough
He said: "We have had a couple of disappointing draws in games that we were probably expected to win. Teams have come to Upton Park and got back and defended well and we haven't really got the final breakthrough to put the game beyond doubt. In a couple of games we have had chances but haven't put them away."
Asked if it was purely coincidental that points have been dropped at home rather than on the road, as is often the case, he added: "I think so. It's just by chance that it's happened at home. It's disappointing that in front of our own fans we haven't been putting teams away that we were expected to beat, but we just need to take every game as it comes. Our away form is obviously good, so we will be going for a win on Saturday (at Leeds United) and try to make up for those games we have drawn."
The Hammers have dropped eight points in their last seven outings, but they have gone unbeaten through that run and are still inside the automatic promotion places - which bodes well.
Tomkins said: "It's nice that we are still thereabouts after a couple of bad results. We are aware of the teams around us but we don't look at them so much, we just concentrate on ourselves really. We know that if we can win games and go through a run of games unbeaten, we will be there or thereabouts come the end of the season.
"We have been up there most of the season. We had quite a few changes at the start of the season, in terms of players and the manager, but we have stepped up this year and have played well in a lot of games. We just need to work hard for the rest of the season. This a hard run now with a lot of games, so it will be tough in the next few months."
As already alluded to by Tomkins, part of West Ham's problem of late has been their inability to kill teams off, with Ipswich, who really bucked the trend by bagging five, the only side to have breached a watertight backline more than once in 2012.
On that impressive record, Tomkins said: "Defensively it has been good. We have been rotating and myself, I have played in centre-mid and also been pushed back to centre-half. But defensively we have been very sound and at the other end we are looking to do a bit better."
Tomkins has played a leading role for the Hammers this season and he admits that starting afresh in the second tier could be considered beneficial to both him and the club.
Learning
He said: "Sometimes taking a step backwards does benefit the club and the players. I have grown up a lot from an individual point of view. Relegation hurt but I dealt with that quite quickly and settled back into the Championship, which a lot of players have. That's good and has helped us this season. We feel we have played well enough to do something this season and we just need to carry on going."
At 22 years of age, Tomkins admits that a spell testing himself in the cut and thrust of the Championship has helped to make him a better player.
He added: "I feel I have grown in stature this year. Coming into the Championship, I feel like I have adapted well to the league. I feel I am learning still in every game. I'm only 22 and still learning, especially at centre-half. I have played in a few different systems and I feel like I have done well, and I have played in a few different positions as well. I am pleased with how it has gone and hopefully that will continue through to the end of the season."
Tomkins has seen his efforts this term rewarded with a new long-term contract, with any fears regarding his future written off the moment he penned a four-and-a-half-year deal.
On an agreement that was reached at the end of January, he said: "That was nice to be able to put to bed. There was a bit of speculation around in terms of where I was going to be, but there was only one place in my mind where I wanted to be. I wanted to stay here and help the club get promoted, and that is what I will continue to do. Hopefully I can achieve that this year.
"I know what the expectations are of the fans being a fan myself and I can understand what they want because I'm the same. We are all pulling in the same direction and we all want the same thing, that's promotion."
Whether a united Hammers outfit can end the campaign with a promotion party remains to be seen, but Tomkins signed off with a statement of intent that suggests they should start looking for a good champagne dealer.
Asked what the club's supporters can expect from the rest of the season, he said: "They can expect us to put in 100 per cent, all of the players will. We have got a lot of games coming up, so we need to put ourselves in the best position. We feel if we can continue playing as well as we have been and improve our home form, I'm sure we will be right up there come the end of the season."