Valley of the kings
With Charlton flying high, Chris Burton talks promotion and starting afresh with Michael Morrison.
Last Updated: 21/10/11 3:19pm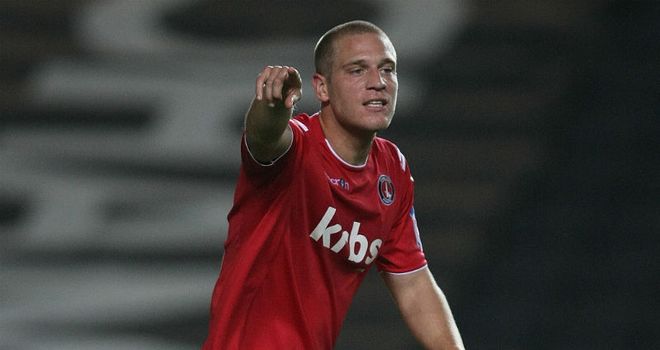 It's not how you start, it's how you finish.
There is, however, no question that a good start can go a long way to ensuring that you finish strongly.
Charlton Athletic will be hoping they can open and end on a high this term, with the 2011/12 campaign shaping up nicely at The Valley.
The Addicks began the season with a 12-match unbeaten run, with Stevenage finally bringing that sequence to a halt on Saturday.
Chris Powell's side sit proudly atop of the League One standings, with eight wins taken from their 13 fixtures so far.
Having flattered to deceive during their time in the third tier, it is hoped that this will be the year that Charlton awake from their slumber.
This is, after all, a club that graced the upper reaches of the Premier League during Alan Curbishley's time in charge.
A return to such lofty heights remains a long way off for now, but the club are heading in the right direction.
Securing promotion to the Championship is the next job to be crossed off the list and the Addicks will stop at nothing to ensure that they hit that target.
Skysports.com's Chris Burton recently caught up with summer signing Michael Morrison to get an insider's view on the season so far, and he kicked things off by discussing the end of Charlton's impressive unbeaten run.
"For a few of the lads, it was the first time they have lost playing for Charlton," Morrison said on the 1-0 setback at Stevenage.
"It was a frustrating game, they scored from a deflected shot and we never really got going. It was very disappointing to lose our unbeaten record.
"They scored their goal and then made it difficult for us to get the ball down and play. It's not an easy place to go, Stevenage, they try and break up the play and frustrate you. Fair play to them, we didn't really get the ball down and ask them enough questions. It was probably a fair result for them."
Goals
The defeat at Broadhall Way saw Charlton fail to find the target for the first time this season, but Morrison claims the Addicks will not be dwelling on that minor blip.
He said: "I wouldn't read too much into us not scoring. The lads have been doing really well throughout the season, so for that to be the first game we haven't scored in shows how much quality we have got up top."
Charlton are aware that a division as competitive as League One will present its fair share of challenges, but they are delighted to be leading the way with a quarter of the season complete.
Morrison said: "It's disappointing but you just have to take it. You aren't going to have things your own way every time and last week things didn't go our way. But we are now looking to get on another winning run and hopefully that will start on Saturday (against Carlisle).
"But the start has been superb. Anybody would have said that at the start of the season. There are so many big clubs up there that wins are important and that's what we will be going for on Saturday."
No-one at The Valley will be getting carried away by their flying start, with the club having taken the time to ensure that everyone in the playing and coaching staff is working towards short-term goals.
Morrison said: "You just have to take it as it comes. We break the season down into five or six games at a time, small mini-leagues. We had a guy that came in, a psychologist, and he spoke to us. It's about trying to win the game in front of you. You can't look too far ahead.
"It's still early days, but we would have taken this start, being where we are, at the start of the season. It's up to us now to maintain the standards that we have set ourselves."
Charlton's opening is all the more impressive when you consider the turnover in players seen at The Valley.
Since the end of the 2010/11 campaign, Powell has drafted in 19 fresh faces, including loans, and allowed 17 to leave.
"There were a lot of players come in, but we had a week away in Spain and I think that helped," said Morrison, who signed from Sheffield Wednesday in July.
"A lot of the lads signed early and have been together since the very beginning of pre-season. We have worked on our shape and being together and all the aspects of knowing each other. Hopefully there is more to come from us.
Clicked
"We have clicked quite well at the back together. The new people, Leon Cort and Matt Taylor have looked solid together and Ben Hamer has done well in goal. There are a lot of new faces at the back but we have been solid as a tight unit.
"The last few goals we have been disappointed with. We have conceded two penalties and two deflected shots. As much as we are pleased, at times we have been a bit frustrated with the way we have conceded goals.
"The atmosphere around the place has had an effect on everybody's performance though. We started off superbly and all of the new lads are in the same boat. That has helped and we have gelled and the atmosphere at Charlton is on the up. That has been created by the staff and by the players coming in."
Morrison is used to finding his feet in new surroundings, with 2011 having taken him from Leicester, to Sheffield Wednesday and finally to Charlton.
On a hectic seven-month spell which saw him spend time with three different clubs, he said: "I was at Cambridge for a fair few years and then at Leicester for three years and then, all of a sudden, it was rolling clubs.
"It is nice to get a bit of stability back. It just didn't really work out at Sheffield Wednesday, not for the want of trying, but it just never did. The move to Charlton came about in the summer and it was something I was desperate to do. It has brought me back to the sort of area where I am from originally. I have settled quickly and it has helped my performance.
"I'm loving being at the club. The environment is brilliant and the lads are brilliant. When you are winning, it makes it that much better. Hopefully it will continue for the rest of the season."
Morrison was drafted in to help shore up Charlton's back four, but he also has valuable experience of life in League One and what it takes to get out of the division.
He said: "With Leicester we won the league and then played in the Championship and we got to the play-offs, so I feel I have got something to offer to the team at this level. I feel confident that I can play for a top team at this level and I think my performances have shown that this season.
"I have just been trying to keep it tight at the back along with everyone else. Here it's a team thing and we buy into that and hopefully we can carry on and push on into the Championship."
The future is looking increasingly bright for the Addicks, but Morrison claims it is still too early to suggest that anything less than a top-two finish will be considered a disappointment.
He said: "There is still a long way to go. We have got ourselves in a fantastic position to be pushing for the top two, and that's what we want to do. At the beginning of pre-season we said we wanted to get promotion.
"There is still a long way to go to say we would be disappointed to not finish where we are, but obviously we will be pushing for the top two and that has got to be our main aim. But there are a lot of good teams that are paying big wages to be where we are at the moment. It's up to us now. We have got top spot and it's up to us to lose it."