Blades of glory
Two relegated clubs discuss bouncing back in League One. First up, Sheffield United's Michael Doyle.
Last Updated: 23/09/11 4:47pm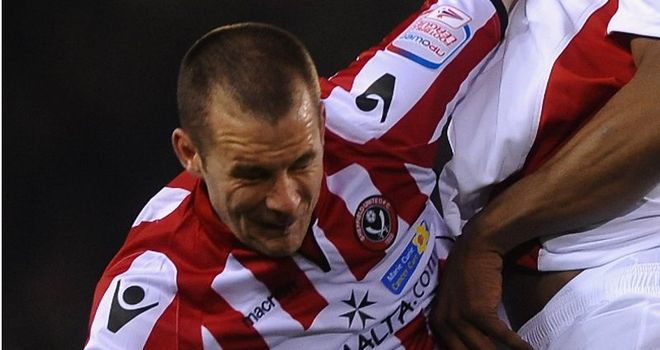 On the 3rd April 1993, Sheffield United met arch-rivals Sheffield Wednesday at Wembley in the semi-finals of the FA Cup.
Both clubs were top flight outfits at the time and both believed they had every chance of getting their hands on major silverware.
Neither did, as it happens, but how times have changed for the Steel City neighbours since those heady days.
Fast forward to August 2011 and the new League One season kicks off with United and Wednesday rivals in the third tier of English football.
The mighty may have fallen, but they intend to bounce back.
The Owls have discovered the hard way that it can be difficult to get back to your feet when they are ripped from underneath you, but the early signs for the Blades appear positive.
Danny Wilson, given his Wednesday connections, was not the first choice for many United supporters when they found themselves in the market for a new manager over the summer.
He has, however, overseen an impressive opening to the campaign, with the foundations put down for a promotion push to be built on.
The doom and gloom which accompanied relegation out of the Championship last season is beginning to fade, with the future looking considerably brighter for at least one half of Sheffield's footballing divide.
Who knows, the Blades might even find themselves back at Wembley this season - with the Johnstone's Paint Trophy now part of their fixture list and the play-off final staged at the home of English football.
Such talk may be slightly premature, but that is what being a football supporter is all about - dreaming of incredible highs and wallowing in miserable lows.
There is little chance that those charged with generating results will allow themselves to get caught up in the hype either, with Wilson running a tight ship at Bramall Lane.
There is, however, a renewed sense of belief in the camp, with Irish midfielder Michael Doyle telling skysports.com's Chris Burton that the tide is turning in South Yorkshire.
Focused
"It's not bad, but I think we can get a lot better," said Doyle when asked if a 20-point haul from nine games represented a pleasing start.
"Without getting carried away, I think there is still a lot to come from us. It has been a good start. If you had offered us this at the start of pre-season, obviously we would have bitten your hand off to start as well as we have. We are really happy with it, but I still think there is a lot to come from us this season."
United have been able to avoid the infamous 'relegation hangover', and Doyle claims their ability to clear their head so quickly is down to the hard work they put in over the summer.
He said: "When we get relegated it hits you hard. For me, it was the first time it had happened to me in my career and I'm sure it was the same for a lot of the other lads. It's something we don't want to go through again. We came back in pre-season and really worked hard. We were able to take that into the season with us and keep going. I think everybody started really fit and strong.
"There could have been a hangover but we didn't really have one from last season. It's still very early, that can always come back to haunt you if you start getting carried away with yourself. That's the one thing we don't want to do, get carried away because we have started well and are top of the league at the minute. It can all change if you have a bad September or October."
Getting on the goal trail early has certainly aided the Blades' cause, with the target found 17 times already this term.
"The front lads and the more attacking players have chipped in with a lot of goals," said Doyle.
"At home we haven't really had a problem, apart from one game, in finding the net. But there are still a lot more goals to come from the team, from all through the team. We all want to add our own fair share of goals and we haven't really done that at the minute. Hopefully we can do that and it will be brilliant for the team."
To put United's early-season achievements into perspective, you need only look at the troubles currently being endured by winless Scunthorpe United - a side that slipped out of the second tier alongside the Blades last term.
Doyle said: "We played Scunthorpe (a 1-1 draw) and they are a really good side. I think we should have gone on to win the game because they were down to ten men for a long time, but for the first 20 minutes of that game they really threw everything at us. I think it's only a matter of time before they kick-on and are back up near the top of the table."
While the hard work of the players has reaped immediate rewards, Doyle is quick to point out that Wilson has played a leading role in guiding the club forward.
He said: "He came in at a difficult time - obviously, the club had just been relegated. There were a lot of people that weren't happy at the club, regarding being relegated, and then they gave the gaffer the job.
"He seems to have taken it in his stride and just dealt with it. That has probably taken a lot of pressure off the players from last year. The manager came in and took a lot of flak, undeservedly so, early on. But he galvanised us as a squad because last season, when things aren't going well, football becomes hard and it's not as enjoyable and people become a bit ratty when you aren't winning games. You end up falling out over silly things, but when you are winning it's a lot easier.
"The manager has brought that spirit in and everyone is pulling in the same direction. That's been a big reason why we have done well, because he has got us how he wants us. Not just the way he wants us to play, but the way he wants us to speak to each other. He has been a big influence on the way we have started."
Experience
United may not be accustomed to plying their trade in the third tier, but they are under no illusions as to just how tough the 2011/12 campaign is going to be.
Doyle said: "I was lucky enough to play in the Leeds team the year they got promoted out of League One. That team was a bit different to the side that we have got here at Sheffield United. There were a lot of attacking footballers there and we didn't really have too much experience. Now, with Sheffield United, we have got experience in good areas and at the minute those lads are playing well. Everybody in the team is playing well and it's good to have that experience. You can go away from home and have players that know all about it. The young lads, you can't really call them young the way they are playing at the minute.
"I think everybody is happy to help one another and everyone is enjoying winning and being in and around the top of the league. We are taking decent support everywhere we go and things like that are massive for a player, when you are playing in front of a full allocation of away fans. We went to Yeovil, which is a good eight hours from Sheffield, and we had over two thousand fans. It's brilliant support and it's things like that that get you over the line at times. There have been occasions this year when the support has got us through."
While the present is looking a little rosier at Bramall Lane, the future also appears to be in safe hands - with the club's youngsters having reached the final of the FA Cup Youth Cup last season.
"There is Harry Maguire that played in those games last year that has come through and played in every game, has been young player of the month and has been a revelation," said Doyle.
"There are a few more knocking on the door and hopefully we can get a couple more through. But the most important thing at the minute is keeping focused on getting promoted this year. It's such a long season and it's important for everyone to remain focused on the one goal, and that's getting promoted. At the moment we have got a squad that is pushing each other every day. It's hard if you aren't playing, but all you can do is keeping pushing people, and that's what everyone is doing. I think it is that commitment that will get us over the line."
While everyone involved with United would rather not be competing in League One, there is a determination to make the most of a disappointing situation and use it to their advantage - following the example set by the likes of Norwich City and Southampton, who have bounced back stronger from spells in the third tier.
Doyle said: "It's always a negative when you get relegated but it's how you deal with it, with the negativity and the doom and gloom that comes with it. We are just feeling really positive at the moment, the whole club, and it's brilliant.
"You can get a hangover when you get relegated, you change manager and it can take a couple of seasons to get over that as a club and try and get back up the table. At the moment we have shown the right attitude and we are all reaping the rewards of that at the minute. It's a nice feeling, winning games, and we want to stay up the top of the table. There is a good vibe around the place at the minute and we want to be up around the top six, or the top two, all season. We want automatic promotion and hopefully we can stay focused and do it."
Unsurprisingly, given what is going on around him, Doyle admits he too is enjoying his football again at the moment, with a spell as stand-in skipper giving him another early memento to take from the current campaign.
He said: "It's great. I am really happy to be playing because there are some really good players here that aren't playing at the minute. We have to stay focused and concentrate on our own stuff. You just do whatever is best for the team and at the moment everyone is playing like that. We are getting results and it's great.
"I am happy with my own start but hopefully things will get even better. I think we can all improve and if we can do that, it will help us as a club. It will help us get promoted."