Jason Roberts criticises football's ruling bodies for unwillingness to tackle racism
Last Updated: February 12, 2013 9:02pm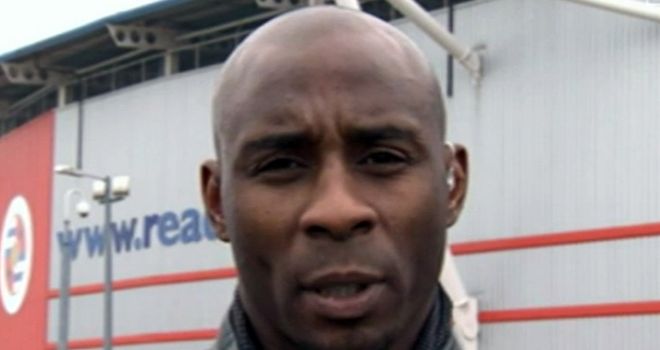 Jason Roberts: Says there is no willingness to tackle racism
Football Betting

Football Betting

£10 Free Bet
Reading striker Jason Roberts believes player action may be necessary to drive racism out of football.
Roberts has been one of the most vocal critics of the lack of perceived action by football's governing bodies to rid the game of abusive behaviour.
The 35-year-old claims the Sky Sports News investigation into racism in football is further evidence that the issue is not being dealt with properly by football authorities.
Roberts is insistent organisations like the FA and the PFA should lead the fight against racism but admits it may take direct action, such as players walking out of games where racist incidents occur, to get the message across.
"Like any right-minded person I was disgusted with what I saw (in the Sky Sports News Report)," said Roberts. "The will to find racism is not there.
"The fact that Sky Sports News went there with video cameras and saw these incidents in three months shows that it is possible to do this and I applaud you for it.
"All of the various organisations, the police, the FA, the PFA, the clubs, should all take responsibility. It's interesting hearing people say the players have to do more. What about the police, the stewards, the FA?
"We need to have a proper zero-tolerance message and when these things happen we need to be pro-active, we can't be reactionary about this.
"When we find these isolated incidents we need to hit the offending clubs or individuals hard and I don't think that's been done in the past.
"The FA has come out with an action plan but there is nothing in that plan to make me believe we are going to change this situation.
"There has to be the strongest possible sanctions and if that means games getting stopped I think people will start getting their house in order.
"If players need to walk off the pitch then that's what it takes. It's a sad thing that players are being looked at to drive this but if the organisations will not do anything about it then the players have to.
"It has to be dealt with in a proper manner. If games are stopped I guarantee you things will start moving quicker than they are now."
Football League chairman Greg Clarke, meanwhile, says football must create a more supportive environment for black players.
Clarke told Sky Sports News: "I was grateful to Sky for shedding some light on a very dark area in football. Anybody who has been associated with football for years knows that things are getting better but they are nowhere near where they need to be.
"To have our players subject to vile and filthy abuse deserves nothing better than the culprits being arrested and charged with the full weight of the law.
"We obviously have to stamp out racism. No right-thinking person could in any way condone the sort of terrible behaviour we saw on your programme.
"But what chilled me even more was not the racism but the reticence of black players to feel comfortable in reporting it.
"If we created an environment which doesn't support black players in confronting this issue then we've done something terribly wrong.
"So we've got to wrap ourselves around our black players, give them our support to be able to report such episodes and then deal with such episodes extremely severely."
Sports minister Hugh Robertson said the film was a warning that the battle against racism had not been won.
Robertson said: "The footage is shocking. Racism has absolutely no place in society.
"While we have come a long way in tackling racism in football over the last 20 years, this is not a battle that has been won.
"The football authorities are continuing to work hard to combat racism and discrimination in the game and I will support them in any way I can with that."
To find out more about live football on Sky Sports, Click here